Review: Old-fashioned and Familiar Can Be a Good Thing in 'Stan & Ollie'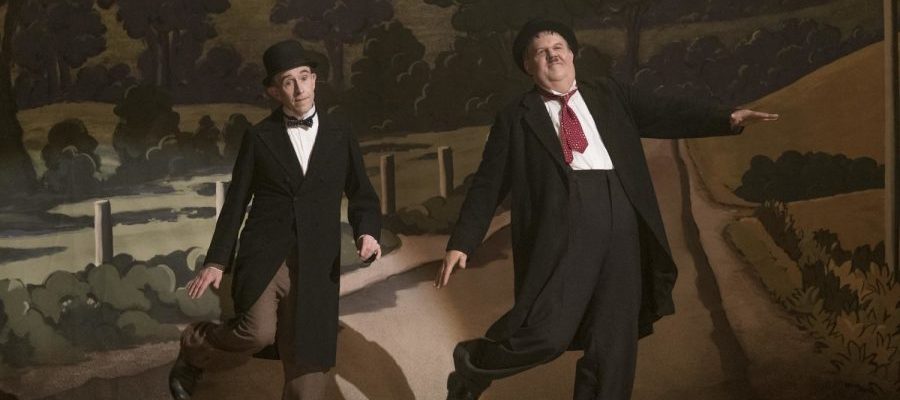 Casey Campbell '19 / Emertainment Monthly Staff Writer
In a year when sequels and remakes continue to dominate the box office, it's nice to see old school comedy duo Laurel and Hardy make a comeback on the big screen. In Stan & Ollie, you aren't seeing the actual stars joking their way through slapstick acts, but it's not far off.
The film boasts the devoted and impressively well-cast portrayal of Laurel and Hardy in the form of a lanky and oftentimes sullen Steve Coogan and a fat-suit wearing, sarcastic yet jolly John C. Reilly. It pays off handsomely. The two not only convey a decades-long friendship with sincere heart, but they fully become the comedians in almost every way. Sure, the use (and sometimes overuse) of their skits from earlier days was borderline nostalgia-baiting, but it helped in cementing just how technically impressive and genuinely funny their acts were.

The film opens with Stan Laurel and his partner Oliver Hardy walking to a confident beat on the lot of Hal Roach's (Danny Huston) film studio, making jokes and receiving an aura of respect from their constituents along the way. In this engaging long shot, Laurel and Hardy don't need introductions, but they do want to be taken more seriously as performers. Laurel demands they make more money, and Hardy simply wants to keep his head down and not lose what fame he has. Fast forward a decade, and the two live their biggest fears. They're not making money off of their films, and they feel like their presence in culture has reached its end.
What follows is the teams attempt to rekindle a flame from their earlier days, when they were universally beloved. But since fame and money are in short supply, they embark on a theatrical tour of Britain as a means to raise the funds necessary to put together their last film. Whether they can actually get that last film off the ground is another story.

If you're a fan of the old Laurel and Hardy shorts and features, you'll find a lot to love about this movie. In that sense, it does exactly what it means to, and lovingly honors the legends of the past. In terms of the medium it inhabits, it could've done without archetypal characters, boring oftentimes "zany" musical accompaniment, and predictable story beats where you know exactly where each thread leads.
Stan & Ollie is a good and warm biographical movie, where the predictable story never harms the essential message of the story. The acting is top-notch, the humor lands, and it's hard not to care for the eponymous comedians.
Overall Grade: B
Watch The Trailer:
[embedyt] https://www.youtube.com/watch?v=D2zdFwgUYBg[/embedyt]