Review: 'Ford v Ferrari' Enters the Race to the Oscars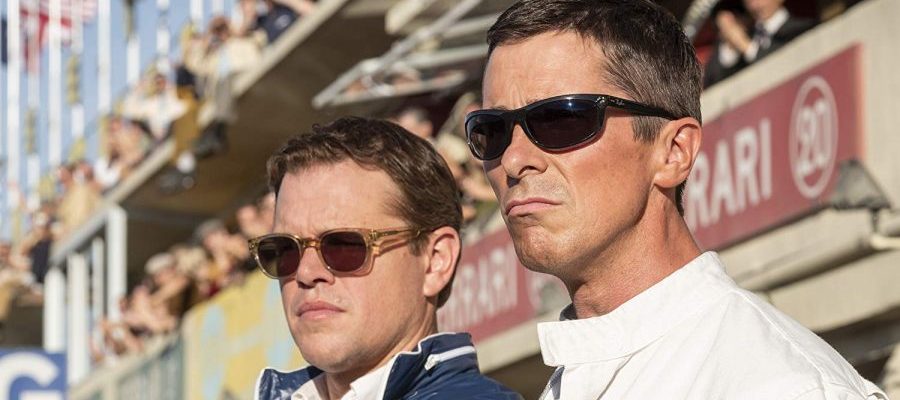 Gillian Anderson / Emertainment Monthly Assistant Movies Editor
Ford v Ferrari, the latest movie from James Mangold, follows race car driver Ken Miles (Christian Bale) and car designer Carroll Shelby (Matt Damon) as they try to build a Ford car that can beat Ferrari at the 24 hour Le Mans race in 1964. The struggle to build the perfect car comes with trial and error for Shelby, Miles, and their team as they face corporate pressure from Ford to succeed. Miles' unconventional and sometimes unmanageable attitude leads the company to believe he shouldn't drive at Le Mans, even though Shelby knows that Miles is the best man for the job. Although the film is advertised to be a battle to beat Ferrari, the real struggle is between Shelby, Miles, and the company as they try to construct the perfect car to win the race.

Ford v Ferrari instantly jumps into its story and does not wait to introduce its lively characters. Christian Bale and Matt Damon prove that they are two of Hollywood's great actors. Christian Bale, known for being an on-screen chameleon, changes drastically once again from his Oscar-nominated role last year in Vice. Although his roles are always different, his portrayal of Ken Miles is just as convincing as his other great roles. Matt Damon's performance as Carroll Shelby is his best since his role as Mark Watney in The Martian. Damon and Bale have great chemistry that helps carry the movie to its success, despite it being their first time together on-screen. Caitriona Balfe stars as Mollie Miles, the wife of Ken Miles. Balfe displays great potential in a scene that showcases her talent as an actress but is disappointingly underused in the movie, acting as only the caring wife and little more than a cheerleader.
Damon and Bale are already generating some early Oscar buzz, among what may be a competitive year, with movies like Once Upon a Time… in Hollywood, The Irishman, and Joker. James Mangold, who was previously nominated for the Academy Award for Best Writing Adapted Screenplay, is also getting some buzz for Best Director, which would be his first nomination in that category.

Ford v Ferrari is a movie that will entertain a broad audience. Moviegoers don't need to worry about lacking in knowledge about cars or racing, the movie relies little on the audience's understanding of the history it depicts. It is rarely slow and has an even pacing that will keep viewers engaged in the movie, even with its lengthy runtime of 2 and a half hours. Towards the end of the movie, it seems like it might start to drag on, however an interesting and engaging depiction of Le Mans saves the end of the movie.
Ford v Ferrari is surprisingly funny throughout and avoids being cheesy and instead has many heartwarming moments. Ford v Ferrari's depictions of the race scenes throughout the movie are also captivating, as they create suspense and are visually engaging. Overall, Ford v Ferrari is a crowd pleaser that is supported by a stellar cast, lots of humor, and great visuals.
Overall Grade: A-
Watch The Trailer:
[embedyt] https://www.youtube.com/watch?v=I3h9Z89U9ZA[/embedyt]