The Problem with 'Gilmore Girls'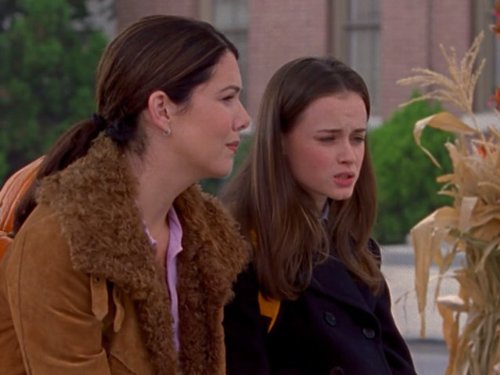 Lillian Cohen '21 / Emertainment Monthly Staff Writer
Gilmore Girls was the show of a generation, attracting viewers with witty banter, complicated relationships between women, and a small quirky town called Stars Hollow. Between Friday night dinners with eccentric grandparents, coffee breaks at the local diner to tease its hunky owner, and newsroom shenanigans at Yale, the show grasped viewers in a way that has outlived its original airtime. 
The original show went on for seven seasons, launching the careers of Lauren Graham, Melissa McCarthy, Alexis Bledel, and Milo Ventimiglia. Initially on The WB, the network's purchase by The CW saw creator Amy Sherman Palladino and her husband eliminated from the project and replaced with writer David S. Rosenthal, changing the trajectory of the show and artistic vision. 

"They hired this big writing staff and a producer-director onstage. That's what bugged me the most," Palladino told Vulture back in 2012. "They wound up wound up having to do what we asked anyway, and I wasn't there."
For better or worse, the series went on for another season, before ending in 2007. Rory refused Logan's proposal and accepted a position as an embed for the Obama White House. But, it was in the Netflix reboot Gilmore Girls: A Year in the Life that things really got wonky.
When Palladino left the original Gilmore Girls, she felt reasonably upset. Her creation went on without her, characters growing as people and plot pulling on to new adventures. But when she started writing the revival, that all went away. She started right where she left off—kind of.
In the final words of Gilmore Girls: A Year in the Life, one could get a thrill of shock from "'Mom?' 'Yeah.' 'I'm pregnant.'" It could come off as a glittering coincidence to her mother's own story. It could come off as a shock to Rory meant to make her grow as a character through her mistake with Christopher, the Wookie, her ex-boyfriend Paul (that even she barely remembers), or Jess (hey, we can dream). But it's not. Palladino was always fond of saying she knew exactly how the series was going to end.
The original character arc that Palladino had imagined for Rory was simple: become her mother. Sure, Rory has always reminded us of her mother. That's part of their shtick, bickering and reading each other's mind, wandering through Star's Hollow with an angelic relatable charm that drew an audience to the show in the first place. But Palladino takes it too far this time, testing a problematic stereotypical assumption from years of superiority complexes: we are all destined to become our parents. Hard work and experience have nothing to do with it. 

"They both work on their own because the purpose of leaving Rory in this position was always supposed to be that history repeats itself," Palladino told Vogue, in 2016. "Daughter follows mother; where you lead I will follow."
Rather than build upon Rory's growing integrity and love for serious journalism, Palladino simply erased what she did not write. She scrubbed away years of improvement and knowledge, of authentic-feeling choices for the character, only to replace them with her original vision, as if none of it had happened at all. Rory never went on to report on the Obama White House. In fact, it's never brought up that it happened, or that it was her plan the last time we saw her, in 2007. She has one article published in the New York Times that carries her career enough that no one questions it. She shows real-world journalism skills. She went into an interview with absolutely no article ideas and had sex with a source directly afterward. She seems to only write for the sake of her plot point of moving back to Stars Hollow (to revamp the local paper, but it's honestly unimportant). She broke up with Logan after he proposed in the Season 7 finale, to pay more attention to herself; only to end up hooking up with him behind a possibly mythical fiancée's back in the reboot. She flirts with Jess from afar, who coincidentally moves back to town; her own version of her mother's boyfriend, Luke. 
The original plan by Palladino was to have Rory announce that she was pregnant around the time she graduated from Yale. The baby is Logan's (in case that was still a mystery), existing merely as a parallel for Christopher. What happens afterward was to be assumed. She wouldn't end up with Christopher, working through a challenge, giving up her life and career for her daughter. She would carry on in the same way her mother did. 

The problem with the revival is not necessarily the ending (and plot points that led to it). It's the concept that Rory had no choice in the matter. Her decisions didn't fit her character anymore. She simply outgrew them. The character no longer felt authentic. Despite growing into someone completely independent from her mother in personality and life goals, Palladino sticks them in the same lifeline, aiming to finish their "destined" parallel, despite the cost. 
What if Rory didn't want the baby? And do we really think she would have been hooking up with Logan if she had gone for a year or more to report on the Obama White House? Or semi-date Paul when a huge characteristic of her is that she deliberately picks her friends and partners, always loving so deeply, pushing viewers to do the same?The Rory that Palladino left evolved without her. That stinks. It's understandable to be upset and want to turn back time. But the new Rory was more mature, competent, and confident at the end of the original Gilmore Girls. To change all of that for the sake of an outdated and problematic parallel was almost selfish.