'Curb Your Enthusiasm' Review: "Happy New Year"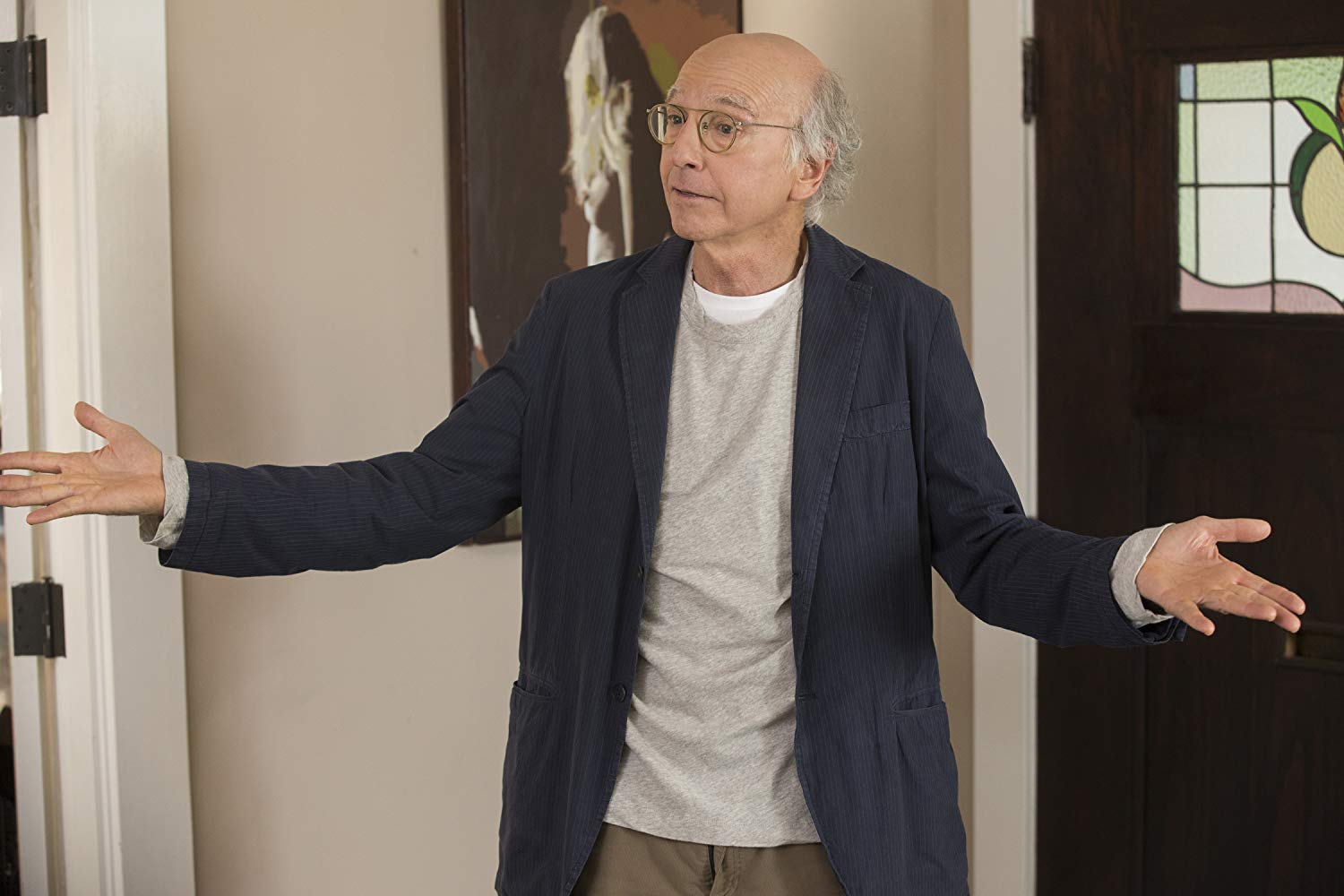 Jessica Ross '21 / Emertainment Monthly Staff Writer
*This article contains spoilers for the season 10 premiere of Curb Your Enthusiasm*
Larry David has the magic touch as he continues to create comedy gold.
This past Sunday, HBO's Curb Your Enthusiasm aired its season 10 premiere and it is, without a doubt, one of the series' best episodes to date.
Curb Your Enthusiasm, created by and starring Larry David (co-creator of Seinfeld) is an improvised comedy show where Larry David plays a fictionalized version of himself. Often referred to as a "social assassin," Larry repeatedly finds himself stuck in awkward confrontations with his peers, as he hilariously challenges social norms and etiquettes with brutal honesty, never holding back, quite often at his own expense.
Titled "Happy New Year", the episode opens with Larry and his friend Leon walking down the streets of Los Angeles. Uninhibited and unashamed, the two comedians dive deep into a discussion about race as they comically compare skin tones. Ultimately, they decided that Larry is porridge colored and Leon is like a can of Yoo-Hoo.

As they continue down the streets, Larry shows his discontent for today's new trends, as he nonchalantly breaks a couple's selfie stick in half and knocks down a row of eco-friendly electric scooters. (I don't blame him!)
As the episode continues, we are met with the return of an old friend, Mocha Joe! Mocha Joe and Larry quarrel over scones, wobbly tables, and cold coffee. Throughout the entire episode, Larry returns to Mocha Joe's coffee shop, continuing to argue, getting friends (Jerry Lewis) involved, and eventually escalating to the extent in which Larry gets himself banned from the establishment. As a result, Larry decides to retaliate, buying the store next door, opening his own coffee shop, "Latte Larry's," swearing to take down Mocha Joe.

As if all this wasn't enough already, the episode also pokes fun at MAGA hats (Make America Great Again) when Larry realizes the potential in the people repellent hat and uses it to his advantage to get out of a lunch with Phil Rosenthal (creator of Everybody Loves Raymond).
The show doesn't miss a beat, refusing to hold back on prevalent topics in today's culture, such as Jeff Garlin getting mistaken (twice) for Harvey Weinstein, as well as Larry accidentally sexually assaulting a waitress in an attempt to grab pigs in the blanket from her food tray.
Curb Your Enthusiasm takes the taboo and unutterable and reels it into comedic genius, and that's why the show continues to thrive for as long as it has. That, of course, and Larry David. He's magic. Just watch and see.
Happy New Year, Curb fans! Here's to an outstanding start to a new season!

Now, please enjoy five of my favorite quotes from Sunday's episode below –
Larry: "That's what white people's skin tone is. It's just different kinds of hot cereal. Black people, your skin tone, it depends on the amount of milk you put in the coffee."

Larry: "Working out? You're jostling the fetus. You can't run in your condition."
Randi: "Uh, yes I can. I was advised by my midwife that I should continue to work out."
Larry: "Maybe you wanna consult your blacksmith, see what he has to say about it?"

Larry: "I'm not quite sure you know what a scone is, Mocha Joe."

Leon: "Older white men should not be out this fucking late. There's no late-night yacht club or late-night garage sales or shit like that. You out here fucking."

Larry: "Happy New Year, Mocha Joe!"