Mank: A Stunning Look at Citizen Kane's Co-Writer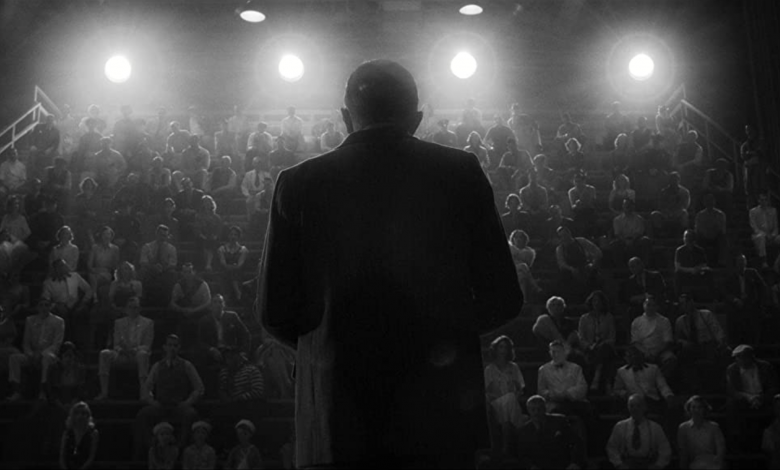 Jonathan Moore '22 / Emertainment Monthly Co-President
Citizen Kane. Considered by many to be one of, if not the greatest, movie ever made. Made in the early 1940's by a young director, Orson Wells, it is considered to be groundbreaking and ahead of its time, from its style to its performances and screenplay. Having watched it the night before the Mank showing, it has aged fairly well with the technical quality of the film still quite impressive as Wells is fantastic in the lead.
That was a smart decision as Mank evokes the style of Wells film and the era to capture the time period of 30's Hollywood terrifically. With David Fincher's expert direction, a terrific cast headed by Gary Oldman, stunning black and white cinematography by Erik Messerschmidt, a jazzy score by Trent Reznor and Atticus Ross and a screenplay by Fincher's late father, Jack Fincher all combine to pay homage and dissect a classic piece of American cinema. Mank is indeed engrossing.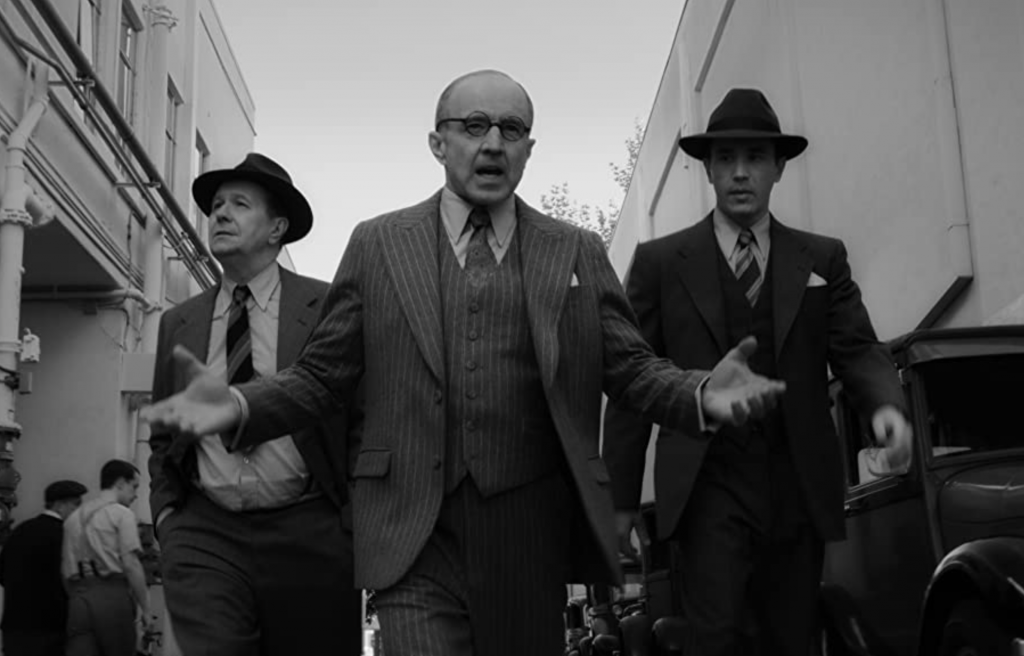 Mank focuses not around the director of Citizen Kane, but his co-writer, Herman J. Mankiewicz or Mank as he is referred to. Mank, approached by Orson Wells (Tom Burke) begins to write a screenplay. As a screenwriter in the Hollywood studio system of the 1930's, Mank had a front row seat to the politics, corruption, and power of important figures like MGM Studio Head Louis B. Mayer (Arliss Howard), producer Irving Thalberg (Ferdinand Kingsley), and the social circle of magnate William Randolph Hearst (Charles Dance) and actress Marion Davies (Amanda Seyfried) who Mank grew close to. As he remembers these people and events, they inspire his script which becomes the basis for Citizen Kane even as the screenplay causes dismay and confusion to those around and closest to him such as his brother Joe (Tom Pelphery) and wife Sara (Tuppence Middleton). 
Mank is a gorgeously made period biopic. The film is shot in black and white and utilizes sound recording techniques of films of the era and the effect is transporting. This is Fincher's first feature film in several years after a hiatus to work in television and Mank is a stunning return. It's one of the best-looking films of the year and the attention to period detail is outstanding.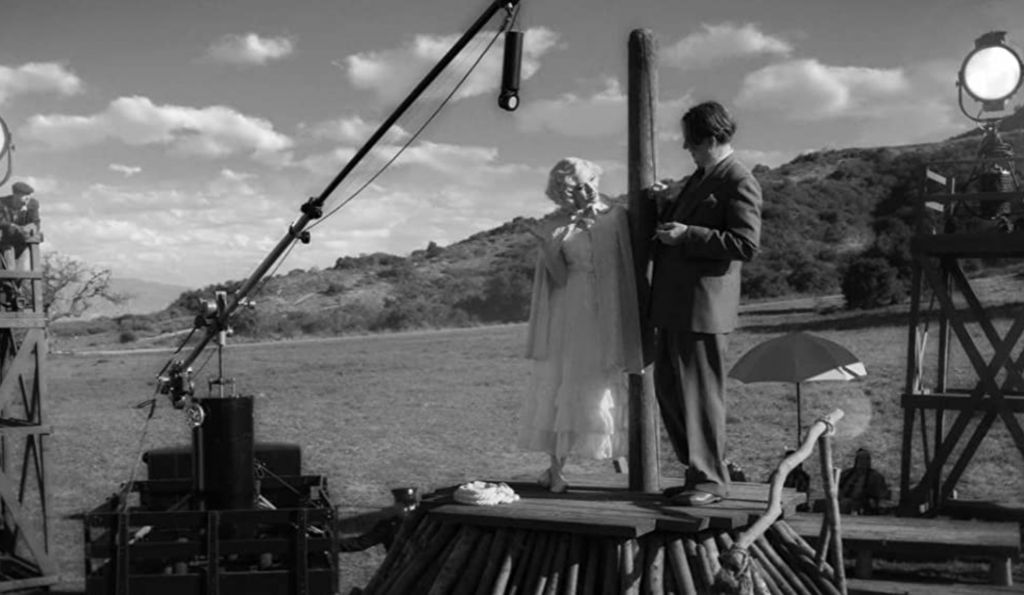 The film pays homage to the visual style of Kane with its use of shadows and lighting with standout visuals in a fantastic collaboration between Fincher and Messerschmidt. The memorable sequences capture Mank's perspective on key moments that inspire his writing or critiques of the studio system's power to crush ideas and people that it disagrees with. This is where the screenplay by the late Jack Fincher shines. The screenplay written originally in the 90's has been reworked by David Fincher and his collaborators and its incisive and clever. Evoking the structure of Kane in its non-linear style of building a character, it slyly recognizes the film while painting a portrait of one of the key men behind it.
The film is also often quite funny as Mank and his group of screenwriter's jostle around the industry looking for the next hit screenplay. Mank often is the center of the room and the leader of the writers and his friendships are entertaining to watch even as Mank's disillusionment with the system leads to greater discontent. His unease peaks around the influence of Hearst who is closely linked to the studio heads overseeing their projects and inviting them to lavish parties. While these parties showcase the decadence and duplicity of the industry, Mank does have a saving grace at these parties in his friendship with Marion Davies.
Their friendship as the two semi-outsiders is a heartwarming center for the film. It's a genuine connection amongst the facade of Hollywood and is the basis for the film's moving moments. As is the friendship that develops between Mank and his typist while he is recovering from an accident, Rita Alexander (Lilly Collins) assists him with writing his screenplay. They grow close as he heals and they grow to trust each other. These interactions and scenes play out to a backdrop of a terrific score by regular collaborators, Trent Reznor and Atticus Ross. While their most well-known scores are techno electronic and more intense, their score here is a jazzier interpretation to match the period. It's a standout score capturing large orchestras of sweeping scale mixed with more upbeat and environmental stylings capturing the energy of the studio lot.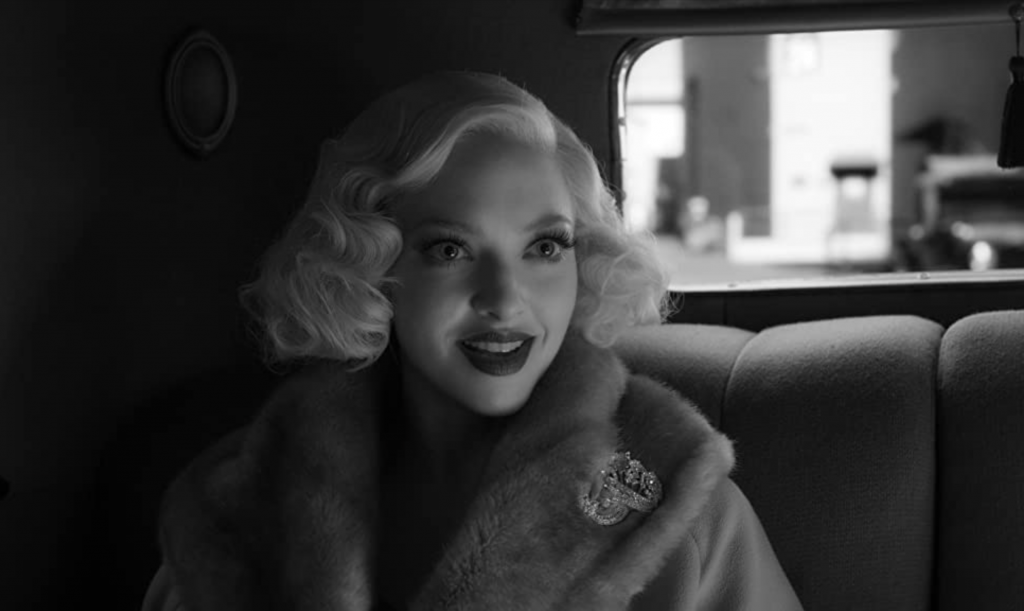 These terrific elements are a large portion of why Mank stands out this year but it would be empty if not for the fantastic ensemble cast headed by a terrific Gary Oldman as Mank. He's a delight to watch as he controls the room similar to how Wells did in Kane.  Oldman plays the more emotional moments, where Mank acts in defiance of the system, quite well. He also comes alive in scenes with Marion, where Amanda Seyfried is terrific, having a warm chemistry with Oldman as she finds her path. Dance is commanding as the tycoon Hearst, whose power and influence was king, keeping court only to turn on a dime to intimidation if needed.
Arliss Howard captures the facade of bravado and power of a studio head in a great turn as Louis B. Mayer and Ferdinand Kingsley's morally dubious producer is great as well. Mank's personal life is also very well performed with strong turns from Tuppence Middleton as his wife who both enjoys and is exasperated by Mank's antics and Tom Pelpehery as the brother that Mank calls out to California to fall under his wing. Lilly Collins is also a warm presence and has fun interactions with Oldman during his recovery.
 Mank is a blistering return to cinema from David Fincher. With an excellent ensemble cast, stunning cinematography and a terrific score, it's a fantastic period drama about a man who saw a corrupt system and used it for inspiration for a film considered one of the greatest of all time.