Songwriting For The Ages: A Look At Taylor Swift's Sister Albums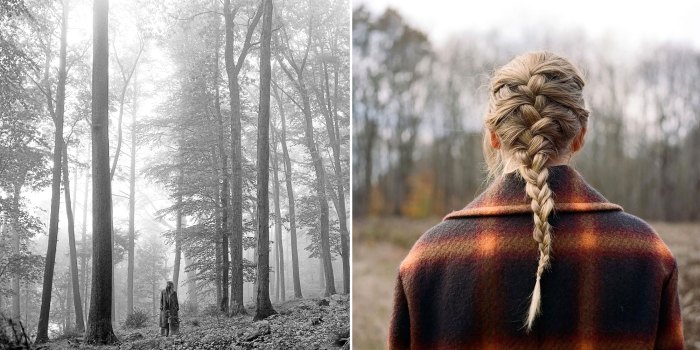 Caroline Reese '24 / Emertainment Monthly Staff Writer
While most of the world was dealing with a nationwide pandemic, singer Taylor Swift not only dominated 2020 with one surprise album, Folklore, but a second sister album, Evermore, all while re-recording some of her earlier albums for fans.
After 'Folklore' topped iTunes charts, and held the title for the highest selling album of the year, fans were incredibly satisfied with Swift and the music she had given her fans. On 'Folklore', listeners experience all kinds of loss, heartache, yearning and devastation. From missing the innocence of being just seven years old, playing pirates in the backyard of your childhood home, to a love letter dedicated to anyone who is trying their best every single day feeling like it's nowhere good enough, Swift uncovers a wide range of daily struggles. 
With Folklore, as she put it, being her spring/summer album, Swift chose to center the sister album, Evermore, which debuted this past November, towards fall/winter. Nature plays a big role in the dynamic of the two collections not only in the album cover look, but in the metaphors she pulls from the life she grew up in. In her title track on Evermore, "Willow", she compares a willow tree's notable swooping branches to how life leads her to a person. Similarly, "August" and the time of year August represents, being right before college students head back to school, is drawn in creating an illicit affair between two lovers.
Not only does nature play a prominent role in Swift's storytelling through these two albums, but the hurt that's apparent in Folklore completely disappears in Evermore. Evermore is an album about healing; it's taking all of the gut-crushing devastation found in her first anthology, and bringing it all to a beautiful peace and closure. It's an album that shows growth. With Evermore, she finally left the woods she got lost in during Folklore, all because of a global pandemic. 
There are a variety of standouts on both albums, but in looking at Folklore, songs such as "This Is My Trying" and "Mirrorball" are pushed to the side when they should be placed on a pedestal. Both of these are hidden gems on Folklore for their ability to touch upon emotions human beings rarely get songs describing. In "This Is Me Trying", Swift portrays someone who is battling a lot in their head. They are trying to get over someone, or move on from a situation, or are battling an addiction or mental illness. Through her lyrics, "It's hard to be anywhere these days when all I want is you. You're a flashback in a film reel on the one screen in my town. And I just wanted you to know that this is me trying", there is a sense of frustration. No one is constantly patting people on the back telling them how proud they are. It's a situation being fought every single day you wake up. The song shows that redundancy and exhaustion by asking for someone to acknowledge that they're trying. 
Similarly, in "Mirrorball", Swift compares a mirrorball to a person; only sparking and shining when they are needed. The standout line in this song goes as follows: "I've never been a natural, all I do is try, try, try. I'm still on that trapeze, I'm still trying everything to keep you looking at me. Because I'm a mirrorball." Here we see someone who is constantly putting themselves in situations to make their presence known and be seen by another. 
Evermore also holds a lot of beautiful stories in Swift's writing. The songs "Tis The Damn Season" and "Dorothea", both the same story from different points of view, share an intimate look at two college students coming home to their hometown for winter break. In the first song, Track 4 on the album, we see a girl who wants to reconnect with her hometown crush. "We can call it even, you can call me babe for the weekend. Tis the damn season". Whereas in "Dorothea", we learn the boy's perspective on her and he wants more than a weekend hookup with her. "You got shiny friends since you left town, the tiny screen's the only place I see you now and I got nothing but well wishes for you". He is struggling with knowing how happy she is with him, and knowing that that happiness isn't out in Los Angeles. 
Speaking of happiness, Swift's Track 7 titled "Happiness" is poetic gold. This may be one of her best songs ever written, sharing the story of two people who are no longer together, and what that now looks like after being a prominent part of each other's lives for so long. The second verse is where we understand the real heartache in moving on: Ihope she'll be a beautiful fool, who takes my spot next to you. No, I didn't mean that. Sorry, I can't see facts through all of my fury. You haven't met the new me yet". That struggle of trying to piece together answers, yet also accept the "new you" that will be in their life Taylor Swift puts into words effortlessly. 
Both Folklore and Evermore are hands-down Taylor's career accomplishment thus far. She created a new sound, wrote 31 beautiful stories, and shared them with the world. Well, the world thanks her. Stream Folklore and Evermore by Taylor Swift on Spotify, Apple Music, or any streaming service.