The Cast of The Father Exceeds Expectations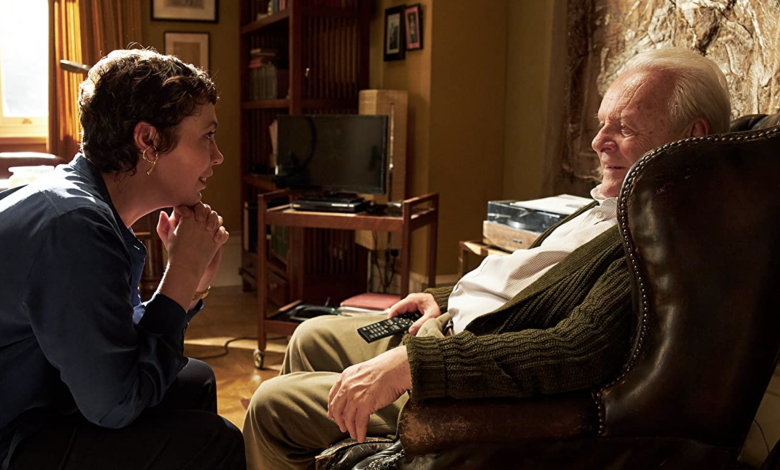 Jonathan Moore '22 / Emertainment Monthly Co-President
Plays being adapted into films is a long-time trend. From Tennessee Williams's Cat on a Hot Tin Roof  to the more recent, like August Wilson's Fences, adaptations can bring the text to life in a new or immersive way or struggle to break free of their staged beginnings. This year in particular, several adaptations of plays are among the buzziest of the year. So far, One Night in Miami was successfully adapted into a fiery drama with a fantastic ensemble and Ma Rainey's Black Bottom is set to make a splash on Netflix. The Father is a standout among this trend with career best work from Anthony Hopkins backed up by an outstanding supporting ensemble. Playwright Florian Zeller turns in a terrific job behind the camera and co-adapting his play with Christopher Hampton. 
The Father follows the titular character of Anthony (Anthony Hopkins) as he struggles with dementia and his daughter Anne (Olivia Colman) who tries to care for him. Meanwhile various people enter and exit their orbit in trying to care for Anthony and help Anne. 
This may seem like a slim plot for a film adaptation of a renowned play. However, the film unfolds in a unique manner that is a large source of the emotional impact. It takes the point of view of Anthony, as he tries to assert his independence while struggling to make sense of the world. Zeller does a fantastic job directing this contrast and the emotional toll it takes on him and his loved ones in heartbreaking fashion. From his daughter attempting to provide and find care to Anthony losing track of where he is, it's an emotional watch. Zeller and Hampton's perceptive and emotional screenplay captures Anthony's attempts to show that he doesn't need help or care to go about his life as his personality shifts from moment to moment depending on who is in the room. He can be jovial and aware one moment and in the next moment, confused and lashing out at those around him. These moments could seem ineffective or jarring in less effective films but Zeller's outstanding cast pulls it off with aplomb.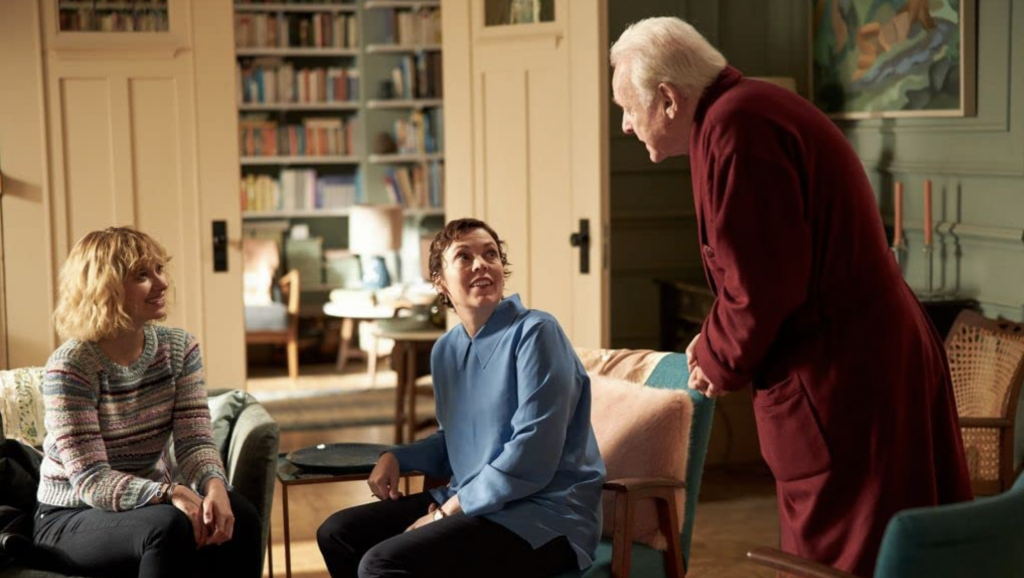 Led by a phenomenal Anthony Hopkins, The Father is one of the best ensembles of the year. Hopkins is doing staggering work here capturing those emotional spectrums brilliantly and building sympathy throughout his struggles, making his tougher moments devastating to watch. His joviality is as heartwarming and sweet .. his moments of rage are intimidating .. his moments of confusion shattering. It's a masterful performance that ranks among the year's best. Olivia Colman continues her streak of outstanding performances with emotional work as the daughter who tries to help her aging father while maintaining her own relationships. She assists her father through his varying stages of mind and carefully attempts to find him long term help. Colman is terrific at capturing the difficulty nature of her role in caring for all involved. The rest of the main ensemble Mark Gatiss, Rufus Sewell, Imogen Poots and Olivia Williams are also fantastic in their roles revolving around Anthony and Anne. 
The Father is a standout film of the year. A brilliant performance by Anthony Hopkins backed up by an outstanding ensemble with fantastic work led by Olivia Colman. Playwright turned director Florian Zeller does terrific work behind the camera and in adapting his work with Christopher Hampton. These elements work brilliantly together in an emotional and stunning film that is sure to leave its mark on audiences and the Academy.