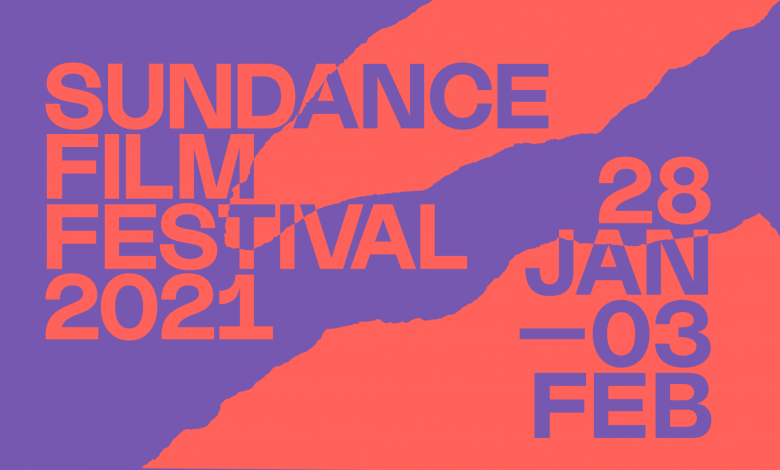 Jonathan Moore '22 / Emertainment Monthly Co-President
As many other festivals have had to do, the 2021 Sundance Film Festival was moved online to a virtual festival. The positive result was that it was open to a wider audience than ever before and twice as many tickets were sold as opposed to their normal festival setting.. The key components were live premiere screenings with Q&A's after, blocked off in 3-hour windows for first viewings to try to recreate that festival feel. Then, a second all day window was available to catch up on any missed films.
With expanded availability, a discounted student pass, and a large variety to choose from, the virtual festival offered some terrific films that were emotionally gripping, delightful and gory genre thrills, engaging documentaries and unique visions from breakout filmmakers. From Fran Kranz's and Questlove's directorial debuts to Edgar Wright's first documentary, many are worth checking out. Here are the main standouts. 
Starting off with one of my personal favorites is Edgar Wright's aforementioned documentary,

The Sparks Brothers.

The documentary focuses around the American band Sparks (brothers Ron and Russell Mael) and their varied and cult career ranging from the 1960's to the present day. With albums covering every major genre from pop to rock to early techno, Sparks never broke as big as other bands of their day but as Wright's interviews prove, they did amass a following of major bands and cultural figures that were inspired by Sparks.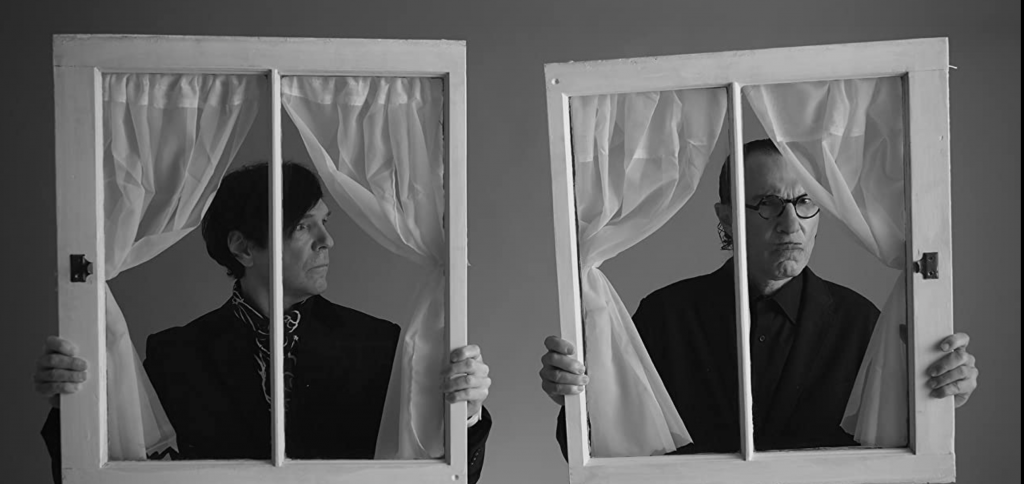 Covering all those decades and over 20+ studio albums on top of re-releases and compilations is no small order. Edgar Wright does a terrific job managing it all with his stylistic tendencies brazing through and making this documentary a standout. Far from only typical talking heads and archival footage, Wright's includes animated sequences, humorous introductions and tongue in cheek use of the Spark's terrific catalogue. It is vibrant and engrossing which also mirrors the band's unique persona with front man Russell and lyricist/keyboardist Ron. Their style comes through even as they move from decade to decade re-inventing themselves with irreverent, humorous and sarcastic songs with incredibly clever lyrics many of which are much deeper than they may first appear.
The brothers are great interviewees as well and Wright has fun using their perspectives looking back over 50+ years. The Sparks Brothers is well over two hours but with Wright's energetic direction, terrific interviews including some surprising fans of the band and a soundtrack of Spark's terrific back catalogue, it is captivating the whole way through.
Focus Features is releasing the film on June 18, 2021.  
The next standout is director's Sion Sono

Prisoners of the Ghostland,

one of the wildest films of the festival. In a post-apocalyptic western town, a corrupt warlord The Governor (Bill Mosley) recruits an ex-con wasting away in a jail cell (Nicolas Cage) to rescue his daughter Bernice (Sofia Boutella). Giving the unnamed hero five days to rescue his daughter or have his suit explode, The Governor sends the hero into a wasteland of dangerous gangs and a mysterious town of The Ghostland. With a world that feels like a western and

Mad Max Fury Road

mashed together, this is a wild western samurai genre hybrid with awesome and gory set pieces, stylistic flair and production design and an insane Cage performance for the ages.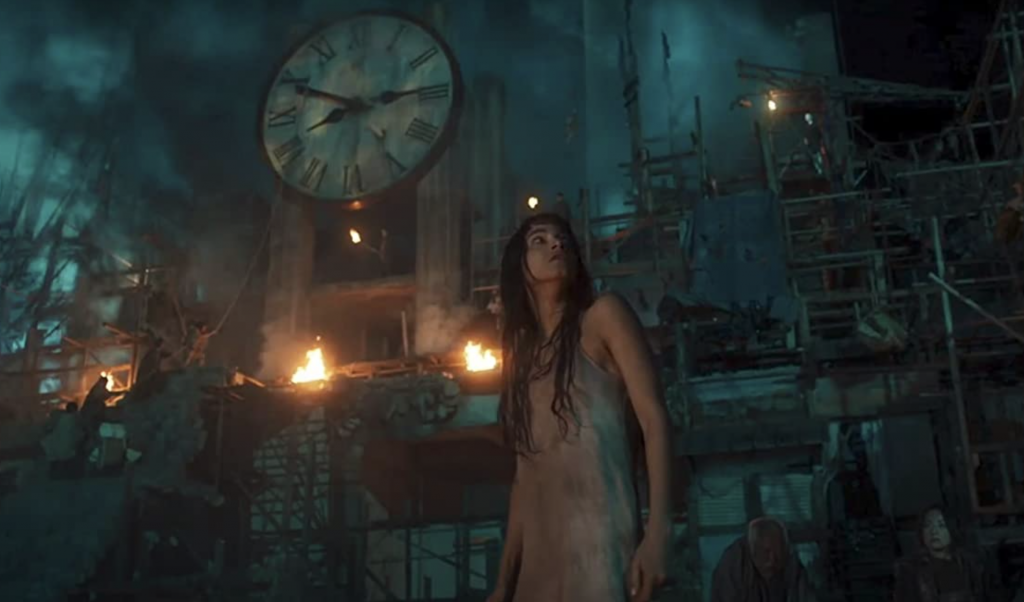 Prisoners of the Ghostland starts off as a slow burn to immerse the viewer into the world and establish the world that the hero finds himself in. In opposition is Samurai Town, the mysterious town run by Psycho (Nick Cassavetes) who bars all from leaving or else gets attacked by evil forces. The terrific direction and production design intensify the contrasting worlds of the western and samurai that the characters inhabit. The production design of the town where Nicolas Cage goes to find Bernice has echoes of Mad Max: Fury Road and other desert wastelands but with a punk/techno twist with some incredible locations and character designs especially in the guardians of this mysterious town.
Slowly, as the tension builds, and more is revealed about Cage and the town, the film grows into a fantastic action hybrid as Nicolas Cage builds to one of his best performances in years. Screaming at both his captors and those he needs to win over, Cage gives it his all even as he suffers grievous harm leading to all time Cage one-liners.
The action also grows including a stand out samurai action set piece set to Jim Croce's Time in a Bottle where The Governor's right-hand man has to defend himself and his sister. It is stylish,visceral and bloody and is one of the best needle drops of the festival. The final set pieces where Cage fully unleashes as does Boutella is a gory and terrifically made set piece with great payoffs. 
Those were two of the most entertaining films of the festival. However, the festival also had its share of emotional powerhouse films with brilliant performances. These films are also among the best of the year. First up is Cliff Bentley's Jockey. 
An intimate drama focused in the world of horse racing and their jockeys,

Jockey

follows Jackson (Clifton Collins Jr.), an aging jockey looking for one last go at glory when Ruth (Molly Parker), a trainer that he has worked with for many years brings him a new and astonishing horse. His plan is complicated when Gabriel (Moses Arias) shows up claiming to be his son. A naturalistic drama with the use of real-life jockeys,

Jockey

is a beautifully made emotional character study with terrific performances.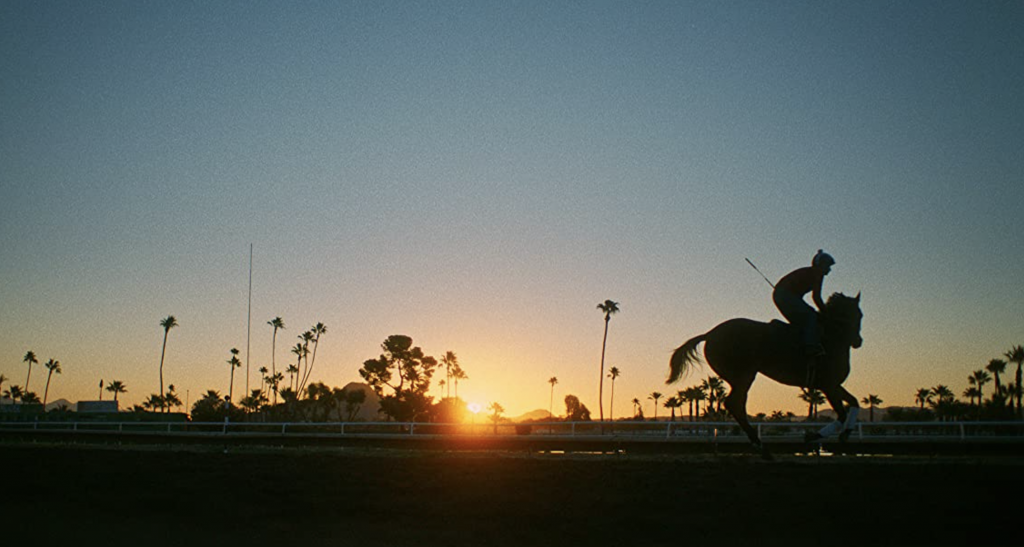 The naturalistic feel of Jockey is similar to the recent work of Chloé Zhao's The Rider and Nomadland. Much like those films, it adds an immersive element to the film where the characters truly come to life. It is an emotional film in capturing their world and lifestyle including potential for injury or severe personal harm. The screenplay builds empathy and care for the characters giving the film highly emotional stakes. The cinematography by Adolpho Veloso is stunning as well capturing the golden hour at which jockeys ride and the natural landscapes. A terrific score by The National's Aaron and Bryce Dessner adds to the film's beauty. Complimenting the tremendous craft on display is the outstanding performances at its core. Clifton Collins Jr. is tremendous in the lead balancing his fear of aging and regret with his budding relationship with Gabriel and hope for riding again for Ruth. In particular, he has a couple key scenes and monologues that are brilliantly played. Molly Parker is also terrific and her friendship with Collins Jr. is a standout character dynamic. And as Gabriel, Moses Aarias is outstanding as the young up and comer. A beautifully moving drama, Jockey is character driven storytelling at its finest. It does have its rivals at the festival however. Chief among those is actor Fran Kranz's writer/directorial debut Mass. 
A chamber piece largely set in one room with 4 main characters,

Mass

has been compared to a play, but it is the medium of film which allows a heart wrenching perspective. This intimacy sets

Mass

apart as a grueling drama with a harrowing script and heart wrenching performances.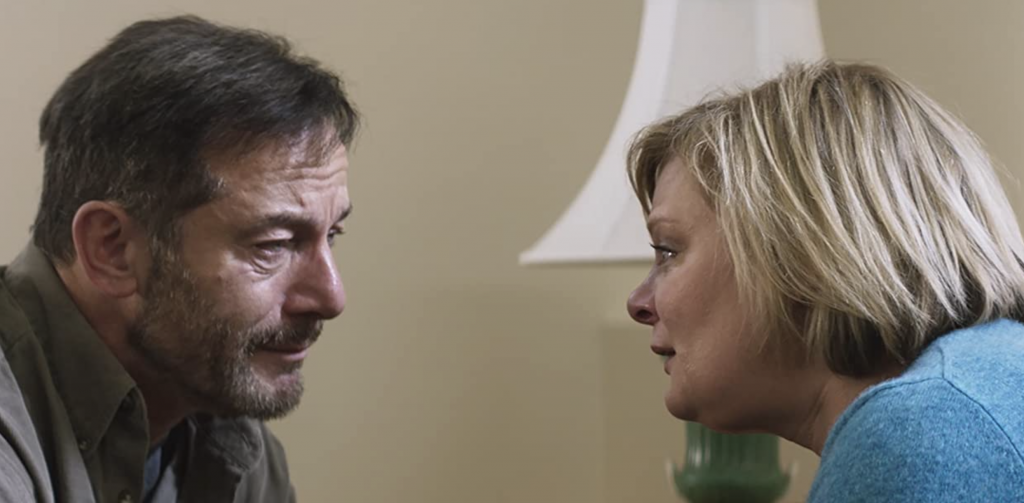 From the start, Franz Kranz's direction behind the camera is assured and steadied as a local church room is set up with 4 chairs in a room continually being changed until two families Linda (Martha Plimpton) and Jay (Jason Issacs), and Gail (Ann Dowd) and Richard (Reed Birney) arrive for a pre-arranged meeting regarding a tragic school shooting incident involving their sons from years ago. 
While at first hesitant and interrogative, their discussion quickly turns emotionally gripping and draining in its starkness and powerful character arcs. Far from a cliché fest of platitudes and strawman arguments, Mass's terrific screenplay by Fran Kranz looks at the personal level of the families, their grief and what could have been different if signs were caught or attention paid. It is a tough but rewarding viewing experience.
This is brought to life by a masterful ensemble cast each giving some of the best performances of the past few years. Without revealing which family is on which side of the tragedy (the film hides that information for dramatic purposes), Plimpton is astonishing including some tricky monologues and Isaacs is both anger and grief waiting to explode in fiery rage. Dowd walks a tricky line masterfully in emotionally gripping work and Birney has a few key moments that are stunningly performed. It is a grueling film but to dissuade the thought that it is all a slog, there are also themes of forgiveness, redemption and catharsis that the film builds to that are stunning in line with the film's setting of a church gathering. However, not every emotional film is as devastating and can even be uplifting. 
This applies to the festival's opening night centerpiece, CODA. CODA stands for Child of Deaf Adults and describes the lead character Ruby Rossi (Emilia Jones) who is the only hearing individual in her deaf family in a small Massachusetts fishing town. Ruby is a high schooler who works on her dad's boat Frank Rossi (Troy Kotsur) with her brother Leo Rossi (Daniel Durant) all under her mother Jackie Rossi (Marlee Matlin)'s management. Her major passion is music and when she joins choir under the leadership of Bernardo Villaobos (Eugenio Derbez), she finds herself torn between her family and her aspirations of singing. A moving dramedy, CODA was the priciest acquisition of Sundance and for good reason.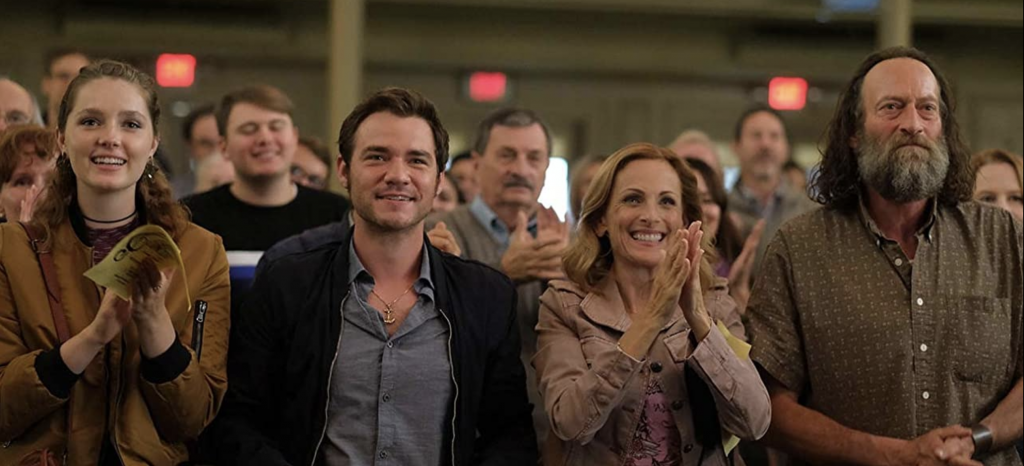 While seeming like a cliché coming of age dramedy on the surface, director Sian Heder does a terrific job of balancing Ruby's relationship with her family with her budding success at choir and her flirtation with another student Miles (Ferdia Walsh-Peelo). It is full of humor both relatable in family dynamics and the trials of high school and the unique dynamics of Ruby being the only hearing member of the family. With the casting of deaf actors as Ruby's family, it does not feel cheap but respectful and genuine in the humor that they share and their tight emotional bonds including Ruby sticking up for them and encouraging them to do the same.
The heartfelt bond between the family members is moving and the emotional center of the film as they stand up for each other and then the town's other fishermen when overreaching regulations threaten their success. It is well done throughout, leading to some terrific emotional payoffs in the last third. The use of music is outstanding also with the use of musical performances through movingly conveying character growth and depth. 
The cast is terrific. Jones is a winning lead and nails the musical numbers especially a Joni Mitchell cover. Kotsur and Matlin are great together as a struggling couple who are also clearly still in love which is also played for humor. Durant and Jones also have good sibling chemistry trying to establish themselves but also stand up for their family. Jones and Walsh-Peelo also are fun together even as the relationship goes through bumps at times. A delightful and heartfelt dramedy, CODA comes highly recommended. 
Apple is releasing the film on August 13th on their streaming service and in select theaters.
Among other films, Sundance was a launching pad for several virus inspired movies that could also be considered COVID movies. While not able to watch all of them due to scheduling, the personal highlight of these was a viscerally abrasive visually stunning eco horror film, In the Earth by director Ben Wheatley.
In the Earth

is set in a virus ravaged and locked down England, where doctor Martin Lowery (Joel Fry) goes to a bleak forest looking for doctor Olivia Wendell (Hayley Squires) with whom he had worked in the past. Accompanied by park scout and fellow researcher Alma (Ellora Torchia), they delve into a mysterious and gloomy forest. After a suspicious start, they encounter Zach (Reece Shearsmith) who has been riding out the virus in the forest. At first welcoming, his sinister occultist nature soon emerges. The desperate chance at escape seems even harder for the two researchers as the interior of the forest hides harsher secrets.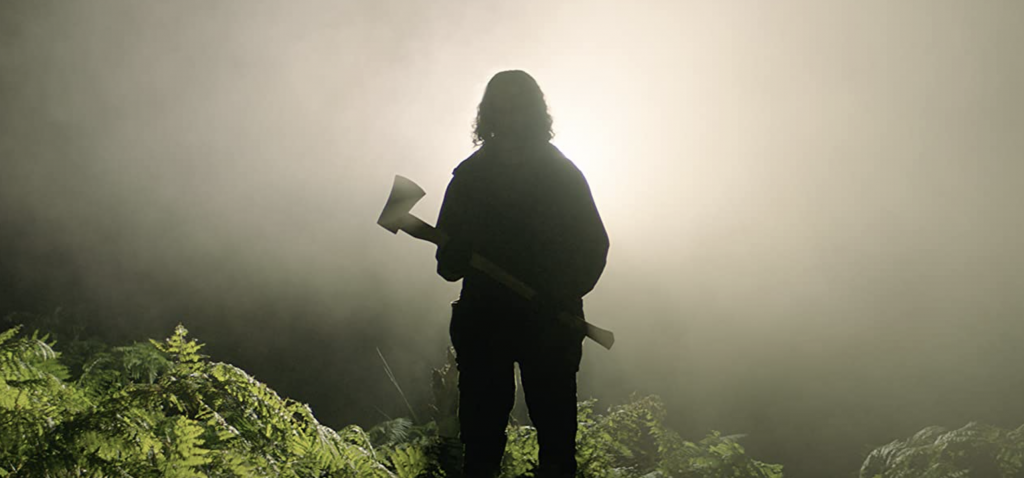 Conceived and written during the UK lockdown and then filmed between major lockdowns, In the Earth is very much a horror film in tune with current fears. From Martin getting tested upon his arrival to the forest research hub and talk of a desolated outside world, it may seem that the film will be an on the nose way of grappling with COVID. The setting is the most prone to COVID comparisons however as the film quickly turns into an intense fight for survival and understanding of mysterious forces.
Across the various types of horror that the film encompasses, In the Earth focuses more on its themes of obsession and ecological cults than its virus set up. The horror is incredibly unsettling and this is not an easy watch for that reason. A large portion of the film is torture based and it's gory and stomach churning. Wheatley does a fantastic job of making this engrossing and intensely unnerving even as the circumstances of the horror changes. A sequence at the midpoint where a major shift occurs, aggressively strobe lights flash intensifying the visually breathtaking and nail biting action.
As the horror shifts to ecological and science-based horror in this mysterious wooden location, the film is visually arresting using psychedelic visuals reminiscent of Annihilation and Midsommar mashed together. The score is also terrific by Clint Mansell capturing a unique soundscape capturing the headspace of its characters. 
The cast aptly brings the terror to life even as sometimes pushed to unthinkable and visceral horrors. Most of these are done to Fry's Martin and he sells the pain and trauma. Torchia is the smartest in the room and is empathetic and their friendship is a highlight. Squires is an uneasy doctor who has things going on under the surface that makes her just as unsettling as Shearsmith's occultist inflictor of pain. A brutal atmospheric horror with a chillingly unsettling final third, In the Earth is fantastic. 
Neon is releasing the film on April 16. 
1 The Sparks Brothers – A vibrantly engaging musical documentary – A
     Acquired by Focus Features (June 18) 
2 Prisoners of the Ghostland – Nicolas Cage at his wildest with the film to back it up – A
     Acquired by RCJ Films
3 Jockey –  A beautifully made and emotional character piece– A-
     Acquired by Sony Pictures Classics 
4 Mass – A harrowing and intense drama with four brilliant performances – A- 
5 CODA – A heartwarming dramedy about family and finding yourself – A-
Will be released by Apple (August 13)
6 In the Earth – A gory and engrossing ecological horror – A-
Will be released by Neon (April 16)