An Ode to Life, Love, and Music: Andrew McMahon: Three Pianos Tour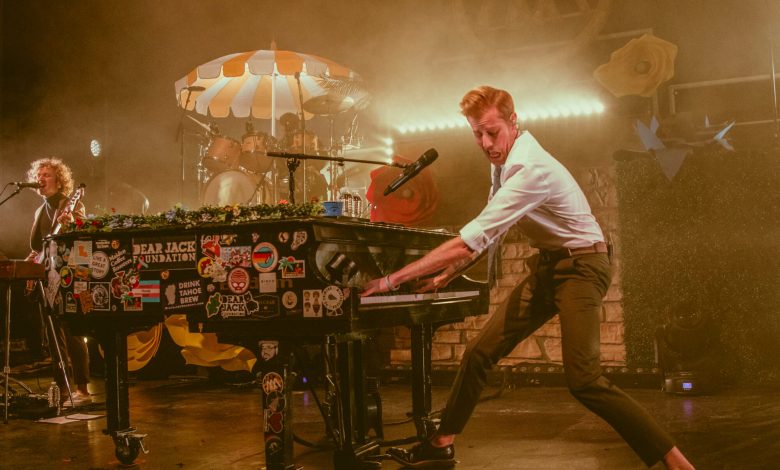 Annalise McDonnell '23 / Emertainment Monthly Marketing Specialist
Andrew McMahon and the Wilderness, singer/songwriter/rock pianist, performed at the Royale in Boston, Massachusetts on November 1, 2021, as a part of their Three Pianos Tour.
 The 1918 Royale is in the historic Theatre District. Originally an opera house, it was renovated in 2010 and received an extensive makeover in 2017.  The 16,0000 sq ft nightclub and music venue offer amazing ambiance, maintaining its original opera vibe with decorated chandeliers, opera-style ceilings, plush furniture, a 360-degree balcony, two bars while boasting a 40 ft stage, hardwood dance floor, and state-of-the-art lighting and sound systems.
This is truly an upfront personal and intimate experience intentionally designed for audiences to connect with the artist. Andrew McMahon did just that.
Zac Clark and Annika Bennett opened the show for Andrew McMahon, an excellent addition to the similar indie music McMahon has put out in the past.
The show began with Zac Clark, a musician from Vermont. The vibrant, floral piano he was playing on is a direct replica of his personality. He interacted with the crowd, made jokes, and even performed new songs from his new record Oh Shit. 
Following Zac Clark's show was Annika Bennett, contrary to Zac Clark's show exemplified more of an acoustic set.  Bennett, with her soft voice and powerful lyrics, sang about her past relationships and played some unreleased personal music with penetrating insight identifying with our culture relating to the audience.
Andrew McMahon was accompanied by Morgan Paros (violinist and vocalist) as well as Mikey Wagner. They opened with a song from one of his earlier albums "Synesthesia," after wowing the crowd with this introduction to who Andrew McMahon and the Wilderness is. 
McMahon went on to explain the physical set of the show and how he designed the stage to create three mirrors to surround him and a piano symbolizing a map of his life with each mirror as a mile marker telling his stories through his music, lyrics, and songwriting. 
The first mirror reflected on his nomadic childhood. He was 12 years old when his family was uprooted from a small town in Ohio to Coastal California.  He traveled with only his mom and sister while overcoming a family trauma, being defined by his father's drug addiction. The second mirror represented his 20's in a punk rock band, "Jack's Mannequin", and his 2005 public battle with leukemia. Finally, the last mirror identifies with his current tour and cathartic music over the last 30 years, taking audiences to a renewed space in time.
Ultimately the theme of the mirrors was so that McMahon could finally face his own reflection and look back on the events that have occurred over the past 30-somewhat years. Throughout the course of the show, McMahon told a story and the meaning behind each one of his songs. He went into detail about his childhood, how he met his wife, high school bands, and other bands he's been in in the past, and what these songs meant to him.
McMahon has used his piano as a therapeutic tool, striking the ivory keys through song and lyrics unpacking his life, reflecting on his past, telling stories about his childhood, high-school years, dating, his wife, and his history with music and former bands. He used this tour and setlist as an ode to all the bands he's been in during his career, including songs from his 20's that he released years ago.
For longtime fans of Andrew McMahon, this was a nostalgic show, a mere appetizer for fans to look forward to more music reflected in McMahon's mirror of life.
McMahon ended the show with a classic song, "Cecilia and the Satellite," but quickly came back with a 5-song encore! Unheard of!
Seeing Andrew McMahon and the Wilderness is definitely a must.