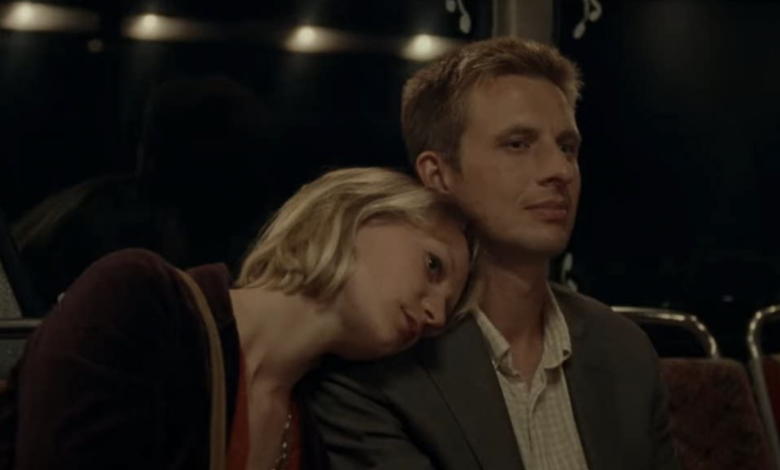 Karenna Umscheid '25 / Emertainment Monthly Staff Writer
Bergman Island is a gorgeous and highly meta excavation for film lovers. Realistic in the depictions of writer's block, sharp and witty in its relationships, and cheerily funny, particularly Tim Roth's performance, the film was a phenomenal watch for all audiences. Film lovers in particular will revel in the relatability and the cinematic references. 
The pressure of writing, when you're paired with a productive partner in a house you're staying in specifically for writing, is only exacerbated. Chris Sanders (Vicky Krieps) and her partner, Tony, (Tim Roth) went on an excursion to the island of Faro, known by film-enthused tourists as Bergman Island, for a vacation where they plan to write their screenplays. The presence of Ingmar Bergman, a famous director,  and his multitude of masterpieces hangs over Chris as she sleeps in the house where Scenes From a Marriage was filmed. Ironic, for a romantic getaway. 
Ingmar Bergman also serves as a representation of the healing powers of the medium of film. A tour guide explains how much writing Persona saved Bergman. When Chris and Tony arrive at the house they stayed at, they are told that it's the house where Scenes From a Marriage was filmed, which made many couples divorce. It's the invasion of film inside of the people that radiates through this film, in the way that Chris's screenplay is a part of her, in how Ingmar Bergman still seems to inhabit the island, and in the way the viewing of his films shapes the characters as they write for a summer on his island.
Fascinatingly meta, a large part of the film takes place inside of Chris's screenplay. It tells a depressing and romantic story of Joseph and Amy, recounted by Chris to Tony (Tim Roth). Every aspect of this film feels personal and interconnected with human, artistic experience. Cutesy banter between the main romantic couple floats the film enjoyably, but the screenplay is what makes the film great.
Joseph and Amy's love (and longing) feels cinema-like in and of itself. The fictional couple seem to already see themselves as main characters, and their grip on each other slips throughout their adventures together. In her experience traveling the island, Chris traverses the same way Joseph and Amy, the characters she wrote, do through love. As she ventures off the beaten path to hidden Bergman spots and beaches, her characters run naked into the ocean at night, and dance to ABBA. Amy goes on stage to dance as Joseph lingers and watches, but then he walks out and she struggles to find him again. She craves his love but she also craves his attention. Joseph and Amy are in shambles romantically, an amalgamation of the confusion and frustration in Chris's writing, but in the form of a slow-burn romance. 
Gorgeously picturesque, quirky in dialogue and character interactions, and enjoyably meta, Bergman Island is almost impossible not to enjoy. Ingmar Bergman fans will especially be pleased with the way he inhabits the film. Intimation, in the sheer amount of films he made, contrasted with Chris's writer's block, creates a fascinating dichotomy, highlighting the burden that writing can produce. 
At one point, Chris describes her anger towards the enchantment of film, and how it forces emotions, sometimes painful, onto the audience. Yet she explains she could never stop watching them, despite the pain they can cause, because of how much she loves them. Bergman Island is personal and full of love, for film, and for the craft of filmmaking. Cinephiles and casual audiences alike will be enchanted by Mia Hansen-Love's work.