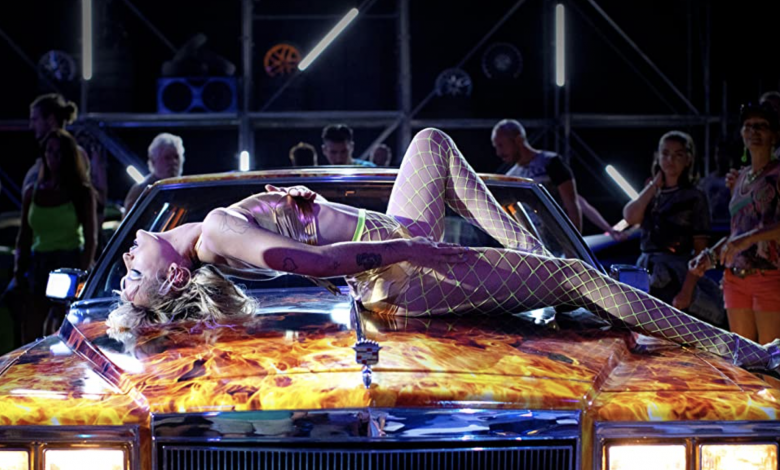 Josh Carone '22 / Emertainment Monthly Staff Writer
In the first 20 minutes of the film, a woman has intercourse with a Cadillac, and it's maybe the tenth most shocking thing to happen in Julia Ducournau's Titane. The film, which won the 2021 Palme D'Or, is the French director's second feature film. It follows Alexia, a young woman who, after being involved in a harrowing car crash at an early age, becomes attracted to the titanium automobiles. This attraction manifests into a pregnancy that, aside from the biological impossibilities, is heartbreakingly beautiful. Oh, btw, she's also a serial killer. Forgot to mention that.
Out of respect for the creative ingenuity of the plot, this review will refrain from spoiling Alexia's journey throughout the film. It's a film that deserves viewing, although more queasy moviegoers may want to opt for a Wikipedia summary instead of an AMC ticket.
Nevertheless, Ducournau is among the best young European directors working. The mise en scene in each of Titane's sequences are phenomenal and Ducournau's incredibly fluid camera movement is beginning to become a staple of her staple. There's a tracking shot in the beginning of the film that follows Alexia through a half auto body shop, half strip club, and it is perhaps the best long take of the year. It's rare that a director develops a completely enigmatic style after only two films. And yet, when looking at Raw and now Titane, it's clear Ducournau's personal vision is completely formed.
However, perhaps the biggest flaw in Titane is to some its biggest strength: the plot. Unless there's an R rated Cars 5 debuting this year, Titane is hands down the most original story of the year. That being said, the labyrinth of treachery Alexia embarks on is, at times, a little too far-fetched to grapple with emotionally. Alexia's pregnancy is an interesting concept, and it's perhaps more interesting that Ducournau asks audiences to care for this maternal relationship as if it were human to human. But it is quite difficult to watch Alexia drip gasoline out of slits in her stomach, and not be blinded by the thought, "Holy sh*t, is that a car baby?" Another detractor to Ducournau's plea for empathy is the copious shock featured throughout the film. Ducournau is undoubtedly a master at body horror. Couple this with Agatha Rouselle's gut-wrenching performance and you get two hours of the most beautiful f-ed up stuff of 2021. But Titane's shock is overwrought, and at times overshadows the narrative. Critics of Gasper Noé often use the same analysis to disparage films like Irreversiblé and Climax. Who knows, maybe the French just have tougher stomachs than us. Alexia sure does.