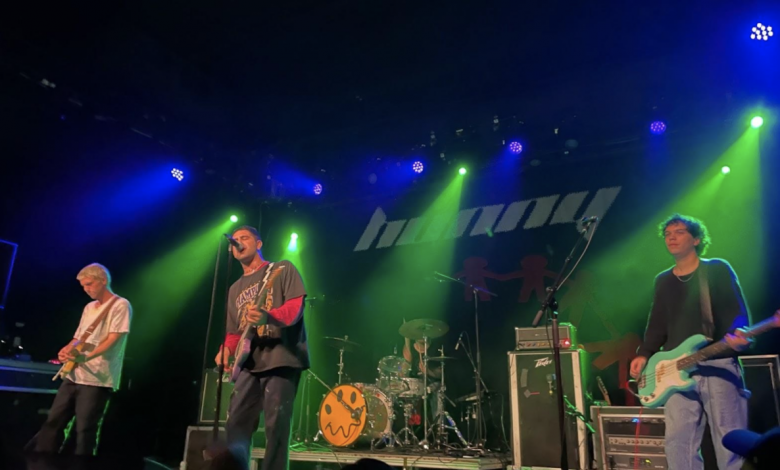 Minna Abdel-Gawad '25 / Emertainment Monthly Staff Writer
Indie Rock band HUNNY put on a stellar show in Cambridge's 'The Sinclair' on October 26th. The band performed a high-energy set matched by a high-energy crowd.
The four-person band consists of lead vocalist and guitarist Jason Yager, backup vocalist and bassist Kevin Grimmit, guitarist Jake Golstein and drummer Joey Anderson. 
The show began with two opening acts, which many times can leave crowds restless but 'Michi' and 'Small Crush' had the crowd entranced. Michi's smooth and slow pop got the crowd moving before the show. She kept the crowd engaged, asking people questions and dancing across the stage. While she's a smaller artist, she has a stellar voice and is engaging to watch on stage, with her dreamy rendition of 'Lovefool' by the cardigans had the crowd jumping.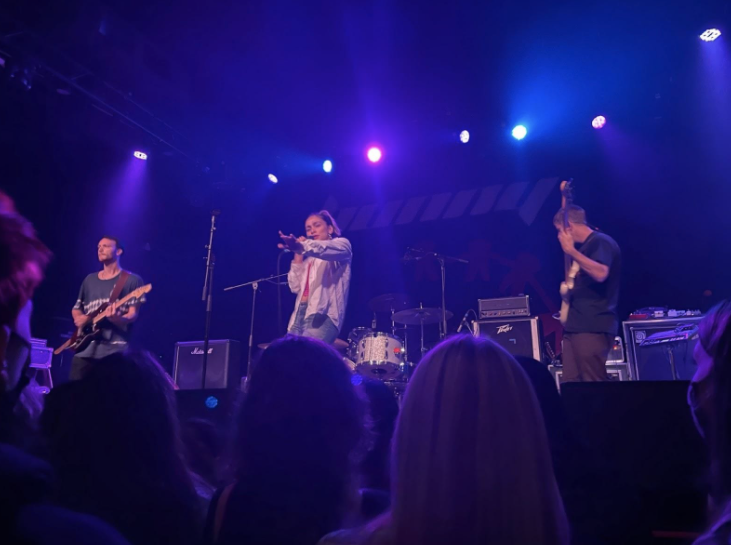 Following 'Michi's' half hour hypnotizing set was 'Small Crush.' 
Indie band 'Small Crush' consists of lead vocalist and guitarist Logan Hammon, lead guitarist Jackson Felton, bassist Tommy de Bourbon and new addition, drummer Allen. The band had fans in the crowd singing along to their songs such as 'Chicken Noodle' and 'Signal Dream'. Regardless of being familiar with their songs, 'Small Crush' was engaging and fun to watch; every member of the band wanted to be on that stage, with Logan dancing along, Allen singing to himself whilst on the drums, Tommy smiling whilst looking out to the crowd, and Jackson and Logan bantering off to the side. The band had the whole crowd dancing as they turned the disco ball on for their soft and sweet rendition of 'I will survive' by Gloria Gaynor. 'Small Crush's' energy was intoxicating and fun, the artists know themselves and their sound.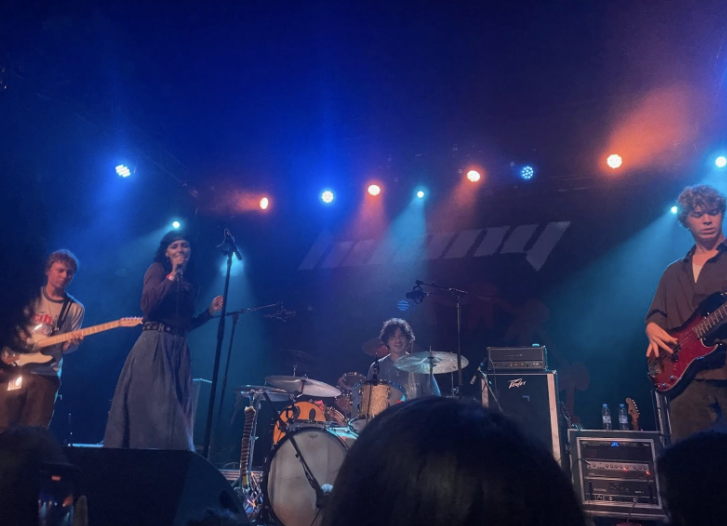 HUNNY then came running on stage opening with the line "don't be shy look alive" sung in a style reminiscent of early 2000's pop-rock such as Blink-182 and Simple Plan. This opening line had the crowd screaming back to the band and jumping around immediately. 
HUNNY was absolutely electric, Jason began jumping on stage, getting on his knees belting the lyrics out, and even helping start a mosh pit. In response to this energy, the crowd was completely insane and intense at points. Throughout the night six mosh pits formed, two individuals crowd-surfed, and people were trampling over one another whilst jumping around all night long. Needless to say the pit was breathing heavily through the masks between every song. In response to the crowd's reaction, bassist Kevin said "you guys are f****ing awesome"
While HUNNY's songs are upbeat headbangers, the lyrics are raw and real with Halloween's pre chorus saying "And I just remembered it was Halloween//So I guess I'm going as a guy who knows just what you'll say//You don't think that I'm gonna change." Hearing Jason's gravely and enchanting voice in person was an experience like no other, accompanied by Kevin's softer but just as thoughtful harmonies on songs like 'Xbox Luvr' showed how well their voices blend together.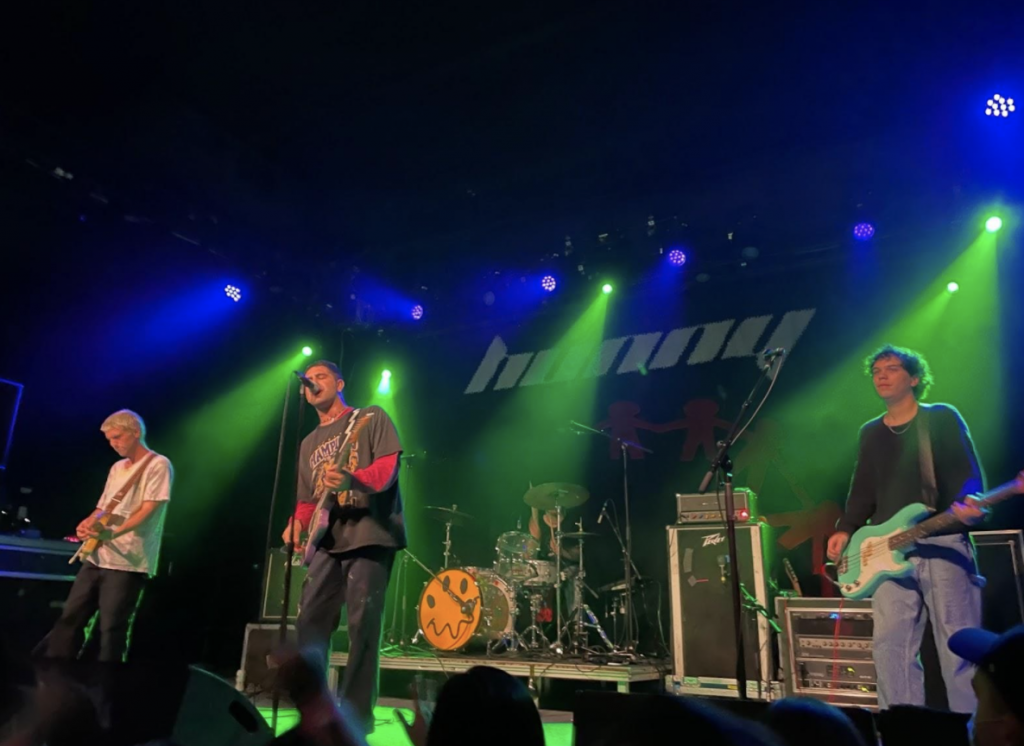 Throughout their set the band would never leave us in silence. Whilst members of the band took a rest, drank water, or in Jason's case wine, another member would freestyle playing fun tunes before coming back in full swing for their next song. This really showed how in tune the band was with one another with Joey and Jason many times bantering throughout a song, and Kevin propping Jason up so he doesn't fall as he utilized the stage space or when Kevin and Jackson would interact across the stage facing one another as they play. To say the least the band is dynamic to see live. 
The band was interactive with the crowd, which really contributed to the general atmosphere and willingness for the crowd to interact with the hectic craziness. During their single 'Vowels' the band had hand gestures they encouraged the crowd to participate in for their lyric "Without me or A E I O U". By the end of the song every person in the venue was gesturing along.
HUNNY had everyone buzzing in the venue with their lovesick, melodramatic rock ballads that had audience members listening to the somber lyrics whilst jumping around and enjoying themselves. As a first experience back to small venue concerts post-COVID, one couldn't hope for a better lineup.  
Shy

Halloween 

La Belle Femme

A Slow Death In Pacific Standard Time

Saturday Night 

Change Ur Mind 

Gilding the Lily 

Rebel Red

July

Cry For Me

Xbox Luvr 

Vowels (and the Importance of Being me)

Everything Means Everything Meant Everything 

Parking Lot

Sports With Strangers 

Lula, I'm Not Mad

Televised