House of Gucci: A Fast-Paced, Dramatized True Tale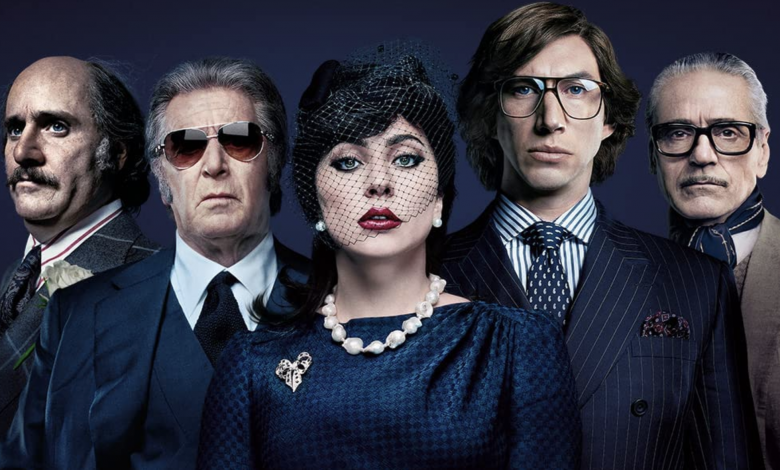 Karissa Schaefer '23 / Emertainment Monthly TV Editor
Spoilers ahead.
Lady Gaga continues to dominate every acting role she's given in House of Gucci, alongside big names Adam Driver, Jared Leto, Salma Hayek, and Al Pacino. Directed by Ridley Scott, the movie—based on a true story—follows the tumultuous relationship between Patrizia Reggiani (Gaga) and Maurizio Gucci (Driver), detailing the downfall of their marriage, the Gucci family, and the family-owned Gucci brand. 
After starring roles in American Horror Story: Hotel, A Star is Born, and now House of Gucci, Gaga has proven herself to be just as strong as an actress as she is a singer. Just as Patrizia says to Maurizio about their budding romance at the beginning of the movie, "I want to see where this story goes." And boy, did this story go. 
The movie's duration was two hours and 38 minutes, yet it didn't nearly feel that long. The small press release audience was glued to the big screen with its fast-paced timing, as the film quickly covered decades spanning from the 1970s to 1997. While so many biopics or movies based on true events focus on the drama behind the facts, House of Gucci takes it a step further. The genre is labeled as crime/drama, which is true, but comedy should also be added. Audience members found themselves laughing at multiple points throughout the screening, and who could blame them?
Paolo Gucci (Leto) and his father, Aldo Gucci (Pacino), regularly served as the comedic relief, as well as Pina Auriemma (Hayek). In fact, Gaga's name might as well be added to this list, as she even had frequent one-off snarky liners. The genre mixing was welcomed and fresh, as comedy is often absent in movies with plots centered around dark histories. However, it's safe to say that some of it got stale—and "some" meaning Leto's character Paolo. 
Everyone knows Gucci originated in Italy, and it's the actors' jobs to portray their "characters" in the most authentic way possible. Thus, each actor committed to an Italian accent. Leto is known for his method acting practices on set, from previous movies like Suicide Squad and Requiem for a Dream. Instead of playing a character, he lets the character completely overtake him, and that's evident in House of Gucci. His work as Paolo can be described as cliche, with an exaggerated accent at times and the so-called "idiot" in a rich, business family. Everyone loves a good comedic relief character, but at a certain point, it borders the line of an annoyance. His dedication to the craft of acting is appreciated, but his portrayal of Paolo Gucci didn't stick the landing. 
The movie has many memorable moments and quotes, like Gaga's "Father, son, and house of Gucci" and dialogue between Patrizia and Maurizio, "I had no idea I married a monster" (Gaga); "You didn't. You married a Gucci" (Driver). The setting and music really transported the audience to late 20th century Italy, with Italian opera music during a sex scene and the Italian version of Smash Mouth's "I'm a Believer." Alongside this were many beautiful environmental shots of Rome and the Italian Alps. These, and the realistic sounding accents, encapsulated the essence of Gucci's birthplace. 
The techniques of the behind-the-scenes crew also showed numerous times. A semi-drawn out passionate sex scene in the beginning part of the film instantly cut to Patrizia and Maurizio's wedding day. Then, there's a nice scene shot in black and white featuring the swarm of paparazzi bombarding the newlyweds as they get into their car. It's a sweet moment, which is a rare one as the movie goes on. The change was abrupt, but as the movie went on, it became a commonality. Almost each scene seemed to end that way, on a funny one-liner from a character, and then they would instantly transition to the next scene setter. 
Maybe it was due to the fast-paced timing, but the details behind Maurizio's growing disinterest in his relationship with Patrizia were slightly convoluted and happened suddenly. There was no hiding Patrizia's downfalls as it was made quite clear to the audience. Though, it seemed like the light bulb going off in Maurizio's head happened off screen. One minute, Maurizio is narrowly escaping a police raid to go to another country, and the next time we see him, he is instantly turned off from romantic relations with Patrizia. The chemistry between Driver and Gaga flourishes in the movie, and this complete 180 from love to disgust is believable. 
In the final moments of Maurizio's life, anticipation builds. The audience knows how this story ends going into the movie, and as the duration inched closer to the end credits, Driver acting seemingly unbothered and happy was almost worrisome. After enjoying a day at a cafe, Maurizio rides a bike back home when he is assassinated on the entrance steps by being shot by a murderer for hire. After Patrizia befriends the 1-800 psychic Pina—who practically manipulates Patrizia into the mindset of murdering Maurizio—she leads her to the idea of a contract killing. Though she didn't shoot him herself, Patrizia comes out just as guilty for seeking hired killers. For having a tense buildup, the shooting itself was a bit underwhelming, but all actors involved in the scene delivered. 
House of Gucci will make viewers want to dive deeper into the complicated family history of the designer powerhouse. It's enticing, dramatic, and eye-catching. The actor transformations and their character progressions throughout the movie's time period feel grounded in reality, even if some characters were designed to be a bit over the top. Though some complaints, overall, the film was intriguing and will leave people questioning why it took so long to conceptualize the idea for the story.