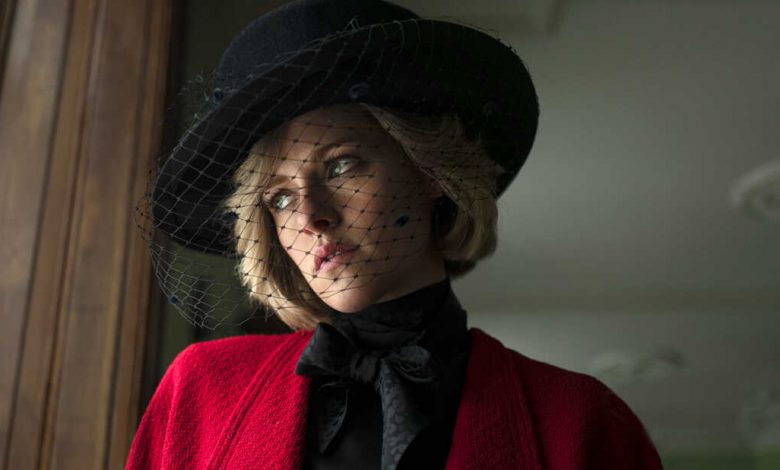 Karenna Umscheid '25 / Emertainment Monthly Staff Writer
There's always a real person behind those that are idolized beyond recognition. Every person who watched her get married and live in turmoil and under constant scrutiny has a different idea of who Diana Spencer was as a person. Few actually really knew her. There's the juxtaposition of the Diana in public perception and the actual person.  Whether her public portrayal was good or bad at each moment, it was still different from her actual self. Pablo Lorrain's version of her indulges in the fiction, not to be exploitative, but to shed all the layers formed around Diana, and paint a genuine portrait. 
The film opens with cars zooming past a lone pheasant on the ground, nearly getting demolished each time. Perhaps it's one of the lucky ones, able to escape its death-row like fate, to be shot for pleasure by the royals. Later, Diana speaks to a pheasant, in a moment that's almost kinship. Though her children's father pulls their sons towards the hobby of pheasant-shooting, Diana musters the strength to reject it. She walks onto the gunshot-filled field and demands her sons to leave with her. Like the bird, she is at the mercy and captured by the Royal Family. The fictional nature of Spencer grants her freedom, a hint of warmth in the dead of an English winter. 
Lorrain rejects the traditions of a biopic in Spencer, opting instead for the style of a dread-filled thriller through the lens in which Diana spends a royal Christmas holiday. Drawing similarities to The Shining, Diana's self deteriorates in a large mansion in the wintertime. She keeps having visions of Anne Boleyn, carrying the legacy of painful womanhood under the eye of the British press and the Royal Family. In Anne, she sees her future immortalization, a woman scorned by society, posthumously becoming a symbol. A cautionary tale of the turmoil of being a member of the Royal Family constantly under the scrutiny of imperfection and the inclination to misbehave. 
Consumption is a trick mirror. Diana, in nightmarish daydreams contracts pica and wolfs down a pearl necklace, but in reality suffers from bulimia. And while the press and the family eat away at her completely, she is unable to nourish herself in reality. Her consumption is seen as wrong and her regurgitation, too. Her normalcy is best displayed in her cravings, fast food instead of posh soups. And when she and her sons escape at the end of the film, they eat at a KFC. 
Her temperament is captured in an icebox, or perhaps a uncomfortably cold and windy day. The chill is inescapable. Dotted with a translucent, gorgeous score, Diana seems to tread lightly and quietly in the presence of the royals. She's at her coldest when she finally makes her way to her childhood home, reminiscing on her adolescence. It's here where she nearly commits suicide, stopped only by her Anne Boleyn hallucination. Only in the presence of her sons does Diana seem to feel warm. On Christmas Eve, she and her sons are lit by candlelight where they play games and laugh together. It feels like a defrosting of Diana, her deep love for her family as her purest self unearthed. 
Lorrain's version of Diana doesn't exploit her tragedy, it hones in on her personhood, her relationships with her sons, and her relationship with herself. The end is a fantasy like that of Once Upon a Time … in Hollywood, as she acts freely in the way she should have been able to in reality. Kristen Stewart's portrayal is brilliant, disappearing into the role gorgeously. Spencer is a triumph. It manages to feel fresh in the tired biopic genre, and honest and genuine in a story that has been tabloid-ed ruthlessly.