Beach Fossils and Wild Nothing Concert Review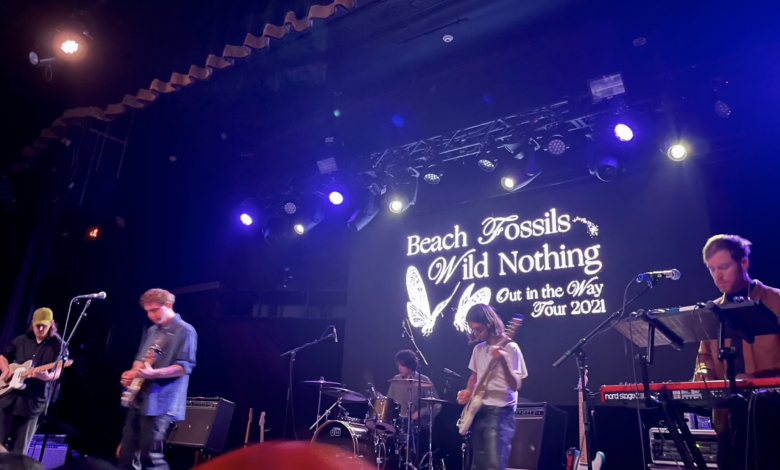 Minna Abdel-Gawad '25 / Emertainment Monthly Staff Writer
Indie Rock band Beach Fossils put on an unforgettable and exhilarating show at Boston's 'The Royale' on October 30. 
The show took place on the eve of Halloween, so The Royale was all decked out with spooky knick knacks. The haunted scene set by the venue was matched with the majority of concert attendees choosing to come clad in their Halloween costumes. The most notable were different versions of Taylor Swift, 'Lady Bird' and the fairy godmother from Shrek 2.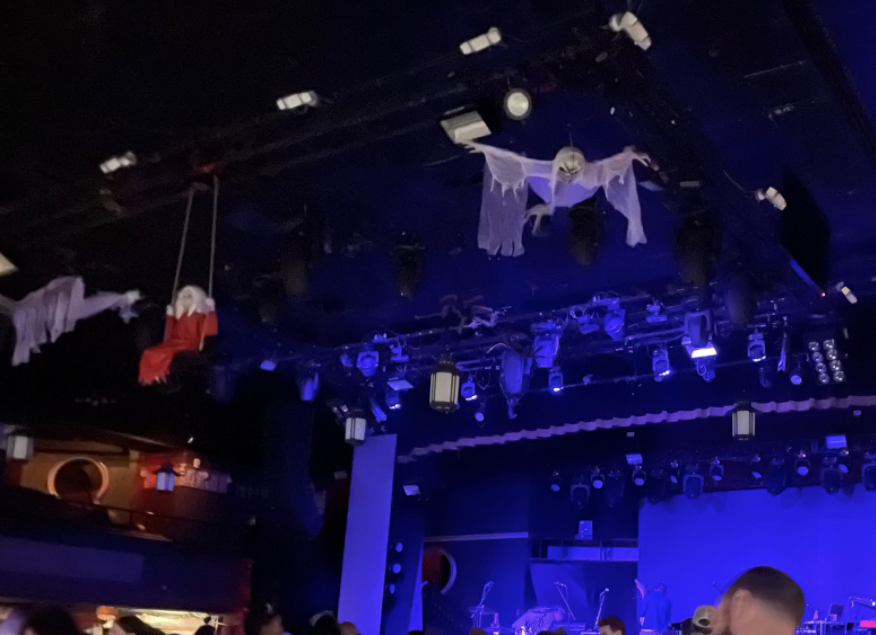 The show opened with Hannah Jadagu, an indie pop artist who had a silky smooth voice and catchy lyrics. Jadagu had the entire venue enthralled and in awe by her vocals, upbeat guitar. Jadagu spoke to the crowd, asking questions and pointing out her favorite costumes, keeping everyone engaged and involved. Before performing her song "All My Time is Wasted," she told the crowd the lyrics which encouraged them to sing along. Jadagu was sweet and bright, moving around the stage and dancing to her songs.
Following Jadagu was the first headliner of the night, Wild Nothing.
Front man Jack Tatum has been performing as Wild Nothing since 2009, and began playing with bass guitarist Jeff Haley in 2010. Since 2010 Tatum's band has been ever changing. But from 2018-present Tatum has been performing with his band Nic Hessler on guitar, Cameron Allen on drums and Joshua Sushman on keyboard and saxophone.
Wild Nothing's music was reminiscent of artists such as 'The Smiths', with melancholy guitar and melodramatic lyrics. Many times it felt the vocals were being drowned out by the guitar and bass, which made people want to really listen and grasp the lyrics. 
The crowd was mesmerized by the lyrics and truly listened to the music. Which made for a thoughtful but silent crowd. As said by one particularly loud concert-goer, "you could drop a dime in here and hear it!" 
That is not to say the performance was not engaging to watch, though.
The band was really in tune with one another, which was nice to see considering the inconsistent history of Wild Nothing's band members. They all seemed really focused on the music, getting lost in the sound, and clearly enjoyed and understood the music they were making. 
Joshua on saxophone was engaging to watch and the brass added an extra dimension to the sound. The heavy use of synth and electronic juxtaposingly accompanied by saxophone or classic rock sounding guitar solos, making it really refreshing to hear. 
There were some really hard hitting lyrics like "There is nothing left for me to forgive again//And It's cold in your bed//And those flowers have long been dead// If you wait you can see there's a place where I used to be" sung hauntingly by Jack. Making the very low atmosphere echo with the sadness and intent the lyrics were meant to have.
Despite both bands being listed as headliners, it became abundantly clear that the crowd was there for Beach Fossils. The energy shifted when they came on and it was evident that everyone was familiar with their entire discography.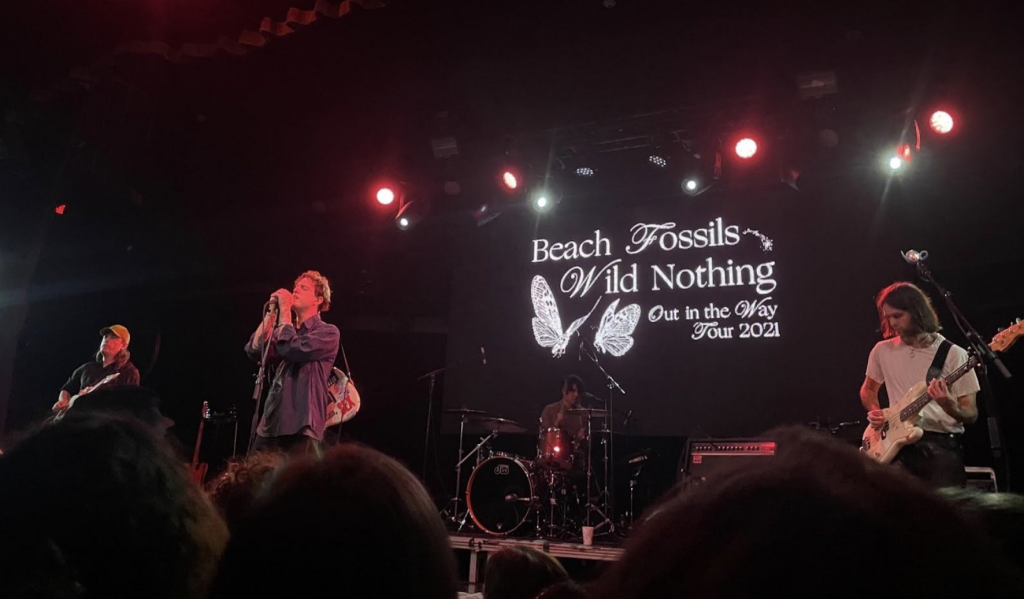 The band consists of the four core members Dustin Payseur lead vocalist and guitar, Jack Doyle Smith on bass, Tommy Davidson, guitar, and Anton Hochheim, drums.
Beach Fossils has a specific soft vocaled, vibey sound which makes them good to listen to when decompressing or when you really just want to listen to some good music so I was really curious to see how this show would pan out. Some concert go-ers around me discussed before the show how they wanted to start a mosh pit and someone said "I really dont think we'll get a mosh going, their sound is too chill for that". 
If only we had known where the night was going. 
The band opened with their song "This Year" which is the echoey self reflective song talking about a complex relationship dynamic. The crowd was visibly excited but also just listening to the music, absorbing it all. However when Jack began playing his solo in "What A Pleasure" people began a mosh pit, throwing one another around. In response to this shift in the crowd's energy, lead singer Dustin exclaimed "See. This is the Boston I know!" 
By their most upbeat song "Generational Synthetic" Dustin opened up by saying "are you guys ready for this one, it's gonna get a little wild". And it absolutely did. 
Every member of Wild Nothing and Hanna Jadagu's band began crowd surfing; this then encouraged others, clad in their Halloween costumes, to do the same. There were two Marios in the crowd who immediately took this chance to crowd surf.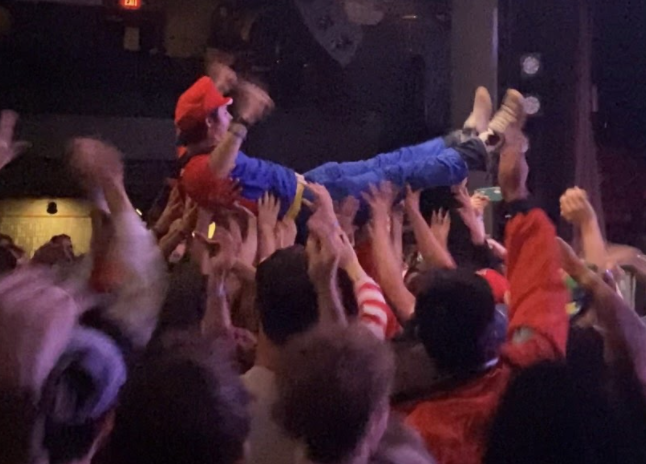 From there on out the show and atmosphere in the venue was electric. 
They followed this up by playing 'Down The Line', a fan favorite, that had every person in the venue yelling the opening lyrics "I don't want your Wall Street// Don't got no degree// Written on the concrete, ACAB" back at the band with a passion I haven't heard in a while. People were not only listening to the music but were involved in it. 
There was this energy, mutual respect and genuine connection between band members. A repertoire that can only be developed with these same people playing together for the past decade. 
Beach Fossils began in 2009 and it is evident the moment the band plays together that they just understand one another and they enjoy every moment they are up on stage. The banter that was shown that night was really that of brothers; with a solid 3 minutes of the show being Tommy and Jack going back and forth trying to remember a joke they wanted to tell the crowd or the band dedicating the song "Be Nothing" to drummer Anton, it was endearing and a fun insight into the band's dynamics. 
Halfway through the set Dustin asked that all the lights be shut off and told the audience to use their flashlights. Every member of the audience put their flashlights on immediately setting the stage aglow. It was a moment of unity amongst audience members, it felt incredibly intimate and real. They even brought out Joshua on the saxophone for a solo.
The final song on the set list was their sonically complex song 'Birthday' which heavily features dissonance to create this eerie and fun atmosphere which had the crowd buzzing and yelling along. 
The crowd quickly called the band back for an encore where they played 3 additional songs, taking fan picks.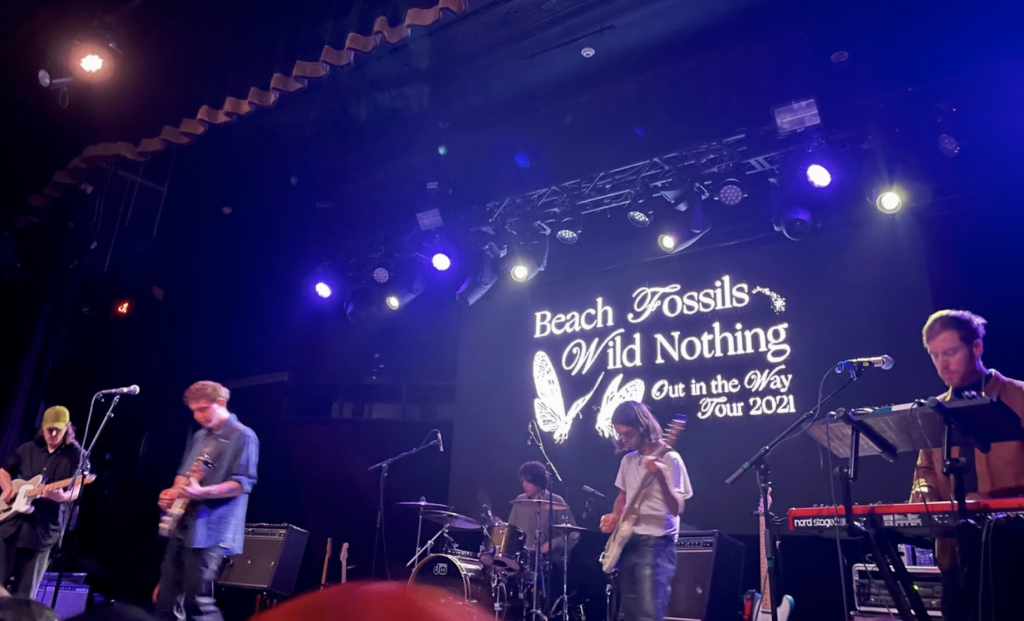 Beach Fossils' encore rounded off with "Out In The Way", a song recorded with Wild Nothing. Jack came back on stage where he was reintroduced by Dustin. It was shared with the crowd how thankful Dustin felt to be touring with Jack and his band as they had been friends for over a decade and, in fact, Jack had been the best man at Dustin's wedding. The song was a beautiful duet that showcased both men's voices but also gave room to highlight the guitar and bass solos which Beach Fossils is known for.
The concert was a pleasure to be at and it really distinguished in my mind the difference between great artists and great performers. Beach Fossils' discography is low energy and thoughtful making them great artists but this concert was lively and chaotic, proving that they are great performers who know how to put on a show. 
Wild Nothing's setlist — listen to it on Spotify here
Summer Holiday 

Counting Days 

Through The Grass 

Only Heather 

Partners In Motion 

Nocturne 

Blue Wings 

Live In Dreams 

Paradise 

Gemini 

Alien 

Letting go 

Shadow
Beach Fossils setlist — listen to it on Spotify here
This Year 

Sugar 

Fall Right In 

What A Pleasure 

Adversity 

Generational Synthetic 

Shallow 

Down The Line 

Be Nothing 

Sleep Apnea 

Window View 

Calyer 

Birthday
Encore
May 1st

Out in the way 

Day Dream