The Sex Lives of College Girls Review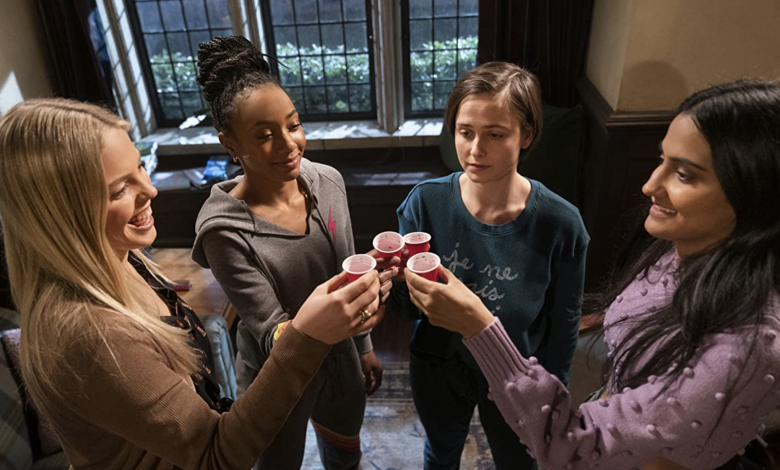 Nicole Belcastro '25 / Emertainment Monthly Staff Writer
The newest show from creator and writer Mindy Kaling premiered on HBO Max Nov. 18. The Sex Lives of College Girls follows four freshman college students that are randomly assigned as roommates at the prestigious Essex College. 
Kimberly (Pauline Chalamet) is an academically driven people pleaser. She differs from the other students at her affluent university because she immediately applies for a work-study job. Kimberly comes from a sheltered, small town and doesn't know how to appropriately act in a diverse environment. While she has the best intentions, she has a lot to learn. 
Leighton (Reneé Rapp) is a legacy student that went to Essex College with plans to room with her friends from high school. After her friends ditch her, she is forced to move into the suite, much to her dismay. Leighton is cold towards her suitemates until she realizes she will be living with them for the entire school year.
Whitney (Alyah Chanelle Scott) is the Black daughter of a senator. She has aspirations to be a star soccer athlete. The soccer scenes in the first episode were often choppy and felt like they belonged in a high school based show. It came off as the writers only made Whitney a soccer player to give her a multi-faceted personality.
Bela (Amrit Kaur) is an Indian college student and aspiring comedy writer. Her focus during the first episode is securing a position as a writer for the college comedy magazine, "The Catullan." Bela is very forward and her excitement for college is evident. 
The Sex Lives of College Girls has a diverse cast; this is not usually the case for most tv shows, especially school related shows. The diversity offers substantial representation for a broad audience. Whitney and Bela's storylines are not reliant on their race. They have issues, hobbies, and interests that are all their own. As far as we have seen in the first episode, their race is not their defining characteristic and has not drastically affected their storylines thus far. 
The cast looked the part of college students. In many school based shows, the actors look much older than the characters they are portraying. It is important that college students see people that look their age when a show is about their experiences because they will feel seen. 
Throughout the episode, the girls leave the suite and the audience is shown the different paths they are on. The suite plays a key role in keeping the girls together. Each of their stories connect because they are living together. We see the girls come together in the suite, in the dining hall, and at parties. The characters are bound to each other. 
This show is not a completely accurate representation of the college experience. When Kimberly's parents drop her off at school, her father dramatically blubbers the whole time. His performance feels like he is participating in a parody. The show often relies on college tropes, such as overly attached parents and academic overachievers, to get its message across. While this comes off as cheesy at times, it could help draw in a younger audience. 
The Sex Lives of College Girls does show the combination of nervousness, excitment, and awkwardness that comes with starting college. At first, the suitemates are uncomfortable around one another. One scene shows Kimberly changing in the closet because she is unsure how to live with another person. The episode shows the girls' transition to living alone without their parents and having independent freedom for the first time.
If the bold, but basic title of the show doesn't suffice, the opening shows PDA, and the word "sex" is repeated multiple times, followed by a still of the show's title. 
Kimberly comes to college still in a relationship with her boyfriend from home. She revealed to her suitemates that her and her boyfriend have decided to wait to have sex. This wait is short lived because her boyfriend visits her and they decide to have sex. The next morning he breaks up with her. 
Bela is sexually inexperienced, but she is very eager. She deems herself as "sex positive." She misunderstands Leighton's advice and ends up giving six hand jobs to Catullan voters at a party. Bela is happy to gain any sexual experience she can. She is bold and even asks a man she meets in passing to take off his shirt.
Leighton is presented as the 'it girl' who has it all. The presentation of her character and her confidence infers that she's had previous boyfriends. After she ditches her suitemates at a party, it is revealed to viewers that she meets up with women she connects with on a dating app. Leighton offers LGBTQ+ representation and her character gives the writers an opportunity to show the challenges of queer dating and sex in college. 
Whitney is having a sexual escapade with her soccer coach. They sneak around in his office and he sends her gifts. She genuinely enjoys being with him, but when she runs into him outside of the college, she finds out he has a wife. This relationship shows how those with positions of power can take advantage of those underneath them. Whitney's relationship with her coach is inappropriate and upsetting, but the reality is, many girls unfortunately find themselves in similar situations. Showing this relationship can help girls in this type of situation or those who have experienced it find comfort or courage.
The show utilizes its four lead female characters to present different sexual identities and encounters. The vast sexual representation in the show can help many viewers relate. The show is able to be open about sex because the characters are adults. A sex positive show that focuses on college girls has been long overdue.   
The Sex Lives of College Girls effectively shows the unspoken sisterhood that exists between women. The four suitemates from a sisterhood immediately, and it is shown when the rest of the suitemates stand behind Kimberly and kick out her ex-boyfriend. The suitemates also leave the party together to ensure their safety. When Leighton chooses not to attend the party, Kimberly texts her to make sure she is okay. College is a unique experience because everyone is on their own and surrounded by people going through similar circumstances. Bonds are formed quickly, and this is shown through the suitemates' relationships.
The Sex Lives of College Girls feels like a grown-up version of Kaling's other show, Never Have I Ever. Most shows follow high school students, containing actors that appear much older than the character they are portraying. The Sex Lives of College Girls is refreshing in the sense that it offers an age appropriate perspective. Towards the end of the episode, there's a montage of the girls getting ready for a party. The girls are wearing age appropriate outfits and drinking alcohol before going out. These are age appropriate activities that are indicative of the college experience.
While the ages of the characters are appreciated, the writers of the show seem out of touch with the current generation of college students. There are multiple times that outdated jokes and puns are delivered flatly. There are cringe-worthy moments that lead me to question which year this show was set in.  
At least there is finally a show for college aged students to relate to. College students and adults no longer have to rely on high school centered shows for lighthearted content. The Sex Lives of College Girls doesn't deal with any dark or gritty subjects. Even when there are minor conflicts in the episode, the tone dictates that everything will eventually work out. This is because the show is about girls experiencing adulthood, and life has a way of working itself out. The show mirrors reality in this way. 
In a featurette for HBO Max, Kaling said she sought out to portray the "sexy, funny, diverse college [experience] she knew." Kaling said that the girls in the show represent the person she wanted to be in college. She remarked that the show follows the girls' "sexual awakenings" and different paths.
At times, the first episode felt mundane. The episode ran for an unnecessary 51 minutes. A positive aspect to the length of the first episode was that we get to see the swift transformation that college students undergo immediately after moving in. There was enough promise in the first episode to make me want to watch more. The casual format and lighthearted subject matter of The Sex Lives of College Girls makes it the perfect binge worthy show to watch over the weekend with friends. The subsequent episodes will be released weekly and run for approximately a half hour. This is a much more suitable format for the show. It does not leave you in suspense and seeking immediate satisfaction, therefore, I would recommend waiting for all episodes to be released to watch the show. This show is not a must watch, but is enjoyable and is a great option for those looking for something laid back that requires little focus.