Kacey Musgraves 2022 Tour Review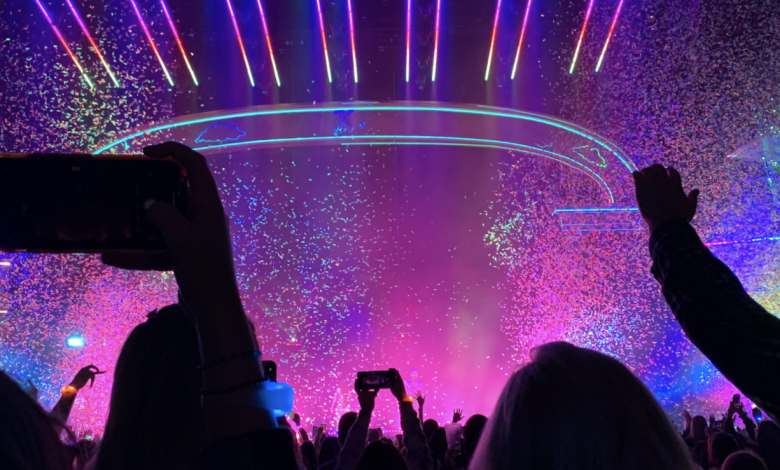 Abigail Murphy'23 / Emertainment Monthly Staff Writer
"There is a Light" in The Garden tonight
Kacey Musgraves Star-Crossed: Unveiled Tour 
TD Garden Boston, MA
January 27, 2022 
TD Garden in Boston, MA has never been known for its electric or bright energy. It is the home of several sports teams, such as the Celtics and the Bruins. It's hardly worthy of Disney World-level excitement. However, the Garden was transformed on January 27,  sparkling with bright technicolor excellence as Kacey Musgraves took the stage. Audience members jumped to their feet as Kacey began by singing the title track from her 2021 album "Star-Crossed." Throughout the show, there was dancing, laughing, and plenty of tears– making the show equally heartbreaking and healing.
Kacey Musgraves had two opening acts during this tour, and the first was MUNA— an electronic pop band based in Los Angeles. Although it is normal for the arena to be less packed for openers, most of the audience was in attendance for MUNA. They began their set with unreleased songs, and the audience danced like they were listening along to their old, favorite songs. All three members of MUNA matched the audience's excitement, dancing and jumping around the stage in a palpable bliss. They concluded their set with their most recent release, "Silk Chiffon," which features Phoebe Bridgers. The song has received a substantial amount of attention on social media, making it the perfect conclusion to MUNA's set. 
King Princess was the second opening act before Kacey Musgraves took the stage, and they quickly charmed the audience with their charisma and sex appeal. As mentioned by one audience member, "King Princess has an awesome quality of making everyone in the audience want to have sex with them." Similar to MUNA, King Princess sang three unreleased songs, before performing crowd-pleasing hits such as "Talia" and "1950." Although King Princess was incredible and the audience was quick to sing along to their music, everyone in attendance was incredibly eager to finally see Kacey Musgraves. 
As stated previously, Kacey opened her set with "Star-Crossed," which is the title track of her newest album. The album is split into three distinct sections, with each revolving around a different era of her divorce— and the tumultuous feelings that followed it. The first section dictates everything that "went wrong" in Kacey's relationship. Kacey began by singing about wanting to fulfill her ex-husband's expectations of her ("good wife"). She then sang about wanting her marriage to be easy again ("simple times"). Finally, the section concluded with the power anthem "breadwinner," in which Kacey laments about feeling like the successful one in her relationship. Female audience members were quick to sing along in solidarity. 
Following the first section of Star-Crossed, Kacey performed six songs from her 2018 album, Golden Hour. Golden Hour has received a substantial amount of critical acclaim, winning Grammy Album of the Year in 2019. The audience was quick to sing along to old favorites such as "Butterflies," "High Horse," and "Space Cowboy—" amongst others.  Everyone seemed to know the lyrics of these older songs, singing along and creating an electric atmosphere within the audience. These songs also have a positive, loving energy that is less prevalent in Star-Crossed, making them the perfect contrast to the more heartbreaking songs Musgraves performed earlier in the evening. Kacey finished her set by singing the remaining songs on Star-Crossed and covering "Dreams" by Fleetwood Mac. Her songs "there is a light" and "Rainbow" served as uplifting crowd favorites. 
During the show, Kacey wore a simple lavender corset top and matching lavender Adidas track pants. The look was trendy, but comfortable, highlighting Kacey's ability to connect with her fans. Part of Kacey's allure comes from how relatable she is, which is why it wasn't that surprising when she began the night by telling fans that she ordered a burger and a margarita right before going on to perform. 
The energy in TD Garden on Friday was brilliant, as Kacey Musgraves and her supporting acts undoubtedly brought the house down. The show was an unforgettable experience that fans will be raving about until Kacey's next album release.