The Dubious Morality of Euphoria's Characters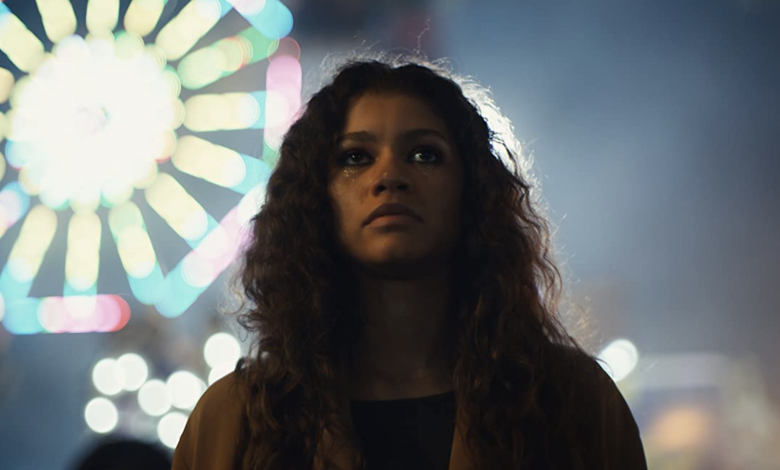 Isabella Astuto '25 / Emertainment Monthly Staff Writer
After rave reviews when the first season aired in 2019, Jan. 9, 2022 brought fans the premiere of Euphoria season two. The show's first season was praised and critiqued for its over the top, brutal depiction of the modern day high schooler, and the second season does not back down in the slightest, some claiming it has already surpassed the first season's intensity in the five episodes that have come out so far. Of the controversies that have arisen from the myriad of topics the show tackles, many center around the characters themselves and the dubious morality they are operating under to make the decisions they make. 
Spoilers ahead.
Though Euphoria mainly operates as an ensemble cast, it does have a main character and narrator in Rue Bennett (Zendaya), a drug addict newly out of rehab in season one. Her storyline follows her continued struggle with drugs, as well as her relationship with the new girl in school, Jules Vaughn (Hunter Schafer). The two start as best friends, but slowly develop into more as the show progresses. Jules is aware of Rue's drug habit and clearly disapproves, stating that she doesn't want to be involved with her if she continues to abuse drugs. For the majority of the first season, Rue is able to keep the promise she makes to Jules and stay sober. However, in the last episode of season one, the two of them leave prom early to run away to the city, which Rue has second thoughts about at the last second. The audience and Rue watch as Jules rides away on the train, leaving Rue behind on the platform. This causes Rue to relapse hard at the beginning of season two, befriending fellow drug addict, Elliott (Dominic Fike), at a New Year's Eve party. The two do drugs in secret, hiding it from Jules, who Rue knows will be upset by this. 
Drug addiction is obviously a very complex problem, which makes Rue's actions not defensible by any means, but explains them. Rue has had a difficult life, most of it stemming from her father dying of cancer before the events of the series. Following the first season, two hour long specials were also released, one for Rue and one for Jules. In Rue's, we see her sit down with her sponsor from Narcotics Anonymous, Ali (Colman Domingo), to discuss the events of season one and her recent relapse, where we find out more about her past and her thoughts on her relationship with Jules. 
In season two, Rue lashes out at many of the people who are important to her, such as using Ali's own sordid past which he shared with her in confidence against him, and telling Jules, "I can't fucking stand you." This is reminiscent of when she denied her childhood best friend Lexi's (Maude Apatow) friendship in season one when she expressed concern for her wellbeing after her first relapse. Episode five shows Rue at her lowest yet, on the run through her town after her mom (Nita King) finds out about her relapse. She destroys her house, runs from the police, and eventually ends up in the house of a drug dealer (Martha Kelly) she had made an impossible deal with earlier in the season, all while experiencing the devastating effects of withdrawal. As Ali says in Rue's special, "drugs are capable of making someone into a fundamentally different person," and they certainly seem to be doing so to Rue. 
While Rue is clearly contributing, she is not the only problem in her relationship. In the first episode of Euphoria, we initially meet Jules as she talks to 40-something Cal Jacobs (Eric Dane), who ends up being a very important character himself, on a hookup app. The two eventually connect in person to fulfill the expectations of such an app at a motel. Throughout the first season, the audience finds out Jules is transgender and was admitted to a mental hospital at a young age for both her gender dysphoria and tendency to self-harm. The experience at the motel was not Jules' first time hooking up with an older man, but rather one in a long line of experiments with her sexuality. Sexually, she's much more experienced than Rue, which isn't the cause for much tension until Jules ends up kissing another girl at a party while her and Rue are seeing each other. Rue feels betrayed by this, though, the two were not officially dating at this point, and therefore Jules did not technically cheat. 
While many fans of the show were completely on Jules' side in season one, season two has shown her in a significantly worse light. When Rue and Elliott initially become friends, Jules is instantly jealous, assuming Rue has a crush on Elliott. However, in episode four of season two, Jules and Elliott end up sleeping together. This has changed a lot of the public's perception of Jules, as while Rue's actions are upsetting and not right, cheating is a response that not only is unjustifiable, but out of character from what many expected of Jules. Rue and Jules' relationship is very clearly on the rocks at the moment, and the show's audience is pretty split in their reactions. In season one, it was easier to side with Jules because while she wasn't perfect by any means, Rue was very clearly much more unstable, and most of Jules' actions had a reasonable explanation. But season two has made it increasingly difficult to completely back any single character. 
Cal Jacobs is an example of the inverse of this, as he is shown to be a pretty definitively bad person in season one. Cal is Nate Jacobs' (Jacob Elordi) dad. Nate is the high school football team's quarterback and captain, and their family has made a name for themselves in the town, which is threatened when he sleeps with Jules. He wasn't aware she was a minor in the moment, but that doesn't stop it from being illegal, especially considering he also records every sexual encounter he has. He's also shown to be emotionally and physically abusive to his children. However, Cal is attracted to men, (his exact sexuality being up in the air, but most likely gay) something we've known since season one, but is explored more in season two, episode two. We see a flashback to his teenage years and his own very close friendship bordering on romance with his best friend, Derek (Henry Eikenberry). However, when his then girlfriend and present day wife, Marsha (Paula Marshall), gets pregnant, he's forced to marry her for the sake of his family's appearance. 
In season one, his sexuality was known, but he wasn't that sympathetic of a character. Seeing his backstory made many feel much more for him, as well as his actions in the fourth episode. Episode three ends with Cal gaining head trauma after a confrontation where he learns that Nate catfished Jules so she wouldn't reveal that she had slept with Cal to the town or police. He then proceeds to get drunk and go to a gay bar that he and Derek went to as teens. After getting into a fight there and being kicked out, he returns back home, pees in the foyer, and confronts Marsha, Nate, and other son, Aaron (Zak Steiner), about their supposed hypocrisy after he reveals his interest in men to them. He regrets not being able to be himself this whole time and having to live a double life in such a deviant way, but claims his biggest regret is Nate. This type of vulnerability, as well as acknowledgement of his mistakes, has left audiences conflicted. While many of these characters who were so likable, despite their mistakes here and there, in season one, are now becoming much more contentious, Cal has shown that even at his age you can own up to your mistakes and try to become a better person. 
Speaking of characters that were likable in season one, one of the most controversial characters of season two has been Cassie Howard (Sydney Sweeney), Lexi's older sister. Nate's on and off girlfriend is Maddy Perez (Alexa Demie), whose best friend is Cassie. Maddy and Nate's relationship in season one is shown to be toxic, but specifically becomes abusive when Maddy accuses Nate of being gay. His reaction is to attack her, leaving the bruise of a handprint around her neck. He's almost sent to jail over it, but ends up framing another guy for the abuse instead. However, Maddy and Nate still end up breaking up by the end of season one. Cassie also has a convoluted romantic life in season one. She's dating Chris McKay (Algee Smith), but he is shown to be ashamed of her because of her past as a "slut." He's also in college, which is a difficult adjustment due to his hardships in keeping up with the rest of the football team and the fraternity he is in. The two eventually end up breaking up after Cassie gets pregnant and McKay pushes her to get an abortion. 
In episode one of season two, Nate sees Cassie at a convenience store before the New Year's Eve party and offers to give her a ride. The two end up having sex in the bathroom of the party and continue to hook up after that. Cassie is obviously incredibly conflicted about this because Maddy is her best friend, but she finds herself falling in love with Nate, or at least believing she is. In season one, we see her flirting with a specific guy whenever she and McKay are fighting, making out with him occasionally and eventually almost sleeping with him, before she decides that would be cheating. He immediately starts to insult her at this decision, believing she would have immediately put out for him due to her past. We find out at the beginning of this episode her backstory regarding her parents' divorce at a young age. She lives with her mother, but kept in contact with her father as he fell into poverty and drug addiction, eventually abandoning her altogether. Her exploitative sexual relationships follow soon after, and we see how truly insecure Cassie is. She puts all of her self-worth into the man she's currently dating, (or more accurately, sleeping with) while they tend to only be physically attracted to her voluptuous figure and "easiness." She's clearly hurting after breaking up with McKay, so when Nate shows her the smallest shred of affection, no matter how fake it may be, she latches onto it and becomes obsessive. 
Cassie is a terrifyingly real character for many in the audience, which is why so many have come to despise her. While her actions are despicable and dramatic, other teen girls can relate to only being viewed as a piece of ass and just wanting to be happy and loved. Seeing what they can turn into if they let that get the best of them can be deeply terrifying. That's what's so enjoyable about this show—not only does it provide a steady level of drama and intrigue, along with excellent cinematography episode after episode, but it also makes one relate to the most unlikable of characters. There are still three episodes left in this season, so watch the backlog of the previous 12 episodes and two specials to tune in this Sunday for another episode starring these horrible, intriguing, relatable characters.