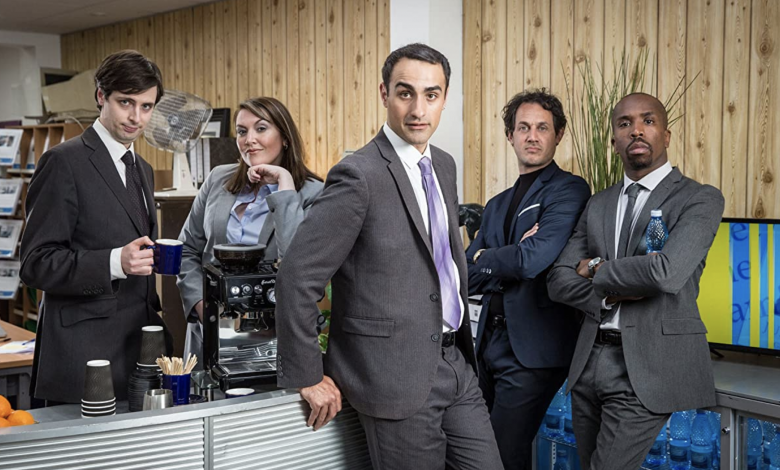 Zoe Wiebe '25 / Emertainment Monthly Assistant Film Section Editor. 
If you aren't watching Stath Lets Flats, you're missing out. 
Spoilers ahead. 
Stath Lets Flats follows Stath, a less-than-capable real estate agent at his father's agency, Michael and Eagle Lettings. A motley crew of interesting characters work alongside Stath at the agency, including the painfully modest Al, apathetic Dean, always-enterprising Carole, and the well-meaning, but unintelligent Sophie. The sitcom follows the Michael and Eagle gang as they do their best to rent out apartments and homes despite their properties being less than desirable. Stath's incompetence at his job often creates more problems for the agency and his co-workers than he solves. 
In an interview with Seth Meyers, creator Jamie Demetriou says that he booked viewings for rentals that he wasn't interested in to get inspiration for the show. Demetriou recalls these agents showing him terrible properties with a multitude of problems, with the agents trying to convince him that none of the problems were real, which became somewhat of a theme in the show. But even those who haven't ever dealt with a real estate agent can appreciate the insanity that these agents bring to their viewings. 
Three seasons in, the show keeps up its oddball comedic stylings. Stath's awkwardness and incompetence lead to hilarious moments where the audience can't help but cringe—like when Stath keeps touching a pregnant woman's stomach to her husband's annoyance and remarks that the couple probably "worked hard on getting that going (the pregnancy). How long did it take?" Or at a soccer game where Stath has been benched and he runs onto the field, accidentally breaking his own goalie's finger. The audience can't help but feel bad for Stath as he tries so hard to do right, but often fails. 
Michael and Eagle's constant rivalries with the other local lettings agencies lead to hijinx like an interagency soccer tournament and the "letting awards." Stath often gets into squabbles with the other real estate agencies, even getting into a physical fight with another agent inside a property and destroying the interior. 
The show makes fun of real estate agents, trying to spin very obviously inadequate features. For example, Stath tries to sell an apartment with a huge, gaudy metal beam running across the ceiling, saying "this is a feature that we tried to get rid of, but in the end, we decided we loved it." Audiences will also get a kick out of the descriptions of every living space that appear on the screen such as, "1 bed flat. Comes with shed if you buy shed" or "1 bed flat. No balcony, but feels like there is." But behind the comedic genius, Stath Lets Flats is also about family and the family you get to choose. From Stath and Sophie's sibling bond to Stath and Carole's co-parenting relationship, to Sophie and Al's will-they-won't-they romance, the show reminds audiences that love is more important than our flaws.  
Stath Lets Flats won two BAFTAs for Best Scripted Comedy and Best Male Comedy Performance, and has been nominated for several other awards. Despite its acclaim, the show is relatively unknown, especially in the United States. You can watch the series on Channel 4 and HBO Max. Additionally, an American adaptation of the series called Brent Rents is apparently in the works at Fox.