A Look Into Boston's DIY Scene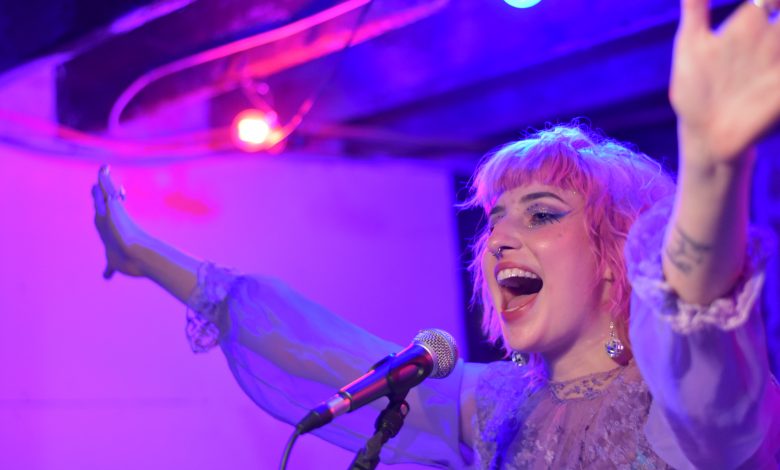 Isabella Astuto '25 / Emertainment Monthly Staff Writer
On February 19th in Allston, Massachusetts, three local bands—along with one out of town group— came together for a lively house concert. This concert was one of many that occur within this neighborhood and others like it. 
The first group to perform was Christian Pace, led by the titled man himself, Christian Pace (they/he). Other band members include guitarist Rowan Martin (he/him), drummer Ben Curell (he/him), and bassist Nate Scaringi (they/them). Their setlist for the night began with fan favorites "Don't Go, Just Stay" and "Daydream." A standout moment during their set was when the group performed "Matador," which was their fastest paced song of the night. The song's energy, along with Pace's self-proclaimed "spazzing out," loosened up the audience— successfully preparing them for the long list of acts ahead.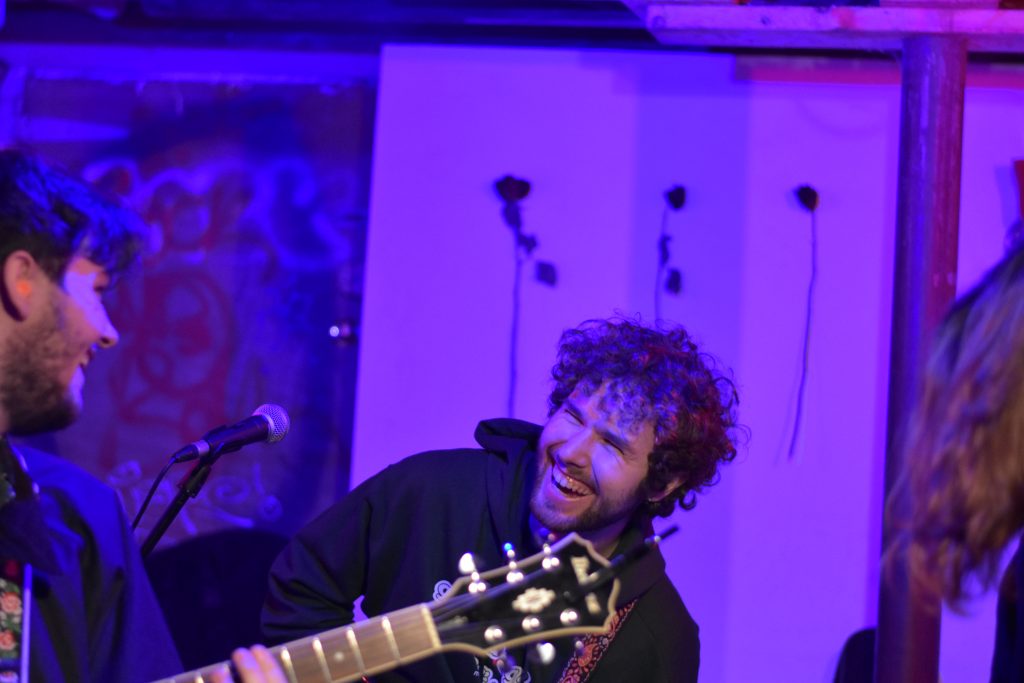 Pace, who started the band, says artists such as The Beatles and Alex G have inspired him and the band's music. "I love music that you can really immerse yourself in. I love lo-fi production, dreamy sounds, storytelling, and a lot of stuff from the alternative/indie idiom(s). I also love artists who treat each song as its own thing rather than trying to achieve a 'sound,' so that's something I try to do in my music." The group had not played together since November 2021, and they all felt like this performance was "a breath of fresh air" and a good debut back into performing. Their next project is an EP, which is currently in development and is set to release in May.  
The next group up was Skylar Symone, once again named after the lead singer (they/he). The other members include drummer Olivia Kelly (she/they), bassist Madeline Hensigner (she/her), and guitarists Syd Lane (they/them) and Mae Flux (they/she). Their songs were, overall, more upbeat than the opening act. This caused the front of the basement to turn into a mosh pit, which was a common occurrence throughout the night. An emotional moment from their performance was when the group played "Enemies to Luvrs" by Flux. "Enemies to Luvrs" whipped the crowd into a frenzy and, following the number, Symone expressed his love for the Boston queer community and their support. This was immediately followed up by Symone's own song, "Don't Piss On My Leg." According to Symone, "It was a collaboration between my nonbinary friend Spoonuel and I, and every time I sing it I remember the trans joy with which it was created."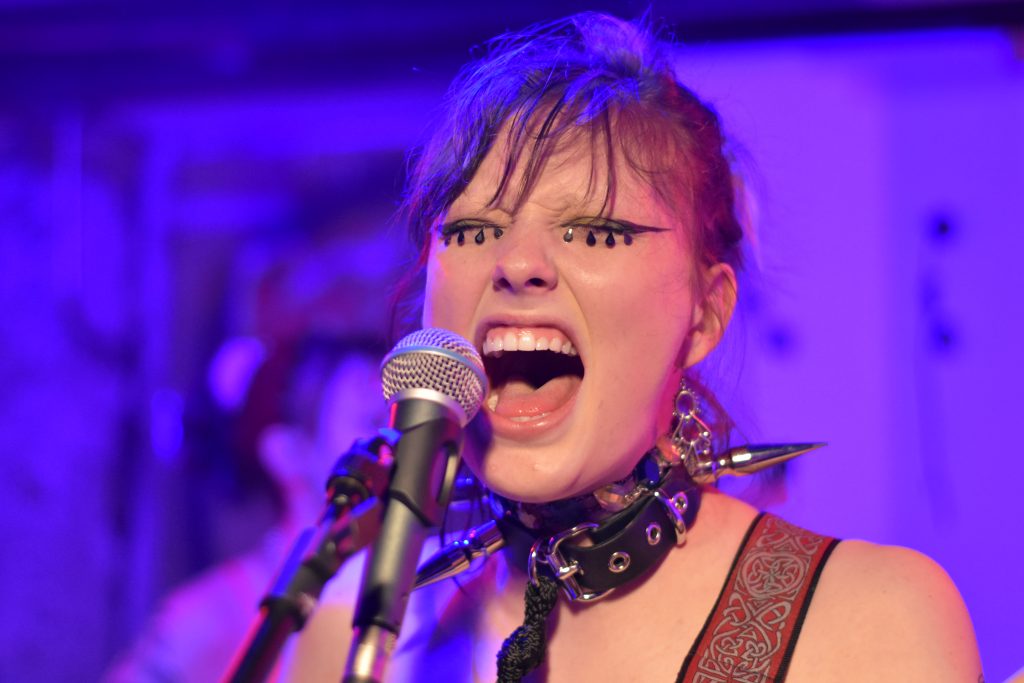 Symone originally put together this band after dropping out of the Berklee College of Music, which they did because they believed the college stifled their creativity. "I wanted to create an all queer, non-man band and uplift similar artists." 
Symone said their favorite moment from the night was when a friend of theirs fell in the mosh pit. Immediately, they saw many others reach down to pull them up and make sure they were okay, something that "doesn't always happen in DIY spaces." Since the concert, the group has performed a few times at other venues and have continued to write and record more music. 
Next up was Gloss, a band from Philadelphia, Pennsylvania.The all-girl group features Sophia (she/her) on lead vocals, Mollie Schechter (she/her) on drums, Isabella Amada (she/her) on bass, and Corinne Kite-Dean (she/her) on guitar. During their performance, the group recounted the story of how they created the third to last song in their set, "Talking Sweet." The group had apparently finished the song on the way to Boston from Philadelphia. Mollie explained, "We had finished writing the instrumentals for "Talking Sweet" the night before and Soph was literally writing the lyrics in the car ride to the venue. We weren't sure if we were gonna be able to pull it off, but it went way better than expected and we were all super happy about it!" This was also the group's first time in Boston, and they spent the day before the show driving up.
Some of the group's top inspirations are The B-52's, (honored by a performance of "Love Shack" during the show) Poppy, U.S. Girls, and Her's. They started making music after they realized that college negatively affected each of  their creative processes. "We joined a cult known as 'Jazz School' and were forced into small rooms to learn tunes. They took all our money and our joy for music so we had to relearn how to enjoy playing our instruments again and now we play silly pop songs," Sophia joked. On March 25, the group is releasing their newest single, "Second Hand Beauty Queen," and plan on releasing even more music the next month.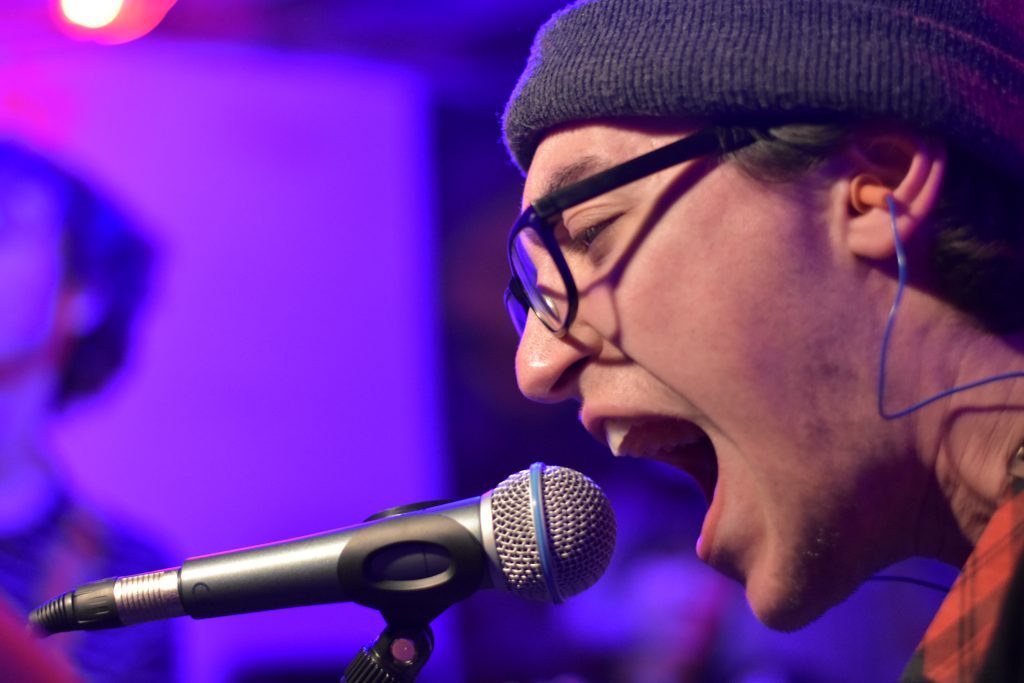 The final group to play was Gollylagging, a self-described pop-punk, post-hardcore band. Their lead singer is Jake Regulbuto (he/him), their drummer is Andrew Garas (he/him), their guitarist is Ryan Ladue (he/him), and their bassist is Amani (he/they). The group ended the show with a bang— making sure to keep the crowd's spirits up and effectively preventing their fervor from dying out too soon. They began their set by playing one of their more popular songs, "Kangaroo," and ended the night by performing a new, untitled track as their second to last song.
Ladue and Regulbuto both expressed interest in music from a young age; Ladue's interest came from parental influence, while Regulbuto's came from his school's choir needing more male voices. The group ended off the night with a bang by bringing up a surprise guest, Martin (he/him), a member of the band Dino Gala. He helped them perform their most well-known song, "Capsizing." The band has many more house shows and concerts scheduled throughout the spring. 
The four groups were brought together by Veronica Bettio (she/her), of the Instagram account "Rosewater Records." She has been booking shows since the summer of her freshman year in college, as many of her friends were also involved in the Boston DIY scene. This is her last semester booking shows, due to her graduating and leaving Boston, so "there's definitely been a bittersweet feeling to booking lately." However, she is glad this show went so well and plans to keep booking throughout the spring. 
This is just one of the many house shows happening each week in Boston. Each features a different grouping of bands just like the aforementioned ones— if not these ones. All of these bands are fantastic at bringing audiences together in a unique way. Getting involved in this scene is a great way to support local artists with a true passion for their art, as well as a sure way to have an incredibly exciting evening of entertainment.
Spotify Links: