Ozark Season 4 Part One Cements the Show as One of the Best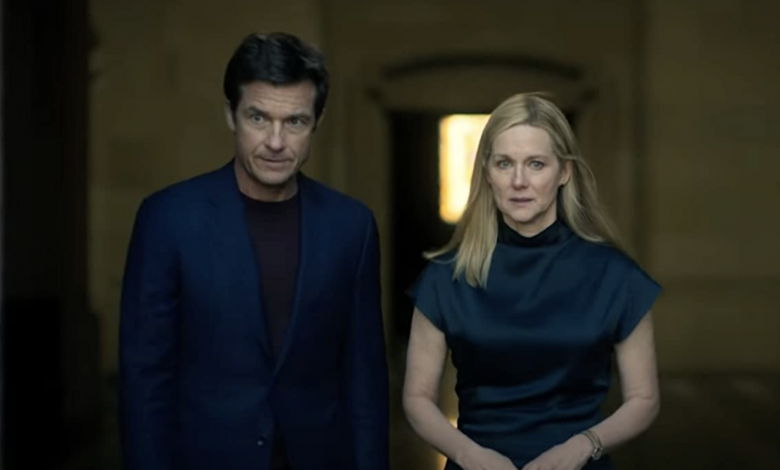 Karissa Schaefer '23 / Emertainment Monthly TV Editor
Spoilers ahead. 
Ozark season four part one released premiered on Netflix Jan. 21 with seven episodes, three less than normal. After binging the whole show to catch up, there's no surprise it was number one on Netflix's TV top 10 list. The dark drama has audiences hooked, and especially with how it ended, on the edge of their seat seeping with anticipation for the second part, which is said to be released later this year. 
The story follows the continuation of the money laundering Byrde family as they fall deeper into the Navarro drug trade. While husband Marty (Jason Bateman) was the initial instigator in season one with wife Wendy (Laura Linney) being hesitant, fans have slowly watched it turn the other way around. The same can be said for their kids, in which daughter Charlotte (Sofia Hublitz) was reluctant to conform to the family's uprooting, but is now seemingly ready to take over the family business in the future. Their son Jonah (Skylar Gaertner) embraced the new family lifestyle, having an easy time adjusting. But with Wendy ordering someone to kill her brother Ben (Tom Pelphrey) at the end of season three and Jonah finding out, the rose tinted glasses of his parents, specifically Wendy, starts to come off, causing a family rift. 
Somehow, Bateman managed to make Marty still somewhat likable, even though he was—granted, still is—going through the thick of illegal activities. Yet, when Wendy starts getting acclimated and smart about their "family business," the unlikeable energy she radiates parallels that of Marty's upward trend. Though the role switching had been building up throughout the seasons, the final straw was really when Ben was murdered. His apparent "mental spiraling" that came after learning the family secret was too much to handle for Wendy specifically, causing her to become heartless. Ben's worry is what any reasonable person would do after uncovering the Byrdes' circumstances. It's only natural for the audience to relate to how Jonah feels in season four, going through the motions of discovering the truth behind his uncle's so-called disappearance, acting in rebellion. 
Ozark is some of Bateman's best acting work, as well as serving as a frequent director and producer. However, season four is the first time he's not in the behind-the-scenes role due to COVID restrictions. This certainly doesn't take away from his oozing talent on screen—maybe the light blue collared shirt that he wears in every acting gig is his lucky charm. Honestly, every actor in this show is pretty damn good. Linney pulls off Wendy's manipulative attitude extremely well, and the kids and supporting actors carry their weight as well. 
Even so, the best character on the show has to be Ruth Langmore (Julia Garner). She's witty, smart, and scary in the best way possible. If the show has a heart, it's Ruth. The blossoming romance between her and Ben in season three was cut short, but when Jonah gives her his ashes, Ben lives on with Ruth in a goat shaped urn. Their relationship was one of the few times the audience sees Ruth consistently happy, and because of her so-called "cursed" Langmore family, it was heartwarming to see her get a win and do something for her own enjoyment. 
Angry at the Byrdes, Ruth works with her cousin Wyatt (Charlie Tahan) and Darlene Snell (Lisa Emery) for the Snell family's heroin trade. The pair is actually involved romantically, which is unsettling when you consider Darlene is old enough to be Wyatt's grandma, with the added factor of being insane and unpredictable. She fills the role of Wyatt's absent motherly figure—once filled by Ruth before telling him she killed his dad—being a nurturer to his wide-eyed nature. Knowing her ability to murder someone on a whim, like her husband Jacob (Peter Mullan) in season two and Del from the Cartel, any scene of hers puts a viewer on the edge of their seat, particularly now when she's working closely with the Langmores who have grown close again over the course of the season. 
Jonah finds a new kind of relationship with Ruth: her "financial advisor," also known as her personal money launderer. He decides to help her out in retaliation for Wendy's actions, moving his home office into The Lazy-O Motel, which Ruth now owns. Fans watch in anticipation for Ruth's inner business woman, which was always present in her "do what I say" attitude and employment positions under the Byrdes' ownership. But season four really watches her take the role to the next level, seemingly with ease and pleasure. Though in a different way, she's just as persuasive as Marty or Wendy, noticeably taking notes from her experience working with them and carrying it over into her own head position. 
Nevertheless, she can't seem to stay away from the Byrdes when Marty helps attempt to buy back Ruth and Darlene's heroin after Darlene secretly sells it. This is done in an effort to temporarily deal with Omar Navarro's (Felix Solis) nephew Javi (Alfonso Herrera), who refuses to sell to the Shaw family until they identify the Cartel mole that has led to multiple seizures of their goods. Even when the business end of things pertaining to the drug trades and money laundering become confusing, the dark crime drama is still attention gripping. 
After a lot of running around, Marty ends up completing the important deal with Clare Shaw (Katrina Lenk) thanks to Ruth's convincing. She's blamed by a hospitalized Darlene after suffering from a heart attack, and she later kills another person, the father of the man she secretly sold the heroin to. Wyatt decides he's actually appalled for once—better late than never—and wants to leave Missouri with Ruth, yet he gets caught up with proposing to Darlene in order to save her from losing Zeke, the baby of the priest the Byrdes are forced to kill and cover up in season two. It's actually baffling that Darlene even has him, with the reminder coming up when Wendy schemes to make the state take Zeke away. Even if she's tried before, the state isn't doing a very great job to begin with. In fact, with the amount of missing and dead people, it's amazing that no one has caught on to any of the big names in the small town. Well, if Darlene is good at anything other than scaring people by an instant kill, it's probably mothering—though, even that's pushing it. 
As Omar Navarro routinely visits all his Cartel members, the FBI get closer to finally catching him after a Navarro shipment raid gone wrong. He tells his nephew he's retiring and approaches the FBI with surrender terms, which they agree to discuss. In the beginning, Navarro seemed like this overlooking God-like figure. But as the audience has seen more of him and the other Cartel players confidently grow into their roles, he seems less terrifying, especially given the power Wendy has over him in their occasional phone calls—which, surprise, throws another wedge in the Byrdes' crumbling marriage. Though Navarro can snap at any moment, evident with his shocking murder of seemingly untouchable Helen (Janet McTeer) at the end of season three, his persona has become less scary compared to all the other antagonists in this show. Darlene would personally take the cake, but…
Maybe it's an Ozark season finale thing to end with two climactic deaths because part one of season four shows the deaths of Darlene and Wyatt in the last ten minutes. It'll have fans going from yelling "YES" for finally seeing crazy Darlene meet her demise to gasping and covering their open mouths when Wyatt's death immediately follows. Both are shot in their home by Javi in retaliation. Wyatt being the closest thing Ruth has to family and her deep humanity is suddenly stripped away when the gunshot rings. She's the one to find them, lured inside to Zeke's crying and no other response. She frantically approaches the Byrdes in their home with a shotgun, understandably heated and upset, asking for who's responsible. Jonah once again chooses Ruth's side, telling her what his parents won't. Marty makes her aware Javi is untouchable due to the newly agreed upon FBI deal that he would lead the cartel for 10 years while also serving intelligence to them, in exchange for immunity. Navarro sits in a prison, planning his overtaking of leadership. The ending is abrupt and certainly unexpected, making the two month wait for the rest of the season seem like a lifetime. 
After the intense ending of part one, how will part two conclude the show? Between the illegal activity plotlines and tense relationships, there's still so much left where Ozark can lead. Who will die? What will happen to everyone's favorite characters? Fans could appreciate the father-daughter, mentor-mentee relationship Marty and Ruth had, but now it all seems to have gone out the window. And with both Navarro and Javi's sadistic tendencies, it's hard to judge who will be on top. Both could very much die—which would be greatly appreciated and solve many issues—leading to questions for everyone's future. Fans can only hope Ruth will see it through until the end. 
With a show with frequent deaths—most of them murders—people would expect it to be muddled with grittiness and violence. Okay, maybe there's a lot of violence, but just as Marty and Wendy become increasingly numb to the normalized issue, so does the audience. Viewers need to expect this before going in, but the somber tone is what makes the show so good. The story is rich and worth investing a couple weeks binging all available seasons. Plus, the dedicated performances bring the whole show together. Part two of season four will be released April 29 with the last seven episodes of the series.