Finding Love in The Lost City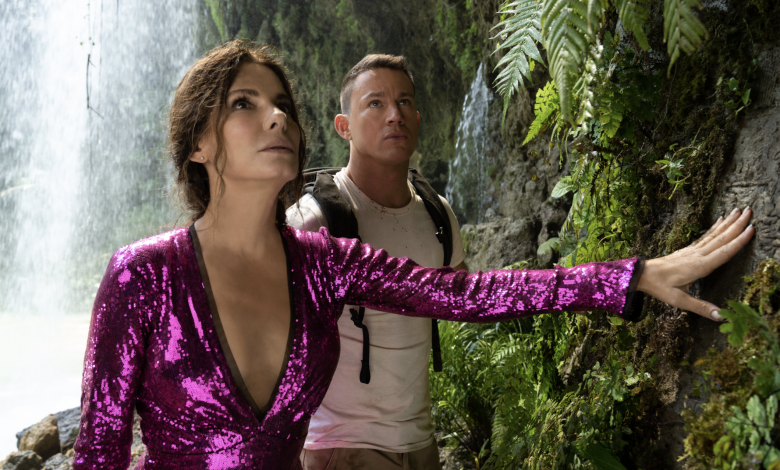 Cindy Tran '25 / Emertainment Monthly Staff Writer 
Directed by brothers Aaron and Adam Nee, The Lost City is advertised as an adventure rom-com between a romance writer and her cover model. It sounds like an Emily Henry book come to life, but this very niche new subgenre boasts romances in the literary sphere. This movie is so much more than just a couple of chuckles in the theater. 
The film follows Loretta Sage (Sandra Bullock), a romance writer whose career is soaring, unlike her life. But all goes haywire when she's kidnapped by Abigail Fairfax (Daniel Radcliffe) and held hostage on his new island investment. 
A knight in shining armor, her cover model Alan Caprison (Channing Tatum) attempts to follow her across the ocean and save her… but realizes that he is quite ill-equipped to handle this one-man rescue mission. Enter his meditation instructor—and coincidental CIA agent and former Navy Seal—Jack Trainer (Brad Pitt) to save the day. 
The movie, execution-wise, is a wild ride. There are guns, motorbike chases through the jungle, weird leeches in the water(?), ancient untranslated runes, stunning waterfalls, hidden shrines, and more. But through the high-stakes storyline, there are so many great moments of exquisite comedic timing. There were some fantastic silly one-liners to break the somber nature of the situation because, well, the characters are trying to escape a lost city but… they have some great fun and banter along the way. This poised balance of humor and darkness is what makes the movie shine—it keeps viewers on the edge of their seats, wondering if they'll be laughing one moment or crying the next. 
Beyond the emotional notes, there is also a wonderful and complex exploration of what it means to know someone. To explain it fully would be to spoil the plot, however, viewers will understand immediately that no one is really who they seem—and that the greatest deception of all is wondering if what you thought you were missing was in fact in front of you this entire time. 
Additionally, the film does an excellent job of portraying the reality of being an author. Sage's stress, anxiety, and overworked portrayal is perfectly aligned with the publishing industry's usual affinity of pressure and productivity. 
All in all, the movie does unfold like a fever dream at times with the pure impossibility of certain situations (one doesn't generally make an escape efficiently whilst tied to a wheelbarrow). That said, The Lost City doesn't shy away from commentary on the issues of authenticity, superficiality, and what it means to live a fulfilling life. 
Filled to the brim with fabulous comedic timing, stimulating social commentary, and a storyline that will have audiences on the edge of their seats for what happens next, The Lost City truly has it all! It promises a good time, and it delivers.