Delilah Green Doesn't Care Review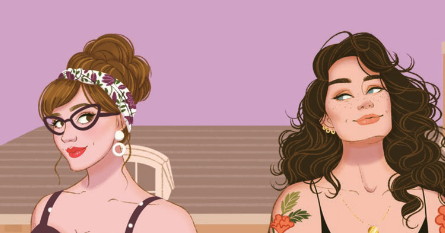 Nicole Belcastro '25 / Emertainment Monthly Staff Writer 
The title of debut author Ashley Herring Blake's new adult romance is a complete misnomer. In the novel Delilah Green Doesn't Care, readers quickly discover that Delilah Green does care, in fact, she cares very much. Delilah Green Doesn't Care is a charming queer romantic comedy that is about the complications that come with love, whether that love be familial or romantic. 
This book deals with the off page death of a parent, complicated, toxic familial relationships, and childhood neglect which might be sensitive topics for some readers. Readers should be wary that these topics are strong themes in the novel, but they are presented in a delicate way that are integral and help shape this wholesome story. 
Delilah Green Doesn't Care follows lesbian photogrpaher Delilah and bisexual bookstore owner Claire. Delilah Green left her small town of Bright Falls twelve years before the novel's beginning. Bright Falls held memories of her father's death, lonely childhood years, and her negligent step family. Delilah moved to New York where she steadily builds her career as queer photographer. Her stepsister, Astrid, pressures her into returning to Bright Falls with the promise of a figure check for photographing her wedding. Delilah accepts only out of necessity and plans to be in and out. Delilah's plan is thrown off course when sees Claire Sutherland, one of her stepsister's friends, in a bar.
Claire Sutherland lives her life according to plan, that is until Delilah Green stumbles back into her life. Claire has taken over her mother's bookstore all while raising her eleven year old daughter, Ruby, on her own. Claire has dealt with unreliable men from her father leaving her as a child to her ex boyfriend/daughter's father. Claire is a people pleaser and has sacrificed for all the people in her life. During a rare night out with her friend, she decides to hit on an attractive woman in a bar completely unaware that is her best friend's stepsister. Claire and Delilah have never truly known each other, but when they are forced to spend time together, their relationship begins to bloom.  
SUMMARY AND PROS:
While Delilah Green Doesn't Care is a romantic comedy, the romance tends to take a back seat at times. However, the novel doesn't lose anything, rather it gains a great deal. Delilah has never had a consistent, dependendable group of friends before. Her lonely childhood left her believing she is unloved. While in Bright Falls, Delilah finds herself being integrated into Astrid's  friend group. Claire and Iris rope Delilah into their plan to show Astrid how terrible her fiance is and call off the wedding. Delilah has a complicated relationship with Astrid throughout the novel, but feels compelled to show her step sister that she deserves better. The female camaraderie between the girls is written in a way that places readers in the friend group. The novel is truly an immersive experience. 
The romance is not always the pressing matter in the novel. Both Claire and Delilah have complicated familial relationships. Blake does an exceptional job of writing how difficult it is to dole out forgiveness and give second chances.
Delilah is unsure of how to navigate her relationships with Isabel and Astrid after ignoring them doesn't work. Delilah doesn't resolve things with her step mother. This choice shows how there are times when one must walk from a person when there is nothing more they can give or do.
Delilah and Astrid open up to one another in the most moving scenes of the novel. While they each gain clarity into their childhood, their relationship is far from repaired. Blake ends the novel by showing forgiveness is gradual. It would be unrealistic to portray a complicated sister relationship that has persisted for over a decade and have it be resolved in a single conversation. l
Claire struggles with trusting her unreliable ex and daughter's father. As readers, we Josh change and become worthy of her trust. But, we also see Claire's valid reasons for hesitating to trust. Claire struggles to fully connect with her preteen daughter, Ruby. The most heartwarming scenes in the book are when Delilah, Claire, and Ruby have scenes together. Seeing Delilah fit so seamlessly into their family is a beautiful thing to witness. Blake expertly crafts each character in the novel. Even less important characters are fully fleshed out and experience personal growth and development. There is an unbelievable amount of undeniable chemistry between all of the characters, which makes the novel an exciting, lovable read. In writing about different familial relationships so honestly, Blake allows a large amount of readers to relate to the characters. This novel is so rich that it can bring comfort and identification to more than just queer readers. Everyone stands to gain something from reading this novel, whether it is perspective or relation.
Delilah Green Doesn't Care is an all encompassing romance novel, as it has all of the major romance tropes. Delilah and Claire's relationship begins when Iris encourages Claire to flirt with Delilah, and Delilah pursues the relationship after making an unofficial bet with Astrid. The popular 'two people one bed' romance trope is also present when Claire and Delilah are forced to share a hotel room with one bed at a wedding event. Since most romantic comedies feature hetereosexual couples, it's exciting to see a queer romantic comedy follow the romance genre so closely. 
It's refreshing and exciting to see a queer romance be well rounded. What makes this novel different is that is not the usual coming of age coming out queer stories that become prevalent in the media. Delilah Green Doesn't Care features characters that have already come out and are secure in their sexuality, above all else. Blake writes about the everyday queer experience with honesty. When Delilah first arrives at the bar in Bright Falls, she is hit on by a man that doesn't understand when she says she's not for him. In this experience, Delilah has to do what she has done many times before, come out to a total stranger. Delilah Green Doesn't Care represents multiple queer idenities and how 
Even though the novel is almost 400 pages, it was slightly lacking. After an engaging first half of the novel, I was expecting the second half to follow suit. However, it ended up falling a little flat. Both Delilah and Claire have complex traumas, emotions, and insecurities that are not fully addressed. Blake had an opportunity to take these issues deeper. Her comforting writing style would have helped readers relate to the story on a deeper level. 
After Claire and Delilah have conversations about their troubles, they seem to evaporate. This is entirely unrealistic. Delilah and Claire's personal journeys should've followed the pattern of Delilah of Astrid's relationship healing. I am aware that many conversations surrounding queer books have centered around wanting characters that are just exisiting as straight characters often do. This book, however, takes a different approach. It consists of well-rounded, multi-layered characters, and it is a disservice that we did not get to see them evolve fully. 
By the end of the novel, readers will be left wanting to read more about Delilah and Claire's relationship. While there is no epilogue for this novel, Blake offers a sneak peek into the next book in the Bright Falls Series. The short look of Astrid Parker Doesn't Fail promises more of Delilah, Claire, and the rest of the characters from Delilah Green Doesn't Care. 
Delilah Green Doesn't Care deserves a 4.5 rating out of 5 stars. This novel beautifully captures the complexity of family, belonging, and romance. Every reader, queer or not, can find a piece of themselves in this book. Delilah Green Doesn't Care is an evergreen story that can be read at any time during any phase of life. 
The Bright Falls Series will feature queer romances. If you are to purchase Delilah Green Doesn't Care, this is a perfect opportunity to support independently owned queer book stores. Delilah Green Doesn't Care is available at Unabridged Bookstore, All She Wrote Books, and Bluestockings.