Harry Styles: Love On Tour Concert Review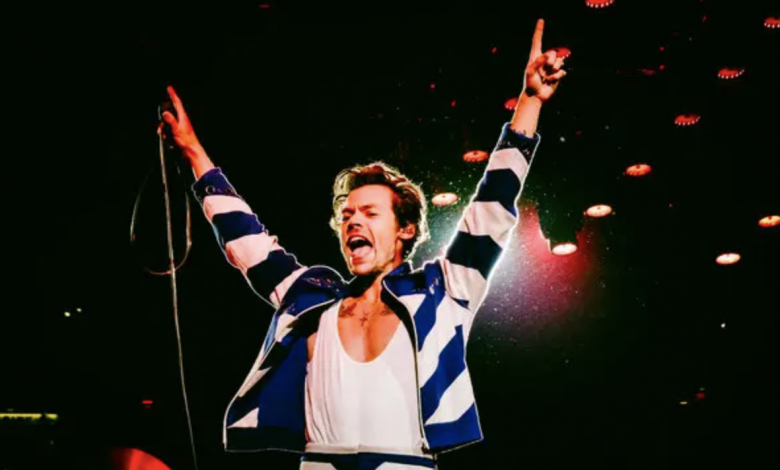 Hannah Hughes '25 / Emertainment Monthly Staff Writer
There are few places in this world where you can experience genuine and unabashed joy. Where all your troubles melt away and no one is telling you what to be except yourself. Would you believe that is how it feels to be at a Harry Styles concert?
As soon as Styles came on stage, it was automatically clear who's show it was. Screams and cheers erupted as the singer entered the stage. Handmade signs were illuminated by colored lights sticking out and over the heads of the crowd, shaking as those holding them could barely contain their excitement. These signs are vital to the Harry Styles experience. Why? Because as famous as Styles is for his stunning vocals and energetic dancing, he's even more famous for his fan interactions. 
Even though it was Harry's show, he made it very clear that he would not be able to have any of this without his fans. Sure, many artists say this, but something about Styles' expression felt different. When he addressed the crowd, you could hear the genuineness in his voice. It not only came through in the words he spoke, but in every note he sang, every step he took, and every kiss he blew to the audience—and there were plenty of those to go around. 
He takes time out of his performance to read signs, talk to the audience, and truly help people feel accepted and loved for who they are. At his concerts he has helped people get raises from their boss, propose, and even come out as part of the LGBTQ+ Community.
In addition to this, Styles gives a killer performance that anyone can enjoy. He sings remarkably, never seeming to miss a beat despite dancing, running, and jumping across the stage. You can truly tell how excited and happy he is to be there. It's infectious!
Even if you aren't familiar with his work, there is no denying that Harry Styles put on a spectacular show for everyone in Madison Square Garden. It didn't matter if you were in the pit or in the back of the balcony. The energy and magic of the night swept the audience away, you didn't want it to be over. 
Styles created an atmosphere of freedom and fun. With him anyone could be who and what they want and forget about the problems of the world we live in, even if just for a few short hours. 
Despite being seated in the massive Madison Square Garden, it truly felt like Harry's House. Styles' comfortability and creativity made everyone in the arena feel safe, welcome,  and happy to be there. It was truly unforgettable. Mr. Styles brings his compassion, kindness, and of course, love on tour wherever he goes! 
Harry Styles will be continuing to tour in the U.S for the next few months before performing across the globe, in places like Australia, South America, Europe, and more! Do not miss this chance to see him live and experience all the good vibrations for yourself!