Carrie Soto Is Back, and So Is Taylor Jenkins Reid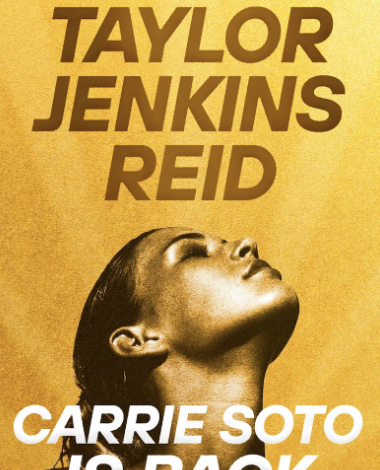 Ella Mordarski '26 / Emertainment Monthly Books Section Editor 
Emerson alum Taylor Jenkins Reid 05' is no stranger to bestselling novels; actually, she already has three, all of which have adaptations forthcoming: Daisy Jones & The Six, The Seven Husbands of Evelyn Hugo, and Malibu Rising. In fact, Reid has had eight books published since her debut in 2013. 
Lately, Reid added another best-selling novel to the arsenal, Carrie Soto Is Back. 
Published in late August, the novel follows professional tennis player Carrie Soto on a journey of redemption, discovery, and triumph. Soto worked extremely hard and sacrificed everything, coached by her father, to become the best tennis player the world had seen. 
Six years into retirement, following a knee injury, Soto watches her US open record being stripped from her by young player Nikki Chan. At the age of thirty-seven, Soto comes out of retirement, coached once again by her father, to hopefully reclaim her victory. 
This is not the first time readers of Reid's work have been introduced to Soto. In Malibu Rising, Reid's seventh novel, Soto is a secondary character. However, she is not painted in the brightest light. In the novel, Soto is dating the ex-husband of the main character Nina Riva.
Once again, Reid has developed a novel that vividly depicts a dynamic female character and the environment and people shaping her. As the novel develops, you fall deeper in love with Carrie and, by the end, feel as if you know her personally. 
Reid skillfully elicits an emotional understanding of Soto; as a reader, you begin to take meaning in her decisions and reactions. This approach to characterization is unique and consistent in Reid's novels. This development leads to you, as a reader identifying with Soto. 
Like many of her other books, Reid does not use traditional chapters to uncover the story. Instead, the story unfolds over tennis matches, specified years, magazine clippings, and transcripts. It's a unique way of storytelling that provides different perspectives to the reader and an easy-to-consume format. 
Carrie Soto Is Back received glowing reviews from many outlets, with The Washington Post saying The novel "is like other sports novels in which underdogs punch, volley, bat, and birdie their way to victory or additional defeat, but it goes beyond this to explore sexism and racism in the tennis world in the 1990s." The novel has four stars on Goodreads and over 43,000 five-star reviews from readers. 
Ultimately the novel is about not just realizing your full potential but also coming to terms with the fact people are meant to evolve. Specifically for Soto, it's about learning that one can evolve many times, and when you come to terms with that, your true passions are displayed. 
Carrie Soto Is Back can be found at Barnes & Noble, Apple Books, Amazon, IndieBound, or Bookshop. You can purchase both hard copies and audiobook versions.