Austin City Limits Music Festival Review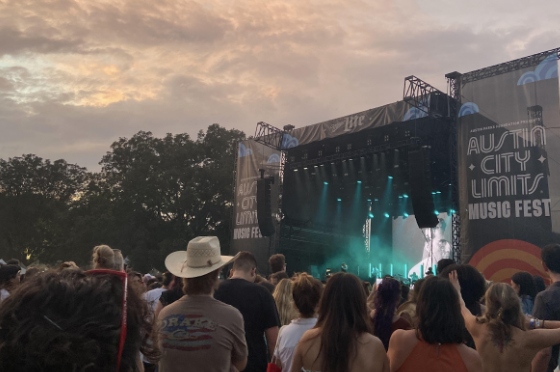 Sid Timmons '26 / Emertainment Monthly Staff Writer
Music festivals are awful. You're thirsty, you're tired, sweat is dripping into your eyes, dust sticks to your legs, and the glitter you spent an hour applying slides off your skin before a concert begins. However, despite the 100-degree heat and a crowd of thousands of Texans, it's hard to be miserable at Austin City Limits Music Festival. 
Many ACL-goers don't know what to expect when they step into Zilker Park— A crowd of conservatives? Country music? The scent of weed and barbeque hits you as you step through the gates. The landscape of Zilker is covered with stages, water stations, rows of concession tents, and yes, a LOT of Texans.
The park shakes with excitement in preparation for incredible artists. This year's lineup included big names like SZA, Lil Naz X, Paramore, and Red Hot Chili Peppers, all of which rocked the park with incredible performances. The festival also appeals to the indie music scene, featuring bands like Goth Babe, Magdalena Bay, Omar Apollo, and Arlo Parks. 
While the festival stays true to its southern origins, a progressive environmentalist culture is promoted through the resources provided. The festival only sells paper and aluminum products and encourages the use of reusable water bottles. Volunteers walk around the park picking up trash and recyclables in the hopes of winning a free tee shirt—an incentive offered by Rock & Recycle, an organization dedicated to keeping Zilker Park clean during ACL weekends. 
The festival is incredibly organized, with flushing toilets, outdoor fans, water-refilling stations, and help for cases of assault. Security hands out boxed water at the front of each concert with consideration of the barricade campers who don't leave to get water throughout the day. The theme is cohesive with cute and creative merchandise, and the price is justified by the amenities the festival provides. 
While a trek to Austin may be daunting, it's worth it to be able to attend the best music festival in the country under a beautiful Texas sunset. If you are in search of a fun, safe, organized, and environmentally friendly festival experience, Austin City Limits is the place to be. ACL Fest returns October 6-8 and 13-15, 2023.