"It's pretty bonkers": Michael Imperioli on The White Lotus Season two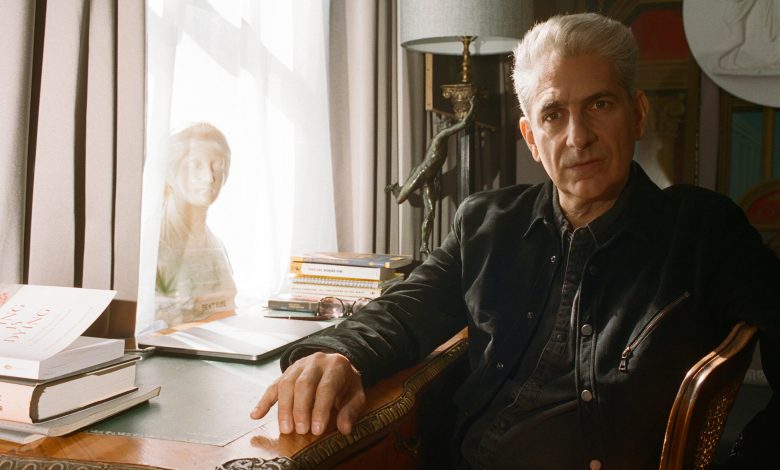 Kaitlyn Hardy '25 / Emertainment Monthly Staff Writer
The White Lotus, an anthology miniseries on HBO, takes viewers on a purgatory of a vacation. The show follows a star-studded cast of elites and socialites vacationing at the fictional White Lotus Resort, with the thrill of a whodunit murder mystery lingering throughout each season. 
The current second season travels through Sicily, capturing the beauty and history of the island while cuting through this charm with sharp, satirical commentaries on the privleges and problems of its characters. 
Michael Imperioli may be most known for his role as Christopher Moltisanti in HBO's The Sopranos, but he has stepped back into the HBO spotlight with The White Lotus. Imperioli plays Dominic "Dom" Di Grasso, a father on vacation with his son, Albie (Adam DiMarco), and father, Bert (F. Murray Abraham) in search of discovering their Sicilian roots. Although their journey is in search of family, the trio revolve around their arguments of family values, infidelity, and feminism. Imperioli's Dom is a shame-ridden, sex-addicted Hollywood producer struggling to break his pattern of infidelity to show he's not the man the women in his life have resented him for being. 
Imperioli spoke with Emertainment Monthly about his character, the highly-anticipated season finale, which airs on Sunday, December 11 at 9 p.m, and an inside scoop on season 3.  
This interview has been lightly edited for length and clarity.
Emertainment Monthly: Why did you decide to audition for the role of Dom Di Grasso? 
Michael Imperioli: Well, the fact that they were shooting in Sicily for four months certainly piqued my interest.
But really, I had heard that the show was really, really good. I watched it after I heard they were interested in me for the part and I thought it was really broad minded. It had a lot of compassion in trying to understand people's humanity rather than just judgement. 
How did you craft the character of Dom?
I really tried to focus on addiction rather than just somebody who's a serial cheater. In essense that is what he's doing, but it's complicated by the nature of addiction, where you're doing stuff you don't necessarily want to do but you don't have the power to stop it. You experience a lot of regret, remorse, and anxiety after the fact and yet you have this complusion to repeat it again. 
What did you like about playing Dom? 
For me, my favorite kind of work is when I don't have to do a lot of things that aren't me, like an accent or changing my voice or changing how I look. If you can keep it somehow close to you, without embellishing, I find that more challenging than anything– and more satisfying. So this kind of allowed that, just because Dom's energy level didn't really need any amping up or anything like that. Someone like Christopher has a very different energy level, different way of talking, different rhythm in the way he walks and talks, but Dom is much closer to me energetically. I'm also someone who has kids and parents so I understand that distance between the generations. 
Could you talk a bit more about the dynamics of these relationships and how you interpreted them? 
With his father, Dom has a lot of resentment yet still a lot of love. And he's trying to get to a place where he's not so resentful anymore, knowing that his father's nearing the end of his life. So he takes him on this trip because he really wants to give him that experience. And with the son, there's a lot of resentment as well. His son's still very dependent in a lot of ways and yet challenges him all the time.I think Dom wants a certain degree of respect that he's not getting and he feels judged in a way that's unfair. 
Many of these complex emotions can be found in Dom's facial expressions alone. Can you explain how you go about acting with expressions rather than just lines? 
I never think about expressions. I can't imagine trying to make your face a certain way, I don't know how to do that. I don't really watch my stuff much anymore because sometimes when you see what you're doing, it clashes with what you think you were doing, which shows how little control you have over what you do. 
I think about what I'm trying to do in the scene, what I want from the other person, what I'm trying to express from them. A lot of physical stuff comes out of your commitment to the intention and truth of the scene; physicality comes in the wake of emotion.
How would you say Dom has changed as a character throughout the season? 
I think something had shifted for him and he finally got to a place where he realized he has to change. He's someone who's done what he's done for a long time– he compartmentalized it and justified it based on his success, his role as provider, and his feelings that everybody does it. In the beginning of the show, he's still in the thick of it, but at the top of episode three he hits rock bottom, waking up and realizing he went a little too far. He then realizes that there's more to this problem, that it's something chronic. What he's learning is that addiction is an inside job; it's a psychological thing that has to be sorted out from the inside.  
How does this season differ from the first? 
The first season was really about America and colonialism, class, and those things. In the second season, the themes are really more about sexual politics, the roles of men and women, masculinity and femininity. I think Sicily is imbued with those themes and you see it a lot in the show in the representation with the ancient world. 
Without spoiling the finale, what can audiences expect? 
They'll be really surprised. It's pretty bonkers. 
In three words (in addition to "bonkers"), how would you describe the finale? 
Unexpected, exciting, and satisfying. 
If you could go on a vacation with any of The White Lotus characters, who would it be? 
I don't know if I'd want to be with any of them.
That's a good call. What about any one of the actors you've worked with this season? 
If it was one of the actors, I would say F. Murray Abraham because we've become really good friends. 
If you were to create the next season of the show, where would it take place and who would you cast?
Well I heard they're thinking about doing the next season in Asia. And if any characters could be in the next season, I hope it would be my character. I just loved working on it so much, I would love to do it again. 
What else are you working on right now? I've heard that you're working with Alec Berg to create a dark comedy where you'll play yourself. Can you share anything about that? 
That's going to be a half hour dark comedy about pop culture, art, acting, and Buddhism. We're still writing it, but there will probably be around eight episodes and we'll hopefully start to shoot it sometime next year.