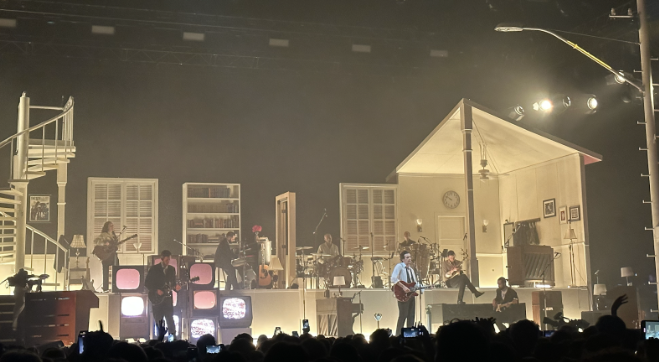 Samantha Edelman '26 / Emertainment Monthly Staff Writer
After The 1975's recent album release "Being Funny in a Foreign Language," on October 14th, 2022, and many of their singles such as "I'm In Love With You," they graced Boston's MGM Music Hall at Fenway Stadium on Friday, November 4th. 
After a six-year hiatus following their "I Like It When You Sleep, for You Are So Beautiful Yet So Unaware of It" tour many day one fans can stop grinding their teeth in anticipation for an appearance. The crowd jammed along with content, singing along to the radio playing before he entered the stage, getting hype for his performance.
The opening act, BLACKSTARKIDS, entered the stage. They were not very well known. The tone of their music did not fully connect with the music The 1975 would later perform, although very pleasant to hear. This four person, hyperpop band surprised audience members who felt their style didn't partner well with The 1975's typical vibe.
A refreshing mix of excited teenagers and music loving adults filled this floor at MGM Music Hall  . This created an enjoyable and safe atmosphere where everybody wanted to dance together and feel the energy as one. The large venue allowed for the diverse crowd to embrace the experience of listening to live music. It is a three-level stadium, without a single open seat; however none of the dancing audience members had time to notice. 
The band enhanced their performance with a creative stage set. The structure looked like the inside of a house and even had part of a roof on the top of it. The band entered through the "front doors" and climbed up the stairs at times. There were mini televisions that played random videos such as Jake Paul's apology video. These mini televisions had also opened up as Heely had climbed through one during a song and disappeared. They went as far as to decorate the piano to look like a table with a lamp on top. 
The setlist was separated into two parts. First, he focused on his newer album "Being Funny in a Foreign Language" and then reared back a mix of old classics such from "At their Very Best" containing, "It's Not Living (If it's not with you)" and "The Sound" as well as pop songs like "Sex," "If You're Too Shy (Let Me Know)," "Somebody Else," and "Love It If We Made It." These performances were aligned with the house-like set, white outfits, white spotlight and mood lighting, and set design.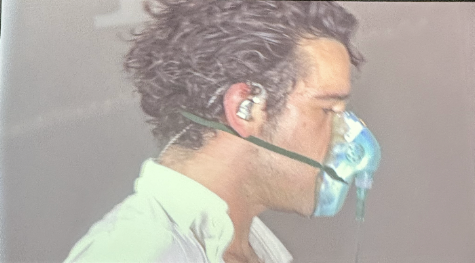 In connecting with the crowd, Heely shared his opinion with the societal issue that has come up surrounding anti-semitism and Kanye West. With a flask in his hand, he said that, "If you're gonna be fascist, at least do it properly" eh followed this statement mentioning how he doesn't really like to talk at concerts but thought that this was important to say because he didn't want them to think he would welcome fans with a similar mindset. He also mentioned how he liked Kanye to a certain extent before this and respected his music; however, now that respect is lost.
This night was truly a heartwarming experience with a fun environment. If you weren't a super-fan before, you'll definitely be more into their music after attending a show. The 1975 is an incredible band with incredible stage presence. Their energy is contagious and warrants going to multiple shows.