Baby Gravy the Tour Review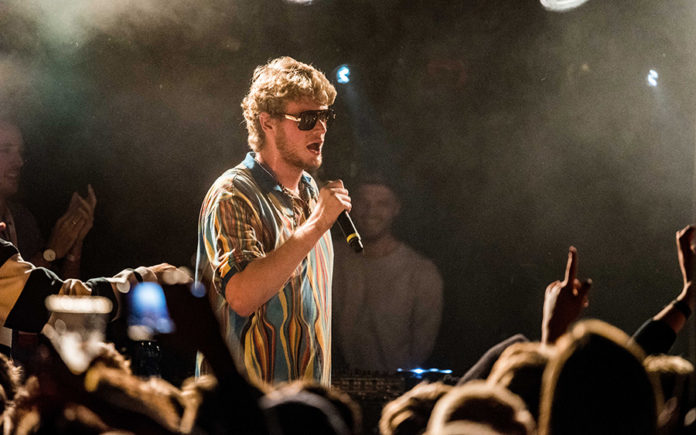 Mattie Diaz '26 / Emertainment Monthly Staff Writer
On November 16, rappers bbno$ and Yung Gravy took the stage to a sold-out crowd at the newly established MGM Music Hall at Fenway. From the very first moments of the show, it was clear that the best friends would be putting on a thrilling performance for the audience to remember. 
Before the duo made their first appearance, a short comedic cartoon played on the large 
LED wall screen in center stage depicting how the rappers met and became friends. Because bbno$ and Yung Gravy have a strong bond that began long before this tour, they were able to have an absolute blast performing their hit songs, and in doing so, created a playful atmosphere. The banter between them was one of the most memorable aspects of the concert, as they didn't hesitate to reference and make jokes about recent events, such as Yung Gravy's relationship with Addison Rae's mom, Cheri Easterling. The rappers also included the audience in the fun in unique ways, such as throwing water bottles and autographed Lunchables into the pit. 
The semi-modern, semi-vintage aesthetic of the show was effectively established through the performers' various outfits and the visuals displayed on the LED wall screen, such as old TV advertisements and two-dimensional cartoon imagery. This aesthetic was furthered through the large selection of merchandise, which featured pastel colors, disco balls, and the rappers as cartoon characters. A significant portion of the audience was decked out in this apparel during the show. 
The concert ran for two hours, with bbno$ and Yung Gravy alternating between performing their own songs and performing together. Both their opening and closing songs, an older hit "Welcome to Chili's" and newer single "C'est La Vie," had the audience on their feet, screaming in excitement. bbno$'s setlist included fan favorites such as "edamame" and "lalala," while Yung Gravy performed a variety of both new and old crowd pleasers, including "Mr. Clean," "oops!," and "Betty (Get Money)." Because of this, the show appealed to both fans who have supported the duo since their SoundCloud beginnings and newer fans who recently discovered them on TikTok. 
This show was not to be missed for anyone who is a fan of the rap or hip-hop genres, as both performers gave stellar, high-energy performances that consistently had the psyched crowd singing and dancing along. For anyone who wishes to listen, both artists have new albums, Bag or Die (bbno$) and Marvelous (Yung Gravy), available to stream today!