A Weird Review (Weird: The Al Yankovic Story)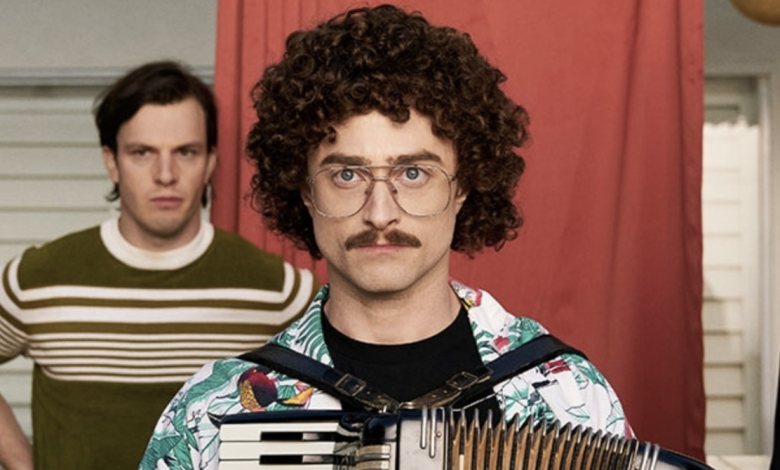 Molly Kurpis '25 / Emertainment Monthly Staff Writer
Eric Appel's new movie Weird: The Al Yankovic Story follows the "unexaggerated true story" of the American singer "Weird Al" Yankovic, a parody musician who rewrote popular songs with a frivolous lens. This fictionalized version of Weird Al's life acts as a satire of the biopic film genre in general, poking fun at musical movies through witty dialogue, fantastic performances, and striking visuals.
The movie's grand retelling of Weird Al's life portrays the musician as a mass pop star with an obscene amount of wealth and success. The film shows him getting into a serious relationship with Madonna, killing Pablo Escaobar, dying in a car accident, resurrecting from the dead with a song idea, and being assassinated by one of Madonna's henchmen at a major award show. This gives the movie a sort of surrealist feel, fully accompanied by Salvador Dali's (Emo Philips) presence at a pool party filled with famous guests. Even the people at this pool party are strange – Alice Cooper (Akiva Schaffer) partying with Andy Warhol (Conan O'Brien) and Dali is a group of people very unlikely to have ever interacted in reality. The dream-like qualities that also evoke themselves in drug-induced scenes and nightmarish sequences harken back to Weird Al's bizarre personality. The movie fully captures who he is as a person, a performer, and an artist: weird.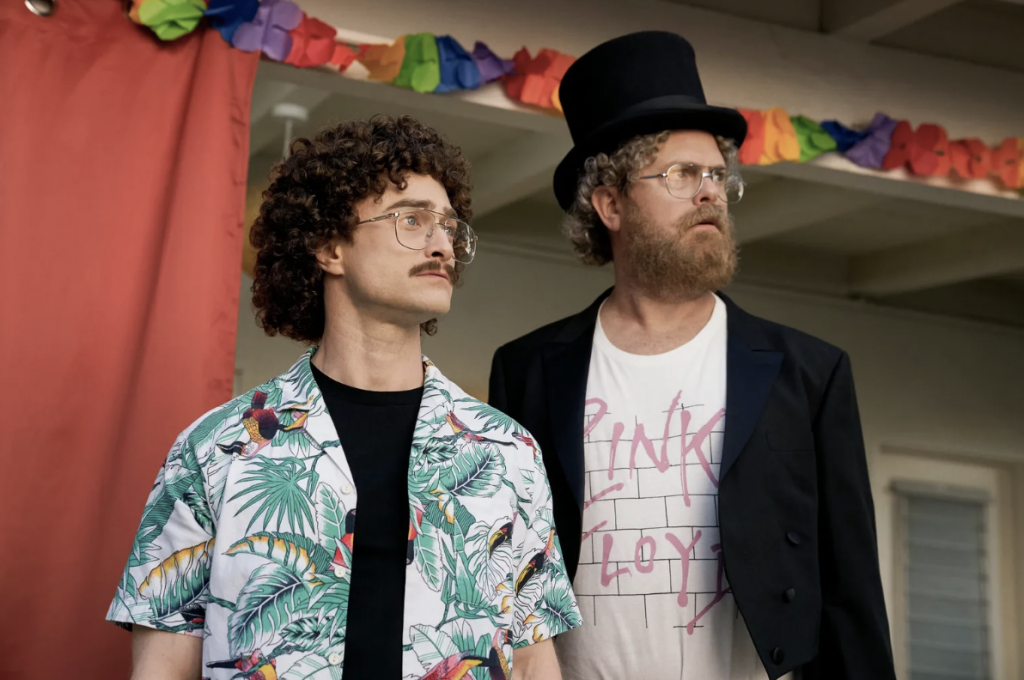 Daniel Radcliffe perfectly embodies the eccentric personality of Weird Al. His sarcasm and delivery of dry humor plays to the movie's tone which is unable to take itself seriously. Yet there is an emotional drive behind his actions, ignited through tensions with his father (Toby Huss). Radcliffe's character is given a sense of dynamism as he overcomes the disapproval of his parents, only to learn that his father was once a musician himself. This arc adds to the Weird Al character as a whole, turning him more than just a silly parody singer.
Rainn Wilson plays the notorious music manager as Dr. Demento, an American radio broadcaster who hosted one of the first stations to air Weird Al's music. Despite the movie's tendency to exaggerate events and relationships of the artist's life, Dr. Demento helped bring Weird Al to national attention, both in the film and in reality. Demento's ability to support him throughout his addictions and times of hardship reveals how impactful he was on Al's career and personal life. It also helps that his name is Demento, sounding mighty similar to Dementor, taking a nod to the fictional world of Harry Potter, Radcliffe's first claim to fame. Little tidbits like that speaks to the movie's impressive nature to satire as much of Weird Al's life as possible, while also referencing their actors as well.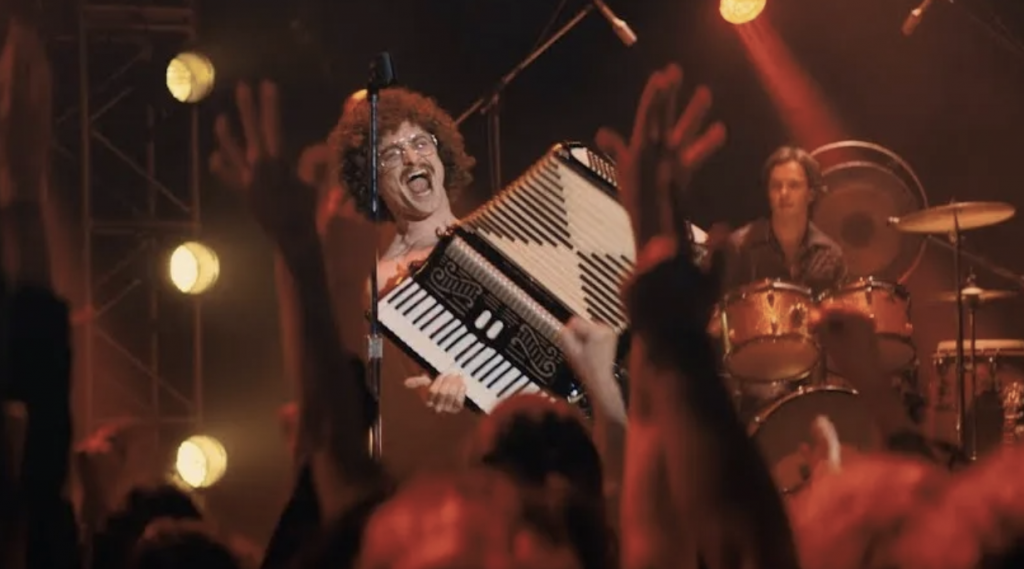 Each of Weird Al's greatest hits are creatively woven throughout the narrative. The inspiration for writing parodies comes from "My Bologna," a parody song created from Knack's "My Sharona" as Al made a bologna sandwich. "Another One Rides the Bus" arises from Wolfman Jack's (Jack Black) challenge for Weird Al to parody a song on the spot. "Like a Surgeon" is inspired by a group of surgeons surrounding him after a car accident with Lin Manuel Miranda, a famous songwriter, acting as lead surgeon. After creating a string of parody music, Weird Al decides to write his own song "Eat It." A few months after its release, Michael Jackson creates a parody of the "original," calling it "Beat It." 
Weird is a fun, refreshingly entertaining movie that utilizes satire and exaggeration to explore the life of a parody artist, whose main goal was to exaggerate the songs he parodied as much as possible. A true comedy at heart, the film celebrates the oddities of life, and what it truly means to be an artist.