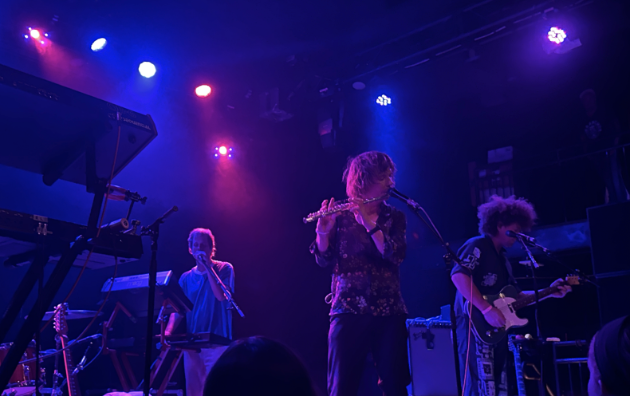 Samantha Edelman '26 / Emertainment Monthly Staff Writer
After their recent EP release "Live at the BBC," psychedelic rock band, Pond,  began their tour, hitting Boston's Sinclair venue on Friday, December 2nd. 
Following their last release "The Weather" in 2017, fans patiently awaited another release for a  long five years. Pond began making music 2010, attracting mainly older millennials looking to relive their glory days. Although an older crowd, they still have been some of the most hype crowds in Boston as they decided to mosh their hearts out.
The opening act, Cryogeyser, entered the stage. This two-person, indie/alternative band, not fully cohesive with Pond's genre. Their performance was good but very slow and the crowd did not seem to be paying very much attention to them.
The older age of the audience offered the show a more relaxed vibe, but also more experience on how to properly act at a live performance. The crowd is often what makes a show so entertaining, and the folks at Pond knew how to get down.. They created an enjoyable and safe atmosphere where everybody got a chance at the barricade.. The venue was moderately large with two levels and in a beautiful area surrounding it. 
The band members' outfits were decked out in gaudy outfits.  Guitarist, Shiny Joe Ryan,  was in a white painted jumpsuit as well as Nick Allbrook's funky long sleeve top and sly pants.
The band enhanced their performance with creative lights. Although there was no backdrop behind the band, the strobe lights illuminated them. . The band incorporated many layers to their performance: flutes, unexpected sound effects, and a cardboard Guy Fieri. Fieri was placed offstage, seen just enough for the band to make their fair share of jokes. 
The setlist hit all of their key songs such as "Sweep Me Off My Feet," "Paint Me Silver," and "Daisy."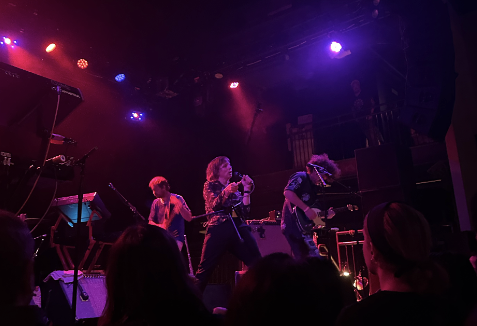 Pond's lead singer Nick Allbrook went wild on stage by using his equipment as accessories—such as wrapping the microphone around his neck or using the mike stand to walk around. He also kept mentioning how nice it is to finally be back after three years of mostly being inside. Although, he claimed that Boston is "bloody cold."  
This night was truly a monumental experience with a fun environment. During their performance, you could also see how comfortable they were with each other based on how Allbrook and Ryan kept trying to sing through the same mic as well as the glances that they all shared throughout. 
Overall, the energy on the stage transferred into the audience and encapsulated the feeling of it.