Beabadoobee Concert Review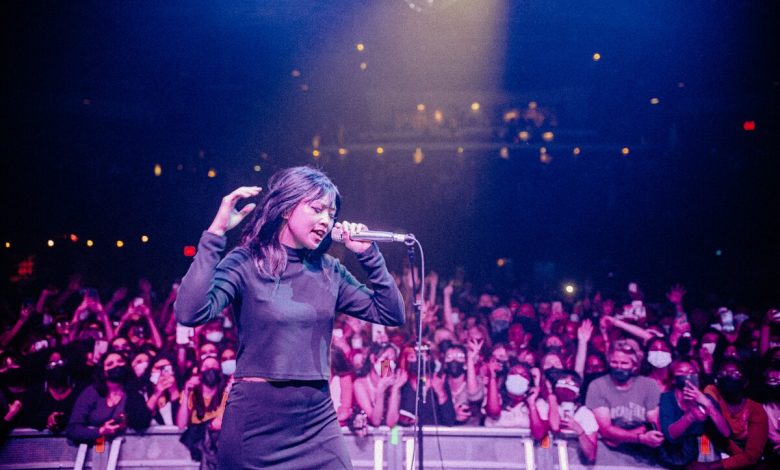 Sid Timmons '26 / Emertainment Monthly Staff Writer
Standing in a wrap-around line in 35-degree weather may seem miserable, but for Beabadoobee concertgoers, it's a small price to pay to see the 22-year-old rockstar. The concert was graced by over 3,000 Bostonians, making for a unique concert experience. 
Arriving an hour early for the show proved futile against the fans who had been camping outside the venue for hours. When the line finally began moving, the air filled with excitement.
Fans filed into the Roadrunner, quickly filling up the general admission floor. Although everyone conducted themselves cordially, the desire to push through to the barricade overpowered anyones' desire to be kind. There was frequent use of the predictable, "My friend is at the front" excuse. 
When the opening band walked onstage, the venue erupted. Lowertown, a fellow band under Dirty Hit Records, was an incredible opener. They kept the crowd engaged, even inspiring a crowd-wide mosh pit to honor the end of their tour. 
With concertgoers crammed together, thanks to the mosh pit, an injury interrupted Lowertown's final song. The crowd split to make room for EMTs, and Lowertown exited the stage.
Once everyone was safe, Bea entered the stage. The crowds' deafening screams proved their excitement for the show. Fans shouted how much they loved Beabadoobee as she started her set with "10:36," a song off of her most recent album, Beatopia. 
The crowd kept up their engagement throughout the show; Bea could barely be heard over the crowd singing along to her songs. However, some fans took their love too far— a group in balcony seating began yelling explicit things at the artist, who commented on their inappropriate behavior. 
The rest of the show featured the most popular songs from her most recent albums, as well as "Apple Cider" from her 2019 album, Loveworm. She played a rock cover of her emotional song, "Back To Mars." Despite the quick genre switch Bea managed to keep the theme cohesive and interesting. 
Bea ended the concert with an encore featuring her and an acoustic guitar. She played the crowd favorite, "Coffee," and a very emotional rendition of "Ripples." After these raw performances, not a dry eye remained.  
Despite the slightly aggressive crowd and long queue, Beabadoobee's Boston concert was an amazing experience, and a great way to close out her US tour. Bea goes back on tour in the UK in March and will accompany Taylor Swift on the Southern leg of her Eras tour next year.