Men I Trust Concert Review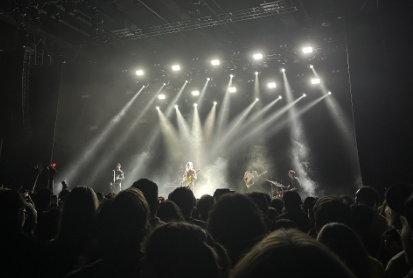 Samantha Edelman '26 / Emertainment Monthly Staff Writer
Men I Trust is a three-person Canadian band founded in 2014. Their recent single released on October 12th, 2022, "Girl," sent them back on tour after their last single dropped in 2018 titled "Show Me How." Here, they performed at Boston's Roadrunner on Wednesday December 14th.
Although their first self-titled album dropped back in the early 2010s, the music that makes up the band remains the same with a soft, yet less robotic sound. 
From their last Show Me How tour in 2018, it is evident that the band has grown as people and performers in such a short time. Their listening increased on spotify by hundreds of thousands. Certainly they are still not as big as other indie bands, but have managed to blow up on some social media.
The opening act, Feng Suave, entered the stage in their two person band. They were the perfect openers for Men I Trust, with a mix of punk rock and soft R&B songs. Despite the unfamiliar fans, their set was able to get the crowd ready for Men I Trust to perform. They even mentioned to the crowd that, "if they wondered if their favorite band is actually as nice as they think they are, it is true."
The calm crowd in such a large venue was a rewarding experience to say the least. This venue decision gave the concert audience a new way to enjoy live music. The music kept the crowd calm and the ample space prevented the need to violently push to the front. 
Men I Trust made their entrance walking out of their empty black backdrop where the different colored lights took over most of the show. The band was wore basic clothing. They began by playing, "Oncle Jazz," as the lights turned a glowy yellow and illuminated the band members. They were GLOWING!
The setlist was a mix of their classics such as "Girl" and " Lauren" as well as songs like "Oncle Jazz," "Seven," "Numb," and "I Hope to Be Around." Mood lighting, strobes, and set design supplemented these performances. They also sang their most famous song, "Show Me How." During these songs, one could feel the vibes of the audience members calm as time went on.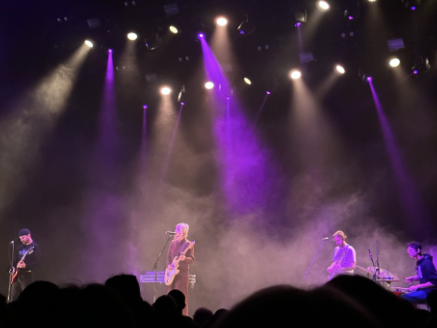 The band members decided to remind the audience it was their last day on tour how happy they were to spend it with Boston. The tour began in Columbus, OH and had stops throughout the entire country. The band was able to complete a national tour in a little over a month—no easy feat. 
This night was a truly calming and heartwarming experience. The band was very kind to everybody,  asking how the audience was doing and voicing their appreciation for their fans. Men I Trust is made up of great performers who seemed to touch every single one of the people in the audience's hearts.