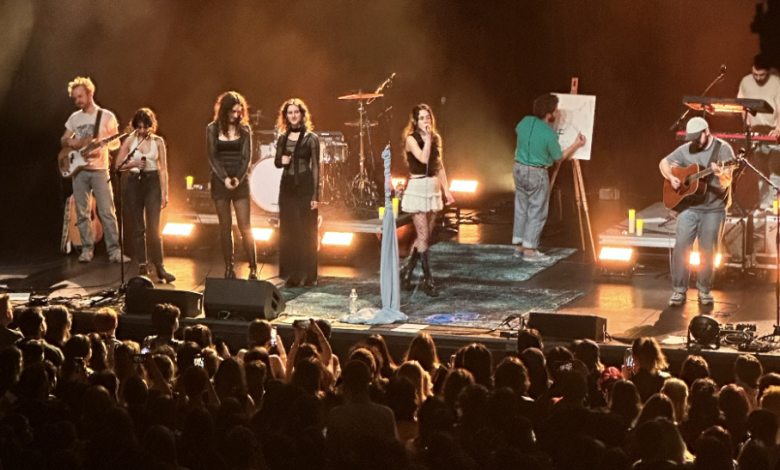 Samantha Edelman '26 / Emertainment Monthly Staff Writer
After her recent album release titled "Honey" on January 27th, 2023, Samia honored Boston's House of Blues venue on Friday, February 10th.
Since the release of her new album,  Samia has stuck to her 11 song structure within the album. Here, we start out with a dreamy sound such as " Kill Her Freak Out" that gets somewhat more upbeat as the songs go out such as "Amelia."
The opening act, Tommy Lefroy, dressed in very similar all black mesh outfits came onto the stage with great stage presence. Their whole set was animated with beautiful lighting and sang many beautiful songs of theirs such as slow songs which moved the audience like "Flight Risk" and upbeat songs that got the audience moving such as " Worst Case Kid." The band also closed with a cover of Alex G's new song "Runner" which had the audience in awe of this rendition.
The venue was decorated with art everywhere and consisted of three widely spaced out floors packed tightly with fans. General admission seating was forced shoulder-to-shoulder and completely sold-out. The audience on the second level were spaced out and dancing none-the-less. The third floor still had the same energy as all the rest. Very good vibes.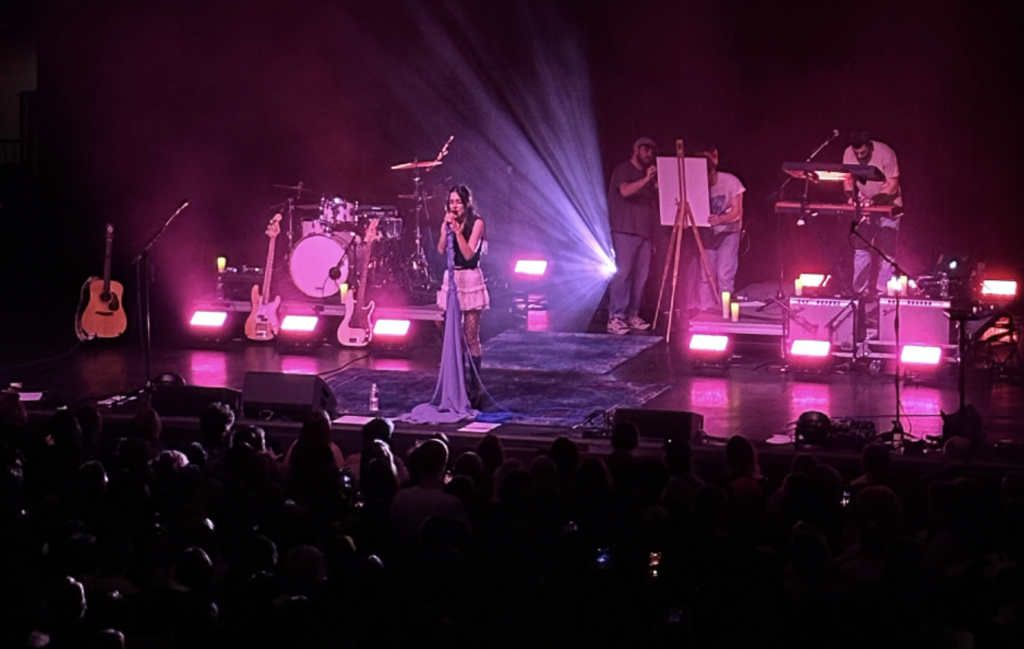 Samia eventually made her entrance, walking out in a white mini skirt, a black top and high black boots. The lighting remained as the set-structure which changed color from song-to-song. There was also a canvas in the back of the stage that the band members decorated and would later sell for charity. The rest of the band, consisting of five other members, all dressed very casually in jeans compared to her fancy outfit. 
Samia would not stop dancing and the crowd could not get enough of it. 
From her last album release on August 28th, 2020, Samia's sound has slightly changed based on how her songs had a more upbeat song then and not as many songs on her new album had the same energy but were just as good. This new album was also more impactful as you could tell the lyrics meant a great deal to the artist as it brought her to tears to sing aloud. There was also still an element of outside voices implemented into her songs that was very nice to continue to hear. 
The setlist was a mix of old classics such as "Is There Something In the Movies?" and "Big Wheel" as well as her newer songs like "Honey," "Sea Lions," "Dream Song," and "Pink Balloon." The band's collective energy with each other was electric as they all turned to each other with looks of appreciation throughout the whole set.
Samia as well as Tommy Lefroy had said that she loved Boston and wanted to come back again. They all ended the show by singing a shared encore together as well as Samia covering "You Shook Me All Night Long" by AC/DC right beforehand. The audience was all very interactive and gave a happy vibe to the opener, artist, and band.