Review: Netflix's Agent Elvis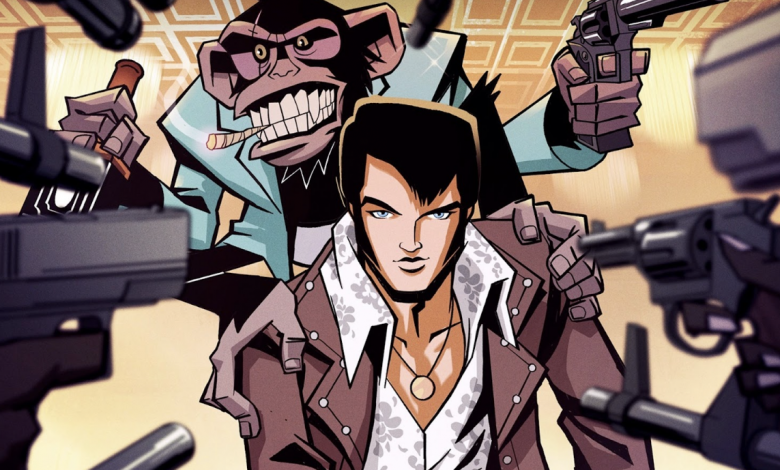 Owen Mitchell '25 , Emertainment Monthly Staff Writer
Netflix's new series, Agent Elvis, released on March 17, 2023, is adult animation at its finest: it's violent, hilarious, and full of twists and turns from beginning to end. 
Co-created by the iconic Priscilla Presley, Agent Elvis reimagines the King of Rock as a gun-toting vigilante who is recruited as an international superspy by the Central Bureau agency (the TCB, a nod to Elvis' famous catchphrase). Accompanied by a deranged chimpanzee named Scatter, his best friend Bobby Ray, and witty TCB Agent Cece, the show follows Elvis and company as they battle hippies, the Vietcong, and even Charles Manson.
Presley also voices herself (the show takes place right after Elvis' 1968 comeback special, before the couple's marital problems), and actors Johnny Knoxville, Kailtin Olsen, Don Cheadle, Jason Mantzoukas, Fred Armisen, and Ed Helms bring an ensemble of zany side characters to life. 
Matthew McConaughey voices the titular role of Elvis in a bland southern accent so forgettable it feels like an injustice to the renowned voice of the King. Following Austin Butler's spot-on impression in Baz Luhrmann's feature film released in summer 2022, McConaughey's performance leaves much to be desired.  
The show is animated by Sony Pictures Animation, the studio behind the hit superhero film Spider-Man: Into the Spider-Verse. The animation is one of the best parts of the show; the stylized comic book animation is the perfect medium to watch Elvis beat up hippies and trip on LSD.
While the ludicrous tone, foul language, and violence might be shocking at first, the self-aware comedy, stellar supporting voice cast, and stylized adult animation cement Agent Elvis as an entertaining watch for all and a solid tribute to both the King and the late 60s.