Coco & Clair Clair Concert Review
Samantha Edelman '26 / Emertainment Monthly Staff Writer
After their recent album release titled Sexy on November 2nd, 2022, Coco & Clair Clair honored Boston's Sinclair venue on Sunday, April 9th along with Raven and grandma as their openers. 
Since the release of their new album, CoCo & Clair Clair has gotten over 1 million streams on Spotify. Their album cover is the most tame out of all their past covers, which relates to some of their calmer songs amidst the new album.
The opening act, Raven, dressed in a very casual looking outfit. Their whole set was pretty angsty and did not have much lighting to assist with the performance. Although, he did get into the crowd during the last song, which got everyone excited. Afterwards, the audience got more energetic when the next act, grandma, came out with a more lively collective of music that the crowd seemed to know better.
The venue had simple decor in the background which was a black backdrop for the entirety of the concert containing large white letters of the label of the band itself. This connected to Coco & Clair Clair's theme for this album of simplicity. This backdrop also went along with the performance of the openers based on how they had an angsty feel to their sound.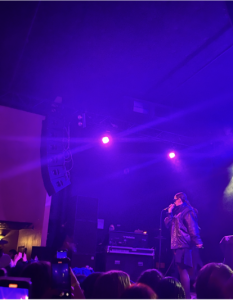 Crowd graphic. Photo by Samantha Edelman
The crowd filled in much more as they started to perform, so you could tell that many people came there just for them.
Coco & Clair Clair entered the stage in all black outfits with leather jackets and dresses and skirts and big belts. Their hair was also very slicked back and put together, which connected with their simple outfits of all black. Clair Clair had worn sunglasses the entire performance which was a cool yet interesting choice.
From their last album release on May 1st, 2017 labeled Posh as well as their hit #1 most listened to single "Pretty" on November 15th, 2017, the women have created a newer sound for themselves. They were able to create slower songs in relation to what they had made previously which added more dimension to their sound, and it was pretty beautiful. 
The setlist was a mix of old classics such as "Pretty" and "Crushcrushcrush" as well as her newer songs like "Cherub," "Love Me," and "U + Me," and then closing with "Sims 2." The two woman's collective energy with each other was electric as they all turned to each other with looks of appreciation throughout the whole set.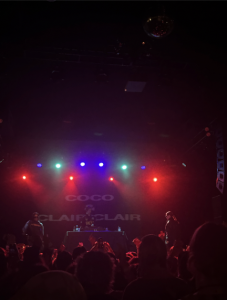 Coco & Clair Clair's simple graphic set. Photo by Samantha Edelman. 
At some points during their set, fans would throw many different types of gifts on the stage such as Sonny Angel dolls and letters. This made the artists smile and they talked about each gift that was thrown. Coco & Clair Clair mentioned how Boston has been their most excited and fun crowd on their tour yet, and how much they cannot wait to come back.