Caroline Polachek Concert Review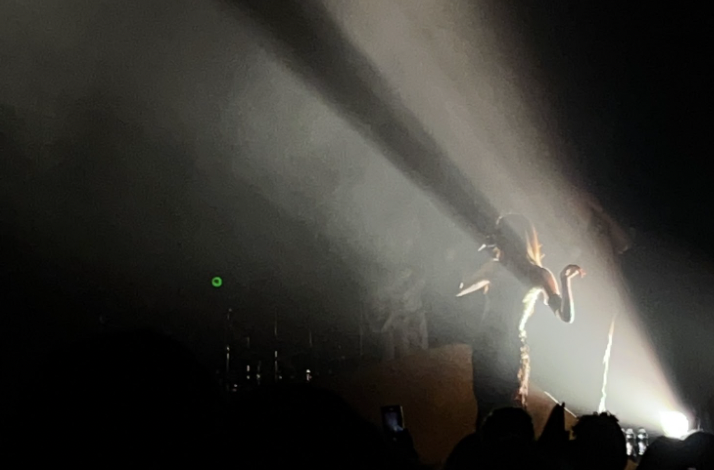 Christian Jones '26 / Emertainment Monthly Staff Writer
Following the Valentine's day release of her album, Desire, I Want to Turn Into You, Caroline Polachek concluded her tour at Boston's Roadrunner venue on April 15th, 2023. For an album about wanting to embody sexual longing, Polachek did just that on stage. With the opening song, "Welcome to My Island," the stage erupted into volcanic, red light as Polachek's shouts filled the room. In the center: Polachek's silhouette, hand outstretched, swaying to the syncopated lyrics "welcome to my island / see the palm trees / wave in the wind." She gripped the mic, leaning over and tracing it from the bottom-up like she was caressing a lover—or herself.
Following the opening track she excitedly shouted "Boston!" and the crowd went wild. The red light on stage was quickly replaced by green on all sides, revealing a red Sun and volcano on the screen behind her. Harkening back to her 2019 release, Pang, Polachek's second song was "Hit Me Where It Hurts." She flitted back and forth on stage to the breathy melody "I'm feeling like a butterfly trapped inside a plane / Maybe there's something going on, I'm not insane." Then, she sank into an open-faced squat, swaying like a cobra hypnotizing its prey, reciting "Bullseye, dead end / moving target / carousel, carousel / baggage, claim it." On the second refrain of the melody, she turned the mic on the audience, whose enthusiasm created a wall of sound echoing back to the stage. Returning to her most recent release, she followed this with "Bunny is a Rider," pretending to mount a motorcycle throughout the performance.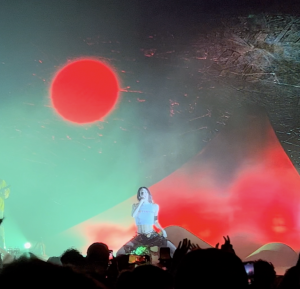 Photo by Christian Jones.
Her next song, "Pretty in Possible," began with a white spotlight shining down on Polachek, poised like a deity. As the melody kicked in, the background morphed into a spiral of red barbed wire. In the song following, "Sunset," this barbed wire transformed into the branches of trees amidst a fiery red sunset. Her accompaniment band played the Spanish guitar fearlessly, as Polachek shuffled her hands above her head—a move done by many drag queens in voguing competitions. The audience sang every word along with her, pouring themselves into the sanguine ballad: "'Cause you're my sunset, fiery red / forever fearless / and in your arms, a warm horizon / don't look back / let's ride away, let's ride away."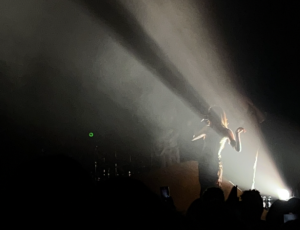 Photo by Christian Jones.
Polachek's set continued with the moody, noir-esque "Crude Drawing of An Angel." The screen behind her turned sultry: a deep purple filled with black six-pointed stars, the volcano throbbing red like a heart to the pulsating beat. Polachek herself slowed down, not moving once from the mic, but timing arm movements to the beat. Each time she opened her palms, light flashed across the stage, the dark stars behind her catching flame. She followed this with "Fly to You," a song originally featuring Grimes and Dido—whom she briefly shouted out. Polachek's angelic falsetto danced above the breakbeat-guitar combo, the screen behind her a vibrant purple and filled with overlapping web-like black strings.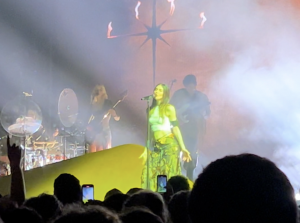 Photo by Christian Jones.
She followed up this energy with two ballads, performed with little to no accompaniment: "Parachute" and "Butterfly Net." The screen went dark, the audience silent. The room was completely entranced by Polachek's voice, smoke rising from behind her ascending and descending vocal runs. During one of her three encore songs, "Billions," she grasped at the light in front of her as if she were collecting pixies, holding them in her hands, and throwing them at the audience who reached up to try and catch the invisible beings. She then followed with her arguably most popular song, "So Hot You're Hurting My Feelings." Finally, she ended on the stunning emotional song, "Hopedrunk Everasking," commanding the room for the last time with her voice: delicate, strong, hypnotizing.