Top 10 Reasons to Be Excited for 'The 100' Season 3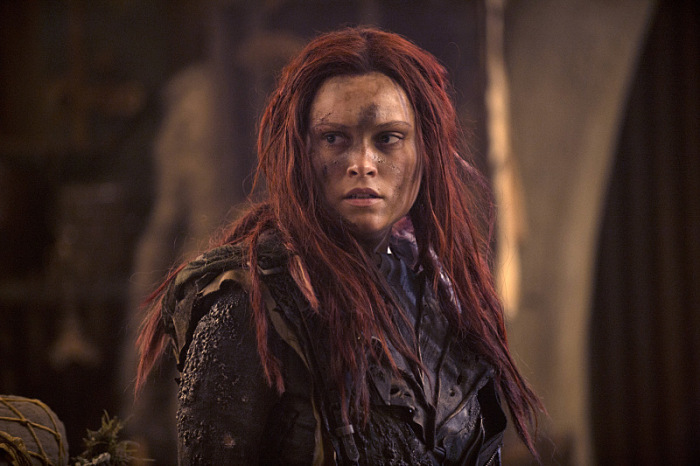 Nora Dominick '17/ Emertainment Monthly Co-Executive Stage Editor
With the premiere of The 100 season 3 just two short weeks away, Emertainment Monthly has decided to countdown the "Top 10 reasons to be excited for The 100 season 3." Last season The 100 soared to new heights by introducing new characters, saying goodbye to some fan-favorites and continuing its domination of social media.
This season, The 100 continues to kick it into high gear by getting back to its sci-fi roots and keeping fans on the edge of their seats. Check out the list below (spoiler's ahead) and be sure to check out The 100 season 3 on January 21st at 9/8c on The CW.
10. New Opening Title Sequence
The opening title sequence of The 100 is always a focal point of an episode. The incredible score coupled with the visuals will make any fan excited for an episode to kick it into high gear. According to executive producer and creator Jason Rothenberg, season 3 of The 100 will introduce a new makeover to the opening title sequence that will surely amaze fans. With a new title sequence there is sure to be more locations presented and even more series regulars added to it. 
9. New Locations
Last season on The 100 the Ark survivors joined the 48 remaining juvenile delinquents on the ground, however that was far from the only place explored in season 2. Fans were swiftly taken into the world of Camp Jaha, Mount Weather, the Dead Zone, the City of Light and further into Grounder territory with Tondc. Season 3 of The 100 promises even more exploration on the Ground including a mysterious Ice Nation.
The elusive Ice Nation was mentioned briefly throughout season 2 of The 100 when two members came to Tondc for the Grounder gathering. The Ice Nation will surely be a new location for the beloved characters to explore when season 3 kicks off.
Of course, another location sure to make an impact is wherever Clarke (Eliza Taylor) has been these last few months. At the end of season 2, Clarke bids farewell to Bellamy (Bob Morley) and Camp Jaha as she sets off on her own. Where Clarke ends up is still a mystery, however the Grounders and Lexa (Alycia Debnam-Carey) will be involved somehow.
8. The City of Light and A.L.I.E
Season 2 of The 100 followed Jaha (Isaiah Washington) and Murphy (Richard Harmon) on their quest to the mysterious City of Light. In a storyline that was sometimes nudged to the background, Jaha and Murphy are pushed to their breaking points as they struggle to make it to the City of Light. All that is known about the community is that it's just outside of the Dead Zone and is said to be a community that welcomes all who seek it.
At the end of season 2, Jaha and Murphy finally reach an island across the sea where Murphy explores a lighthouse and Jaha meets A.L.I.E (Erica Cerra), an intelligent hologram that has been awaiting his arrival. Season 3 of The 100 is sure to explain more about A.L.I.E, her possible involvement in the nuclear war that ended earth's civilization and the Lighthouse Murphy is exploring. The City of Light continues to be a mysterious location, but based on the season 3 trailer Jaha, A.L.I.E, Murphy and the City of Light will play an intricate role in the season 3 storyline of The 100.
7. The Aftermath of Mount Weather
Saving most of the remaining 48 juvenile delinquents and taking out Mount Weather was the major storyline in season 2 of The 100. The Ark survivors, led by Clarke, and the Grounders, led by Lexa, teamed up to take out the Mount Weather inhabitants. This storyline pushed each character to their breaking point and created some of the best moments on TV last season.
When season 3 of The 100 premieres, the events that transpired at Mount Weather are far from behind everyone. Jasper (Devon Bostick) appears to be dealing with the ramification the worst. When Clarke and Bellamy decided to kill everyone inside Mount Weather last season, including Maya (Eve Harlow), Jasper was already seen as a shell of his former self. The Mount Weather massacre seems to play a major role on Jasper's decisions this season. In the season 3 trailer fans can see some of Jasper's actions including being at odds with Monty (Christopher Larkin) and seeking comfort from Octavia (Marie Avgeropoulos). Monty also appears to be dealing with the ramifications of Mount Weather and seems to have a bigger role in season three of The 100.
Of course, Bellamy will continue to grapple with his decision to kill everyone inside Mount Weather. In the season 3 trailer of The 100 fans get a taste of this when Kane (Henry Ian Cusick) tells Bellamy, "You were trying to save lives," to which Bellamy replies, "But I didn't." Mount Weather and the consequences of season 2 will hopefully continue to play a major part in the character arcs in The 100 season 3.
6. Back to Sci-Fi Roots
At Comic Con 2015, Jason Rothenberg told fans that The 100 will be getting back to its sci-fi roots. The A.L.I.E storyline that will be playing a big part in season 3 will help get The 100 back to the beloved sci-fi elements from season one. Rothenberg told fans at The 100 Comic Con panel that, "We started the show as a real hardcore sci-fi show in space. Obviously we lost that and I really missed that. This [A.L.I.E storyline] lets us get back the hardcore sci-fi." The 100 effortlessly blends together sci-fi and futuristic storytelling and it will be interesting for fans to see the sci-fi elements take center stage once again.
5. New Characters
Last season fans said to goodbye to several fan favorite characters including Finn (Thomas McDonell) and Maya. Although these familiar faces will be greatly missed, The 100 season three seems to be jam packed with new faces.
Sons of Anarchy alum Michael Beach joins the cast of The 100 as Pike, an adult Ark survivor who wants to reclaim the ground. Pike will pose a new threat to the alliance with the Grounders and it looks like he will come between Bellamy and Octavia. Pike is said to be a tough yet charismatic member of Camp Jaha and he follows a strong moral code. It will be interesting to see how Pike fits into Camp Jaha and how he deals with the Grounders.
Desperate Housewives and Dallas alum Brenda Strong will also leave her mark on The 100 season 3 when she takes on the role of Queen Nia of the Ice Nation. The Ice Queen is said to have ruled her people for many years and has held onto her power through ruthlessness and savvy. She will do anything to keep her power within the Ice Nation even if that means hurting the ones closest to her. Strong's role as Nia could pose a new threat to the Ark survivors and she could possibly butt heads with Lexa, who has a very similar personality.
Richard Harmon's older sister, Jessica Harmon, who can be seen on iZombie, will also be joining the ranks of The 100 this season as the character Niylah. Not much is known about Niylah, however a new love interest is slated to appear for Clarke and fans are speculating that Niylah could be that character.
One of the most interesting additions to The 100 season 3 is singer Shawn Mendes. Mendes will appear as a young Ark survivor who uses his talents to get out of a compromising situation. Rothenberg told E! News that, "Shawn is a big fan of the show, and reached out to me on Twitter about potentially working together… He's a very talented artist, and we knew we wanted to do something special and different for the premiere. Shawn gave us a unique opportunity and I can't wait for our fans to see our collaboration." Could this pop superstar be singing or playing an instrument on The 100? Fans hope so!
With all of these new additions, The 100 is expanding even more and fans cannot wait to see how these new characters interact with fan favorites.
4. Protect Raven Reyes 2016
Raven Reyes (Lindsey Morgan) has been through her share of hardship on The 100. From crashing to the ground, to being shot and losing feeling in one of her legs to Finn's death to being tortured in Mount Weather, Raven has endured enough hardship for a lifetime. For any fan that thought life would get easier for her when season 3 returns they were very, very, VERY wrong. Everyone's favorite mechanic appears to be driving the struggle bus when The 100 returns. She appears to be utterly defeated and struggling to keep moving forward.
In the season 3 trailer of The 100, Raven is heard saying, "What if I'm just broken?" a statement that holds true to all The 100 characters at this point, but specifically with Raven. Season 3 appears to be another tough season for Raven and it has caused fans to begin the trend "#ProtectRavenReyes." Fan art, like the one above by Tumblr user "ToDrunkToFindaURL," has begun circulating around the Internet as fans brave for the rough character arc ahead. Lindsey Morgan has turned Raven into one of the biggest fan favorite characters on TV and it's a testament to the incredible writing and her ability to play Raven with such raw emotion and honesty. 
At Comic Con 2015, Rothenberg told fans that Raven continues to deal with her PTSD in season 3 of The 100 and she is actually worse off then when fans last saw her. He says, "Emotionally, she's really living her life without Finn and living with that grief. There's someone new in her life and that's a whole new obstacle for her. You're going to see a whole new Raven. She's changed and she's trying to rebuild herself piece by piece." It's safe to say Raven Reyes is a beloved character to every fan of The 100 and season 3 will hopefully be another big season for the character.
3. Octavia Blake
Octavia Blake has become one of the best female characters on TV and season 3 of The 100 will hopefully continue to showcase this incredible character. When fans first met Octavia in season one, she was simply a naive girl who had spent most of her life under the floor and being protected by her older brother, Bellamy. On first glance, Octavia appeared to be a stereotypical pretty girl who would be the foil to Clarke. This is SO far from the character of Octavia fans know and love and it was a pleasant surprise to see her character shift away from the person presented in the Pilot. Fans have eagerly watched her transform from one of The 100 to a fully-formed Grounder.
Marie Avgeropoulos is one of the biggest surprises to come out of The 100. Her acting continues to reach new heights as she transforms Octavia into one of the most badass women on TV. This trend appears to continue in season 3 of The 100. Avgeropoulos told fans at Comic Con that, "Octavia hasn't really fit in anywhere growing up under the floor… Through Lincoln [Ricky Whittle], she really found her place within the world with the Grounders and they really brought out the warrior in her. I think she'll have a hard time going back to [Camp Jaha] and have some resentment towards them."
In the season 3 trailer, Octavia appears to be continuing her life as a Grounder and finding her place amongst Camp Jaha once again. One of the biggest storylines presented in the trailer is when Octavia pummels Bellamy and yells at him "You are dead to me." With Clarke leaving Camp Jaha and Bellamy still dealing with the aftermath of Mount Weather, Octavia appears to be taking on an even bigger role in The 100 season three, which is something fans are eagerly looking forward too.
The new season also continues the love story between Lincoln and Octavia. The tender moments between Lincoln and Octavia continue to be fan favorites and hopefully season 3 of The 100 will have more scenes of the duo together.
2. Clexa vs. Bellarke vs. Single Clarke
The "ships" that have come out of The 100 are arguably the biggest part of the underrated The CW show. The fandom of The 100 maybe one of the most divided groups of people when it comes to who Clarke Griffin should be with. From Clarke and Lexa (Clexa) shippers to Bellamy and Clarke (Bellarke) shippers, fans of The 100 are very well spoken when it comes to this debate. Season three of The 100 will continue to explore these relationships and will no doubt continue to explode Tumblr one gifable moment at a time.
Clexa was one of Tumblr's most reblogged ships in 2015 and there's no doubt these two characters will continue to play an integral role in season 3. The season 3 trailer for The 100 offers a look at the Clarke/Lexa relationship when it appears the duo are working together again following Lexa's betrayal at Mount Weather. The trailer also gave fans a glimpse at what looks like a Clarke and Lexa sex scene. Rothenberg told fans at Comic Con that when Clarke and Lexa meet up for the first time, "there will be fireworks in a way we've never seen before because Clarke is pissed." Clarke and Lexa's relationship, both romantic and not, will drive a large portion of season three it looks like and fans cannot wait to see where these characters go together.
On the other side of the "ship" battle are Clarke and Bellamy fans. The two main characters continue to drive a large portion of the story on The 100. With Clarke abandoning Bellamy at the end of season two, the duo will undoubtable have an interesting reunion when they meet back up again in season 3. "Bellarke" fans also got something to obsess over in the season 3 trailer when Bellamy and Clarke have another intimate hug. The fan-favorite ship also have a moment when Clarke asks Bellamy if he really wants to go to war again, to which he replies "We've been at war since we landed." The Bellamy/Clarke relationship should take an interesting turn this season with Bellamy and Octavia being on opposing side. Clarke will surely play a big role in that storyline.
Although, "Clexa" and "Bellarke" shippers divide the fandom, there is also the thought that a solo Clarke might be the best. Clarke is a strong, main character and keeping her single might add another feminist layer to The 100. When The 100 season 3 picks up, Clarke has left Camp Jaha and is living on her own. Season 3 will see Clarke dealing with everything that happened last season from Mount Weather to the death of Finn. A solo Clarke might be the foundation of season three and that isn't a bad thing. At Comic Con 2015 Eliza Taylor spoke to Clarke's relationship status when she said, "I don't think I'm [Clarke] thinking about anyone at this point." A single, independent Clarke is always an option and could be interesting heading into season 3.
The "ships" on The 100 from "Clexa" to "Bellarke" even to "Linctavia" (Lincoln/Octavia) are some of the biggest conversations between fans and it will be interesting to see how these relationships and "ships" pan out in season 3.
1. Bigger Fandom (Thanks Binge-Watching!)
In an age ruled by Netflix, Hulu and other streaming services, binge-watching can be attributed to a major rise in rating for underrated TV shows. The 100 is arguable one of the most underrated TV shows on television right now. Each year, fans wait with baited breath to see if the beloved drama will be renewed by The CW. This year, Jason Rothenberg and devout fans are making sure The 100 will live to see another season after season 3.
Binge-watching has become The 100's biggest lifesaver. With both seasons streaming on Netflix, more and more people are falling in love with Clarke, Bellamy, Octavia, Raven and all the Ark survivors and Grounders. The fandom for The 100 has grown exponentially between season 2 and 3 as more and more viewers have been catching up before the new season. One of the biggest aids to The 100 this season could be its new timeslot. The sci-fi drama will follow the highly anticipated premiere of DC's Legends of Tomorrow.
The 100 fandom has grown exponentially in the past year and it will hopefully propel the beloved drama to new heights. The bigger fandom will aid in making The 100 season 3 the best season to date as more people share their opinions on every single form of social media.
The 100 season 3 will hopefully be the season where it gets the love it so clearly deserves.
The 100 season 3 premieres on January 21st at 9/10c on The CW.