'Ben and Lauren: Happily Ever After?' Recap/Review: "Moving On"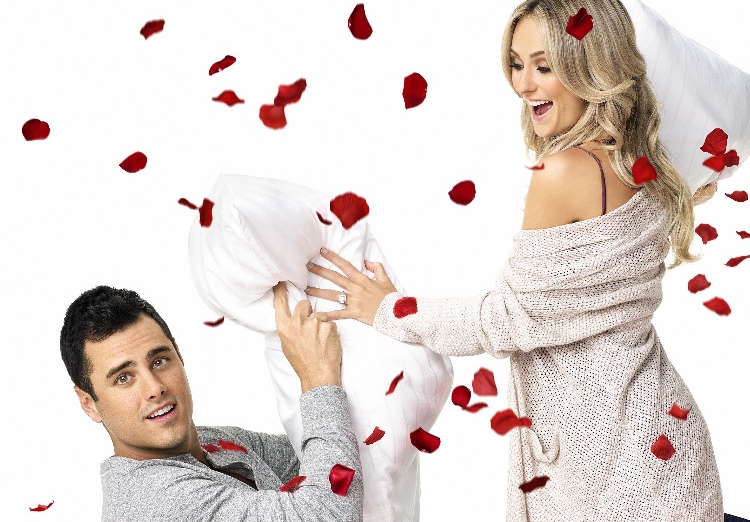 Laina Swatek '20 / Emertainment Monthly Assistant Comic Books Editor
Season 19 of The Bachelor concluded in a whirlwind of emotions, rose petals, and Jamaican beach proposals. When the show wrapped, we saw bachelor Ben Higgins and his girl, Lauren Bushnell, all smiles and tears as they walked off together.
But their story doesn't end there. With Ben announcing his love for both final contestants, many questions were left unanswered.
What's the effect of Ben confessing to the other contestant, JoJo, and not choosing her? Is Lauren insecure about this? How are seemingly perfect Ben and Lauren doing after the cameras stopped rolling?

October 11th marked the premiere of Ben and Lauren: Happily Ever After? on Freeform, and the episode (aptly titled "Moving On") treats us to an inside look on how the newly engaged couple is doing.
The show opens by recapping events during Ben and Lauren's season, letting the audience fall in love with their love all over again. We find that Lauren decided to move in with Ben in Denver, and they're focusing on enjoying time alone–getting to know little things about each other every day. It's a very sweet montage of the lovebirds, but it's promptly brought to reality when a fan approaches them in a grocery store and mentions JoJo.
In fact, this keeps coming back. JoJo Fletcher's name seems to come up more than anything else, and acts as a source of conflict for the couple. While Ben has no residual feelings for the recent bachelorette, Lauren expresses worry that they won't be given the chance to move on from what happened in-show, and will never escape the "Bachelor world."

The conversations on JoJo continue as the premiere progresses, whether the couple is enjoying fireworks lakeside together or just trying to have a dinner alone. The Executive Producer of The Bachelor even calls to ask Ben and Lauren to appear for JoJo's 'After the Final Rose' show, and offer "advice" to the former contestant on her engagement. The episode comes to a close then as we are given a sneak peek into the rest of the season, which projects both the trials and triumphs that Ben and Lauren undergo in the future.
You may have hissed, That's it? as the premiere ended, because the program finalizes on a cliffhanger that leaves you wanting more. Still, what we were given gave ample insight into the nature of Ben and Lauren's relationship.
The couple seems to be having immense fun together, and have a sweetly naïve air about them as they navigate the waters of a new relationship. It's nice to see that, despite the drama, Ben and Lauren manage to play tricks on each other and joke around.

It's a natural bond that is a stark contrast to how contrived The Bachelor can often be, and hopefully the couple will only have good things to look forward to in the future. They'll focus a lot on teamwork and communication, and hopefully find closure in what happened with JoJo on-air.
Audiences can expect to hear lots of conflict surrounding the intrusive, on-screen nature of The Bachelor and its lasting effects on their off-screen relationship. It might require a little isolation from the show to find happiness as a couple–but with trust and understanding, Ben and Lauren just might find their "Happy Ever After."
Overall Episode Grade: B