NYCC 2017: 'The X-Files' Season 11 Panel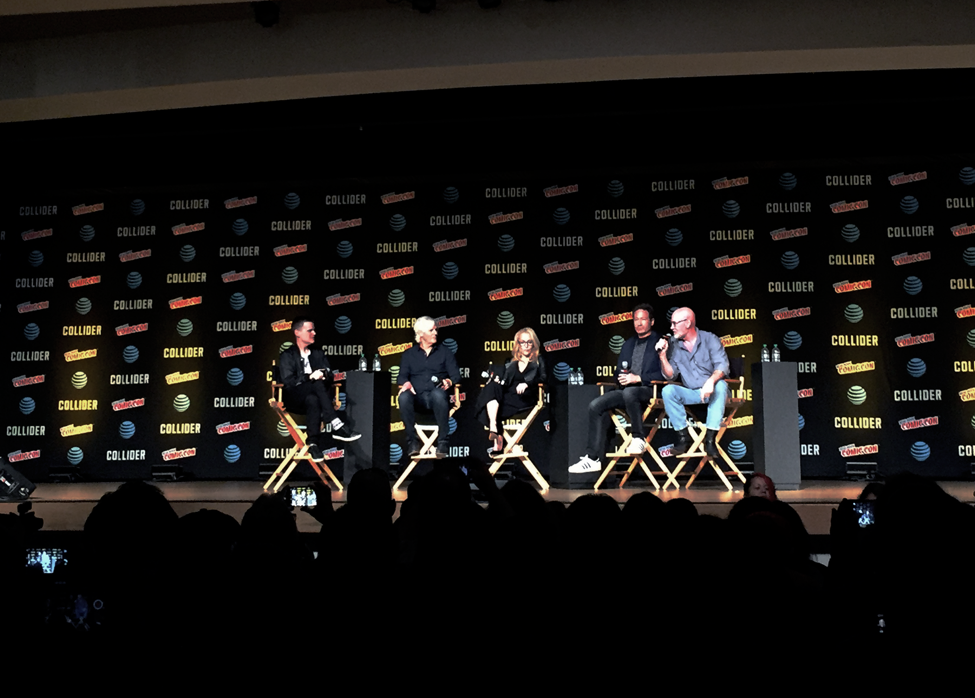 Alejandra Zimmermann '19 / Emertainment Monthly Staff Writer
New York Comic Con opened its doors on Sunday, Oct. 9 for one last day of excitement and I was there for one of pop culture's favorite sci-fi show, The X-Files.
People started lining up to enter the Jacob K. Javits Convention Center since the night before. At 7 a.m., the line reached some one hundred people and it was only getting bigger. Thankfully, staff let people in earlier than their opening time of 10 a.m. Once their badges were scanned, the crowds ran to the queue hall to secure a spot for the panel at the AT&T Mainstage. In my case, I ran towards chute 2 line for The X Files panel at 1:00 p.m.
After waiting some six hours and battling hard crowds, we were let inside the panel. Before even introducing the cast, the first look into season 11 was shown to the audience. The lights dimmed and a crowd of about 2,500 people were ready to see television's favorite FBI agents.
The surprisingly action-packed preview gave the audience a small hint to what happens after the cliffhanger from season ten. From clips of Mulder and Scully running together to the iconic Cigarette Smoking Man (William B. Davis) still smoking cigarettes, one thing is certain about this preview: it looks much more promising than season ten. For one, the new season will feature ten episodes over six from season ten. This alone shifts how the plot line will play out and for many long-time fans, this means the new season is covering storylines they should have covered last season. Many fans were thrilled (the shrieking in the room was proof) about William's (Mulder and Scully's son) storyline previewed in the trailer. Last season opened the gates to exploring William as a solution to the plague spreading, so to see that he is going to play a significant role with Mulder and Scully is quite shocking. Some familiar faces came up as well. From the mother from the iconic episode, "Home", to a fan favorite, "Langley", there is nothing more refreshing than to see familiar faces be a part of this journey. While no signs of Mulder and Scully's relationship is present, the fact that they are together, fighting and battling it out, is enough for a whole room to yell into the void.
After the exciting preview, the panel quickly followed. TV Line's Michael Ausiello joins creator Chris Carter, Mitch Pileggi (who plays Walter Skinner), David Duchovny (he plays Fox Mulder), and Gillian Anderson (the actress who plays Dana Scully) on the panel stage. With Carter on stage, it was quite hard for anyone to release information about the show because they are currently still working on episode five. Regardless, fans heard some small tidbits about season 11. Some of them include: William is already casted, Cigarette Smoking Man and Skinner will have stand-alone episodes, Mulder and Scully still have a working relationship, Darin Morgan is writing an episode, episode eight will be dark, Carter wants to end this season in another cliffhanger, and it might premiere in three months (Ausiello mentioned having to wait three months, but no premiere date has been released). What about season 12, you might ask? For starters, season 11 has not even finished filming yet, so we can all hold off on asking for more as of right now.