'Stranger Things' Review: "Chapter Two: Trick or Treat, Freak"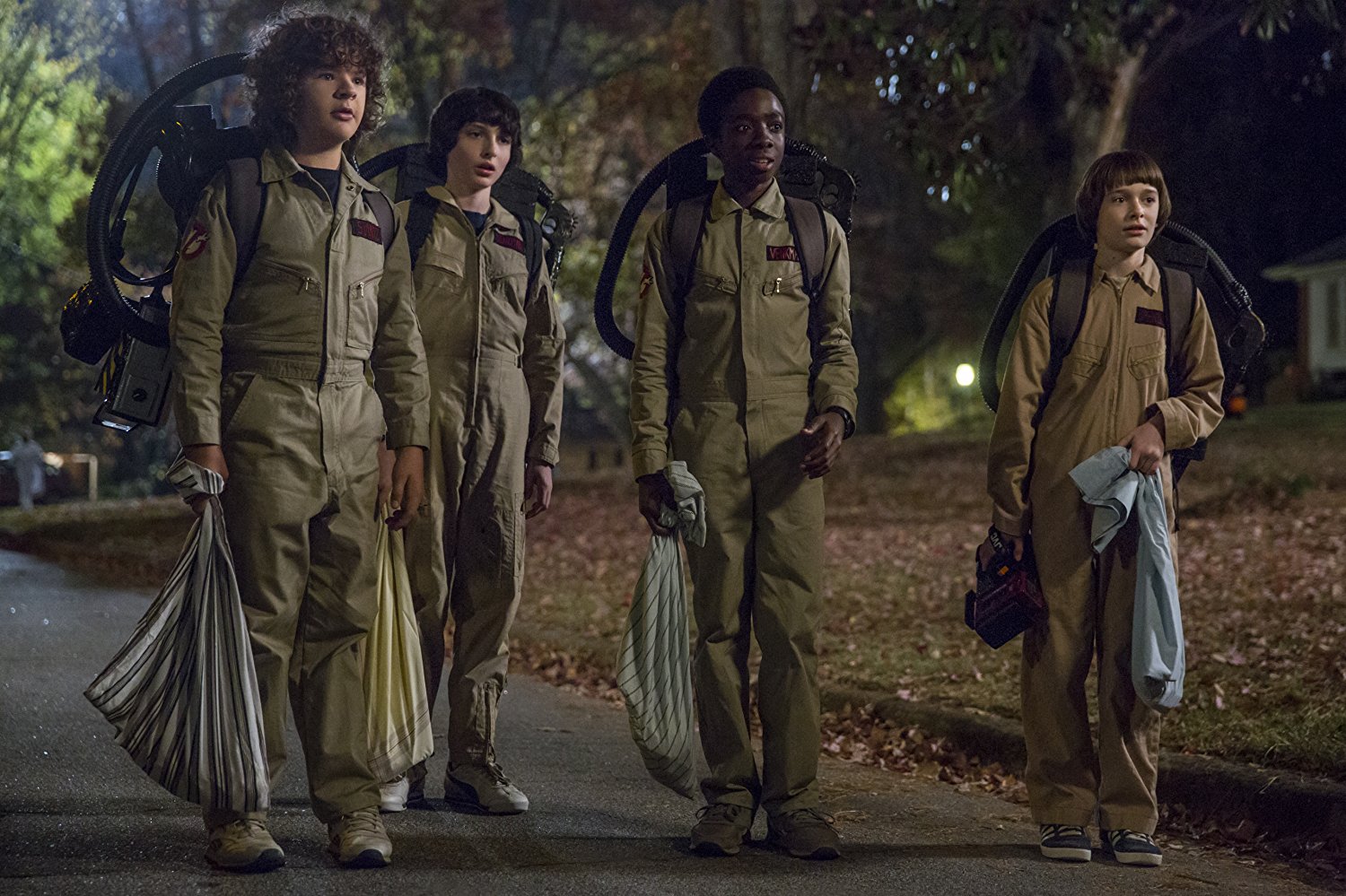 Benjamin Frohman '19 Emertainment Monthly Staff Writer
The episode opens where season one left off: Eleven (Millie Bobby Brown) is shown in the Upside Down in the aftermath of the Demogorgon's fall. She escapes through the school and goes to Mike's house, where the police are looking for her whereabouts. She is shown entering the woods: cold and terrified as the police search for her.
Flash forward to Hopper (David Harbour) and Eleven present day. Eleven wants to leave the house as a ghost for Halloween, but Harper says it's safer to keep her in hiding. He promises to be back by 5:15 with candy for them to eat.
As it's Halloween, Will (Noah Schnapp), Mike (Finn Wolfhard), Lucas (Caleb McLaughin), and Dustin (Gaten Matarazz) wear matching Ghostbusters costumes to school. The catch is that no one else is wearing costumes.
Meanwhile, Joyce (Winona Ryder) discovers Will's most recent drawings and is suspicious his visions may be returning. Hopper and Joyce discuss Will's visions as Joyce is worried. Hopper says to just wait it out.
At the creepy headquarters, a lab associate enters the Upside Down to fix the system at the headquarters.
Back at school, Nancy (Natalia Dyer) is still thinking about the death of Barb as she mistakes someone for her. Steve (Joe Keery) says to not bring it up as it will endanger them. Dustin and Lucas cutely approach Max (Sadie Sink) and invite her to come trick or treating with them.

The episode then flashes back to Eleven's survival in the woods, eating squirrels and stealing clothes while Hopper finds out that the dying pumpkins have spread  from farm to farm.
The dynamic of Max and her brother Billy (Dacre Montgomery) is shown. Billy is a complete tool and almost ends up hitting, Dustin, Mike, and Lucas, who are biking, with his car. Luckily, Max saves them by turning the wheel at the last moment.
Jonathan (Charlie Heaton) and Will leave protective Joyce to go trick or treating, but after Will says he wants to go alone, Jonathan decides to drop him off with Mike, Dustin, and Lucas while Jonathan goes to the Halloween party. Billy is shown drinking excessively and almost picks a fight with Steve. Nancy gets drunk and fights with Steve in the bathroom telling him their relationship and the lies they tell are "bullshit." Jonathan sweetly takes her home, putting her to bed.
Bob and Joyce dance together to "Islands in The Stream" in a cutesy scene, and Bob brings up leaving Hawkins.  
Out trick-or-treating, Max scares the kids and joins them. This upsets Mike a great deal.
Hopper hears more weird noises in the woods, and realizes he is going to be late getting home. Eleven realizes he's late, and again, it flashes back to her survival. It is shown how she found the Eggos that Hopper left for her at the end of last season.
Will has another vision where this time the huge monster chases him.  Will talks about the visions with Mike. Mike is sad that Eleven hasn't returned.
Hopper comes home to his locked cabin, Eleven is shown returning to the Upside Down mentally by blindfolding herself and using the static on the television to concentrate. This is how she was communicating with Mike over the headset the night before. Dustin hears the noise in the trash can again and looks inside, he utters the words "Holy sh—."

This episode really displays the dynamic between the kids and portrays a fun Halloween that works really well for the show. The relationship between each of the characters is really seen and the character development is huge. The relationship between Mike and Eleven tugs on the heartstrings, and the complexities of the group are put out to the open: Lucas not wanting to be the only black ghostbuster, the introduction of Max to the group, and the complicated family life of each character. Will's visions seem to affect Mike the most as he pushes away and tries to help Will out. This episode demonstrates the talent of the actors as well as the intrigue of the story.
Episode Grade: A+