Review: Character-Driven 'Lady Bird' Succeeds in its Realism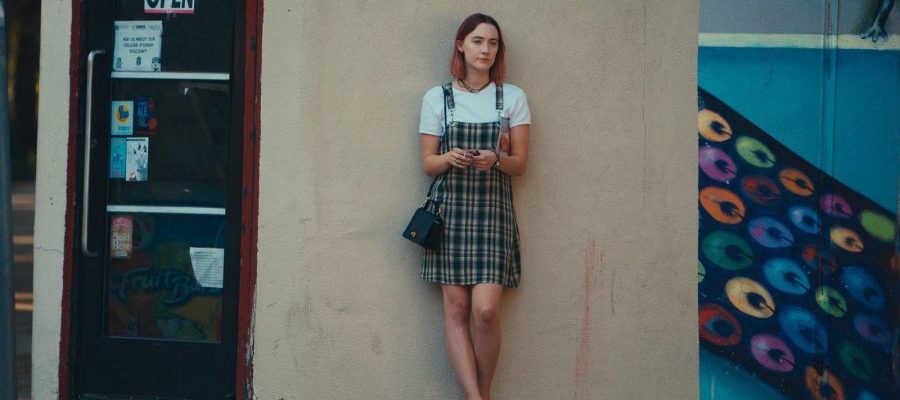 Kyra Power '19 / Emertainment Monthly Staff Writer
With her solo directorial debut, Greta Gerwig paints a beautiful, angsty, and funny portrait of a young woman in her final year of high school. Christine McPherson, self-named Lady Bird (Saoirse Ronan), does not like her life in an all-girls Catholic school located in the wealthy section of Sacramento. She constantly rebels against the system, causing fights with her mother. As she enters her senior year, her and her friend, Julie (Beanie Feldstein), decide to audition for the school's musical. As the year progresses, Lady Bird falls awkwardly in love, navigates in and out of friendships, and, ultimately, learns to grow up.

This set-up makes the film sound like a cliched rom-com, where, after an array of antics, everything falls nicely into place. Lady Bird does not do that, though. Gerwig gives her film an arc and a story, but it's about the characters. Each character from Lady Bird herself to Danny (Lucas Hedges), her first crush, to her mother (Laurie Metcalf), working double shifts, feels and acts real. The dialogue, outfits, and even poses are painfully awkward at points, but, with that, painfully hilarious. How can one not laugh at the boy telling Lady Bird that hand-rolled cigarettes are best or smile along with Lady Bird and Julie, as they lie on the floor eating stolen communion crackers? The earnestness of the characters and the film are moving.
That is what the film has that so many films are lacking: an earnestness and a biting realness. Today, so many films skip trying to be real and cut straight to a self-awareness. They assume they are cliches and, instead of trying and failing to portray something, fall back on comedic self-deprecation. With Lady Bird, each character Lady Bird encounters is somewhat of a cliche, but Gerwig does not treat them as such. High schoolers are constantly trying to make themselves into something they're not, so why not show that. Show the cringy first kisses and self-centered fights with parents. This is what makes the story of Lady Bird so refreshing and fun.

The film itself is incredibly well-directed. While the camera helps to portray the trapped world Lady Bird pictures herself in, the editing is what carries the story. The editor, Nick Houy, uses sharp cuts to guide the film through the series of moments Lady Bird experiences. The film has an overall arc, but it is really built out of smaller stories and instances. Huoy's cuts keep Lady Bird moving, trying and failing her way through her senior year; he and Gerwig do not show what is not important. Instead, they build Lady Bird through her small and big moments, showing how she grows and changes.
With its technical strength, moving story and characters, Gerwig's solo directorial debut is most definitely a success. Filled with poignant and quirky hilarity, Lady Bird is definitely worth a watch for anyone who's gone through the awkward joys and failures of adolescence.
Overall Grade: A
Watch The Trailer:
[embedyt] https://www.youtube.com/watch?v=cNi_HC839Wo[/embedyt]