Review: 'Instant Family' Changes the Conversation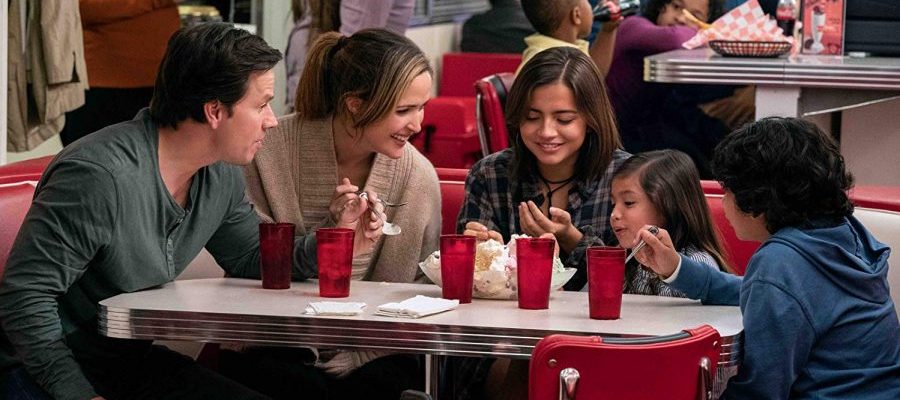 Linda Fitzpatrick '20 / Emertainment Monthly Staff Writer
AMC Loews Boston Common was packed Tuesday, October 30th with foster and adopted families alike to see an early screening of Sean Anders' new film Instant Family. Based on Anders' own fostering experience, Instant Family follows Pete (Mark Wahlberg) and Ellie Wagner (Rose Byrne) as they take their first steps into parenthood by fostering three children.
The plot is straightforward yet never dull. When Ellie's sister makes a snarky comment about Pete and Ellie never having children, Ellie questions her future. After fumbling on AdoptUsKids.org, where photos of waiting children bring her to tears, she convinces Pete to consider adoption. Things get even more interesting when they connect with a teenager girl who comes with two younger siblings.

The film highlights the adoption process through foster care, including a mandatory eight-week course, adoption fairs to meet available children, and support groups. Its accuracy in the depiction of a process so few outside of the adoption circle understand is one of the biggest impacts this film will have on society. It is also what makes this film so fun to watch. Instant Family is unlike other movies in theaters, providing an educational experience as well as a highly entertaining few hours.
Isabela Moner gives one of the strongest performances of the film as fifteen-year-old Lizzy. Lizzy's life has been nothing but difficult. Constantly moving between foster homes and having to parent her younger siblings since the age of eleven, Lizzy has a hard time accepting others into her world. Over the course of the film, Lizzy and Ellie bounce a tense energy off one another that drives the heart of the film. Their foster mother/daughter relationship is one so many viewers will relate to, regardless if they are adopted or not, but it is especially important in highlighting the safety net teenage foster children need and desire.

The writing of the film is spot on with great comedic timing. Instant Family impressively fuses comedy with drama in a film that will leave you laughing and crying in the same scene. The movie's wide range of comedy makes it perfect for a family audience with different age ranges and senses of humor. It's honest about the struggle of parenthood and growing as a family.
Perhaps the best way Instant Family does this is by creating lovable and relatable parents out of Mark Wahlberg and Rose Byrne. The two carried the film with ease as Pete and Ellie. Wahlberg delivered a wonderful performance, though his character at times lacked a sense of fatherly responsibility. Perhaps some of his motivations and lack thereof were derived from a fear of screwing up parenting. Nonetheless, too often Ellie was continually placed in the same situation – the bad mom. While the bad parent/good parent trope can be interesting, it was continued for a few too many scenes in this particular movie. Pete's overall character would have been improved and more intriguing to watch had he moved through his slump a bit faster to avoid repetition in the storyline. Once Pete acknowledges his need to be responsible and come to terms with how best he can give advice as well as provide consequences for his foster children, he becomes a well-rounded character – someone that makes more sense in relation to the Pete at the start of the film.

Other notable characters are Karen (Octavia Spencer) and Sharon (Tig Notaro), the social workers. Karen and Sharon bring a sense of blatant humor and conflict for Pete and Ellie. Not conflict as in roadblocks to fostering, but rather, pointing out the wrong thought process of the hopeful parents. The social workers snap the parents back to reality in every scene they appear in, but they do so with a calm humor. Often, the duo's leadership together mimics that of the parents in their foster support group – they constantly bicker over opposite opinions, yet they're full of compassion for one another. Some work could have been done to make these characters a bit more fleshed out and less of an obvious comedic relief in the film; nonetheless, for side characters, they were entertaining and brought some well-needed advice to the struggling protagonists.
Instant Family is truly a movie for all. Its wide range of humor and dynamic characters not only pull viewers into the story but hold their attention for the duration of the film. It is arguably one of the best family comedies that have been released lately. Not to mention, Anders' film is one of few movies that focuses on the adoption process in a positive light, changing the conversation for the better. Whether or not you are familiar with the foster care and adoption system in America, Instant Family is a must-see.
Overall Grade: A
Watch The Trailer:
[embedyt] https://www.youtube.com/watch?v=IUfZq3DUd3Y[/embedyt]