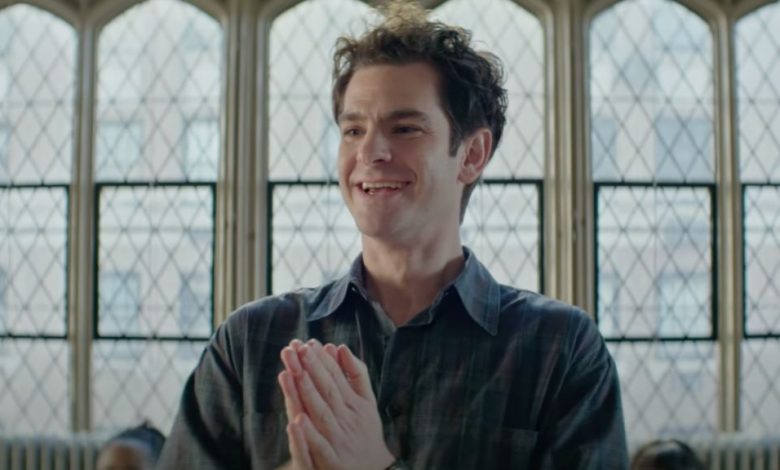 By Abigail Lee '25 / Emertainment Monthly Staff Writer
An ode to Jonathan Larson, Tick, Tick…Boom! is a celebration of the late composer's work and the artistic spirit that animated his life. 
Before he penned the acclaimed Rent, Larson was a struggling writer living in the maze of New York City, staring down his impending 30th birthday. In Lin-Manuel Miranda's lively adaption of Larson's semi-autobiographical show of the same name, Larson (Andrew Garfield) dreads his 30th birthday, seeing it less as a milestone and more of a symbol of everything he has failed to accomplish in his youth. 
His transition into adulthood is shown to be monotonous, uncertain, but also invaluable. The liminal period is marked by stasis: no career, no wife and kids, no artistic breakthrough. Larson's frustration with the tedium of his life is established through the flat hues of his apartment, as rendered by Alice Brooks's cinematography. And yet, it is this abundant ordinariness that is also the source of vivacious enthusiasm. 
The things that fuel Larson are the things that he has yet to evoke in his work. During this time, New York is gripped by the AIDS epidemic, which has been taking the lives of Larson's friends—Miranda invokes an atmosphere of grief and anger, although not entirely successfully. Larson's love for the people in his life and his passion for writing musicals make his story one of vitality, shown by exuberant musical numbers, dizzying celebrity cameos, and heartfelt tonality. Miranda understands the importance of Larson's musicality, from his movements to his words, and he shows the earnest rhythms of Larson's life.
Larson makes ends meet by working at a diner, his life as scrappy and unpredictable as anyone else's in New York. Garfield portrays Larson as someone who bursts with an elastic energy, swinging between outpouring melodiousness and compressed anxiety. Larson is working to present a workshop of his musical Superbia, a dystopian sci-fi show that needs a defining song for the female lead. Facing writer's block as well as a looming question of whether to move to the Berkshires with his girlfriend, Susan (Alexandra Shipp), Larson oscillates between settling down and continuing his artistic pursuits.
Gradually, the relationships that thread Larson's frenetic life together—primarily with his girlfriend Susan and his best friend Michael—grow rocky. The money gets tighter, the doubts get higher. The turning point of the film is when Larson learns to contextualize his present troubles, to remove himself from the center of the world. It is this weaving of the New York City milieu and the jumbled life of an artist that most strongly foreshadows the chaotic splendor of Rent. "I'm the future of musical theatre," Larson says to a party guest at the beginning of the film. The real-life tragedy is that Larson died the day before the first preview of Rent, before the show became a cultural phenomenon. What Rent demonstrated to a national audience is what Miranda seeks to capture in his telling of Larson's story: that what defines us are not the major triumphs of life, but the people we know and love.