Succession Season Three Succeeds…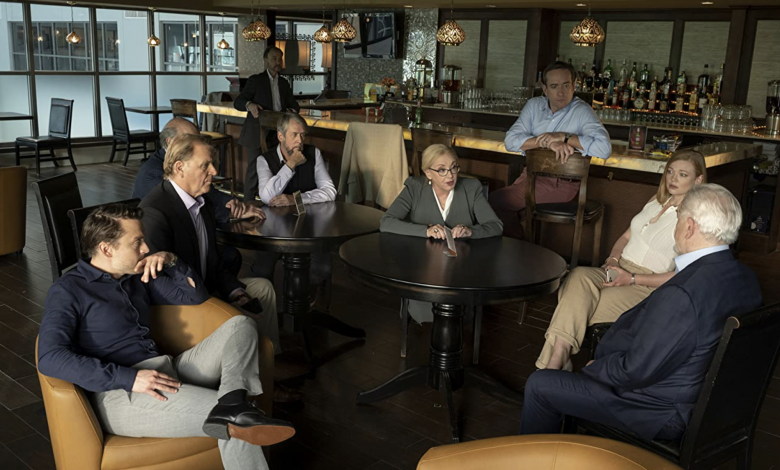 Karissa Schaefer '23 / Emertainment Monthly TV Editor
HBO brought us the return of Succession with the premiere of season three on Oct. 17. The TV dramedy series dives deeper into the Roy family's trials and tribulations of handling the family business. Emulating the realistic image of a white, top 1% family, the show doesn't hold back on typical, ugly portrayals of behind-the-scenes business of a major media conglomerate. 
Spoilers ahead.
Succession gives us a window into a demographic that is often overlooked in visual media, at least in the way it's addressed in the show. While TV shows or movies may use the rich as their protagonist or driven plot, whatever the conflict is with them is usually solved with character growth. Instead, Succession fully embraces the entitlement that comes with a stereotypical, upper class person. This viewing is unique and works for what the show wants to do. Its comedic jokes feel realistic and are usually great, especially as the show goes on and the audience develops a longer relationship with the characters. It's TV made for adults, with all the main characters being older than 30 (except for Cousin Greg). 
The show follows the Roy family, with Logan (Brian Cox) as the patriarch and CEO of Waystar Royco, the family media business based in New York City. Logan, who is in his 80s, has to deal with the reality of old age as he begins to weigh his options of the company's next CEO. The options are his three children: Kendall (Jeremy Strong), who is insecure and yearns for his father's respect; Roman (Kieran Culkin), who is confident yet immature; and Siobhan (Sarah Snook), a strategist who is always willing to impress her father. Connor (Alan Ruck), who's their half-older brother, is there too, but he doesn't really matter to the family as he's often the punching bag. However, he's gone from not caring about taking over the family business to running for the President of the U.S. 
The nine episode season embraces the satire that is the Royco family. Coming from someone who has no knowledge in business talk whatsoever—and there's a lot of it in this show—this show is wildly entertaining. The creators don't hide the fact that all the characters are bad people in their own way. Viewers can take it for what it is and accept it as an amusing fictional story that touches on contemporary issues. Plus, the cast is filled with A-list actors that don't fail to impress with every progressing episode. 
Season two left us with Logan making Kendall take the blame for the company's handling of sexual assaults on their cruise ship division, in which they covered up. Kendall has previously tried multiple times to out maneuver his father to reach the CEO position, and has failed nearly every time. This time, he calls his father a "malignant presence," placing responsibility on him. Meanwhile, Logan is holding a secret over Kendall: he knows Kendall killed a waiter after a relapse into his drug addiction, caused by stress. 
In season three, Logan continues to gain the upperhand every time. With his health worsening and the cruise ship scandal, he steps down as CEO, handing the interim position to Gerri (J. Smith Cameron). She's honestly the best choice for the job as a person with the smarts of running a problematic family business. And Roman is basically her mentee—among other titles, as their relationship evolves into a power imbalanced 'will they/won't they.' Cameron and Culkin's banter is intriguing to watch on screen. The whole cast has their funny moments, but something about Culkin's acting and comedy skills are especially fun to watch. 
If we're going to talk about funny characters, then Greg (Nicholas Braun) must be mentioned. He's Logan's great nephew who is awkward, but intelligent, and fans can't help laughing at his clumsiness. Greg is probably one of the few characters that's having a good season, considering his success in asking out Kendall's publicist and the new job in Waystar's theme parks division. He's someone who plays the middle man for his benefit, choosing to take Logan's offer instead of Kendall's. Can we really blame him? Compared to everyone else involved with the business, Greg is certainly the nicest one. He might've lost his inheritance from his grandfather, but he was the cousin no one knew and was still able to sneak right on into the confidential circle of billionaires. 
Additionally, Greg's dynamic with Shiv's husband Tom (Matthew Macfayden) gets even weirder. The two family outsiders bonded, creating a friendship—if you could even call it that—creating this mentor-mentee, toxic relationship. Tom's jealous of Greg's recent successes, meanwhile his marriage is a complicated, power imbalance romance. Once again showing that all of these characters have their faults, people can't help but have sympathy for Tom's almost loveless, shallow relationship. However, it's a mixed bag because it's tense between Greg and him, as he flips over his desk in celebration of not going to jail—the things rich people worry about. After weighing out the weird relationship they have, anger is directed toward Tom for continuously getting Greg wrapped up in the Roy family politics. 
The family business corrupts the previously mentioned marriage between Tom and Shiv. To put it bluntly, all of the kids have mommy issues—on top of insecure daddy issues—resulting from their absentee mother. Shiv's personal relationship with their mom, Caroline (Harriet Walter), is especially strained, and this causes a ripple effect onto her cunning personality and love life. She's somebody viewers love to hate, yet also admire for her ambition, and Snook's acting is played to perfection. Episode eight features an important conversation between Shiv and Caroline while the whole family is in Italy for Caroline's lavish wedding. Shiv's mom is passive aggressive and not afraid to talk bad about her kids, not even to their face. She's bold and calls Shiv out for how difficult she was growing up after saying she should've never had kids. Shiv can see a lot of herself in her mom, with parallels to her common interest in not having a baby. That drives her to be the complete opposite, returning to Tom with the sudden interest to have a baby, which she dismisses and asks to table the next day.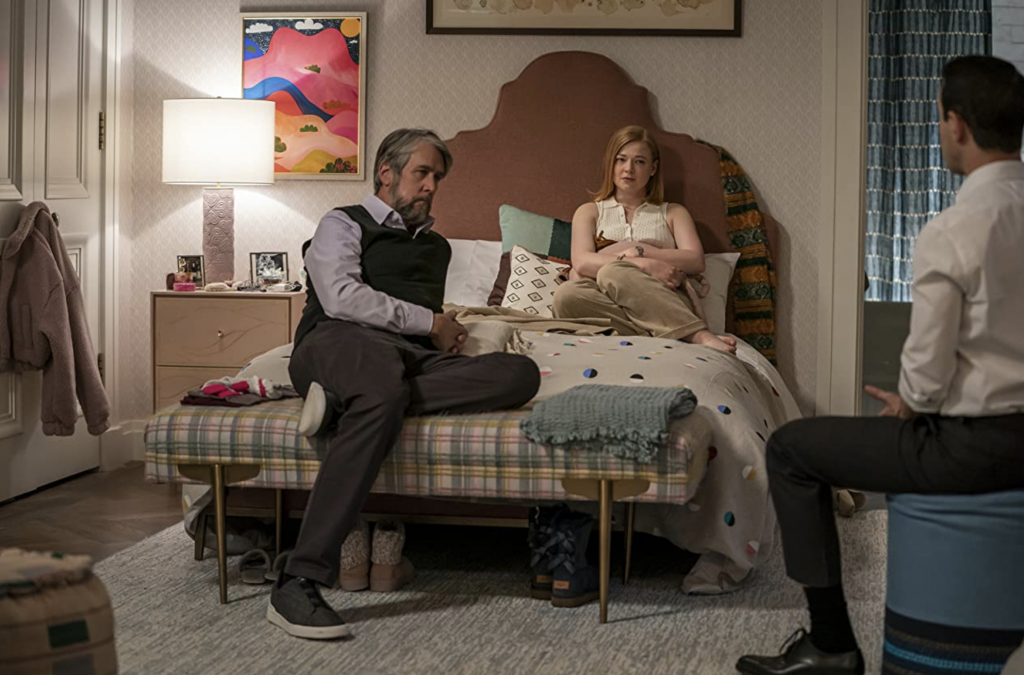 Like her relationship, Shiv is complicated as a person. She's hardworking, yet selfish. Snook makes her likeable even though there's many instances where Logan's merciless instinct can be seen in her. She demands the viewer's attention when she's on screen, drawing my eyes to her during amusing conversations with Roman and her collaborating with Tom to pick on Greg. All of the actors are natural around each other, making them seem like a true, vicious family of billionaires. 
Strong embodies the character of Kendall, in which he goes on an in-depth dive describing his character and how he prepares for the role in this great profile from the New Yorker. The work he puts in behind the scenes is definitely seen in the finished product. His methods of isolating himself from his castmates translates on screen, and although he may interact occasionally with his fictional father and siblings, viewers can see how mentally tolling the loneliness is on Kendall—so much so that episode eight ends with Kendall drinking in the pool after being banned from his mother's wedding, and his fate is left unanswered. We can only hope the more serious role isn't taxing on Strong's own mental health. 
Given that this is the show's third season, the creators can go full force with the plotlines now that the audience is more comfortable with the characters' characteristics and relationships. This allows for a more eventful season, and with the past eight episode buildup, viewers were sure in for a ride for the season finale. 
Though shown off screen, the first few minutes answers the question that was left off with a cliffhanger: is Kendall dead? The answer, no. However, the episode does have a death in its closing minutes. That is, the metaphorical death of Kendall, Roman, and Shiv's lives as they know it. The siblings are the definition of nepotism babies, the children of wealthy families who have no financial worries. Yet all of that went out the window when Logan pulled the rug from under them announcing that he convinced their mom to give up the kids' shares of the company. The Roys are just as confused as audience members were, wondering how Logan was once again one step ahead of them. At least until Tom shows up and approaches Shiv from behind to comfort her. That's when everything clicks, simultaneously for Shiv and the audience. 
The writers left clues of Tom's betrayal throughout the season, giving hints of his odd personality in scenes with Greg and his slow realization of his marriage not being built on true love. While Tom grew closer to Logan over the season, he and Shiv drifted further apart, causing Tom to put himself first and play the ultimate power move. It's unclear if he's 100 percent on Logan's side, but at least his loyalty lies with Greg, who he offered the so-called "deal with the devil." It was shocking seeing the pieces fit together and the episode had people hooked right up until the credits rolled. 
Roman was offered an out to end up on Logan's team multiple times, but in the end, he finally chose to band together with Kendall and Shiv. It was fulfilling to see the three finally come in agreement again. Just as Kendall finally realized his father's true nature in season one and Shiv in season two, this season was Roman's turn. Their connection is probably the heart of the show, as the three have a heart to heart when Kendall confesses killing someone to them. From the very beginning, the siblings have always been stronger together in terms of power against their dad. When Roman tells him he has "love" on his side, Logan scoffs, but it's true. He might've been referring to Gerri, but as Roman finds out, he's no longer of any use to her. Gerri's coldness towards Roman was unexpected and a quick switch flip. At least it's nice knowing the siblings are finally on the same page about their father and taking over his business for next season. Fans are gripping their seats in their desire for more Succession to see what happens next after this eventful finale, which answered so much, but also asked many more questions. 
HBO seems to make so many of the top shows in pop culture, which has people talking about it nonstop across the internet and social media. The Succession hype is a reminder of the good old days of Game of Thrones. This is one of the only shows in recent years that makes me wait eagerly for a new episode every week. The stakes are high and it's a constant revolving door on who the new official CEO will be. The Roys resemble real-life billionaire families society is well aware of, so watching this show is like watching reality TV. The characters do bad things, but that's what keeps viewers fascinated. It's like celebrity gossip contained in a fictional bubble that still feels very real. Although the plot is very dramatized and extreme situations occur, the interactions between the family members can make people relate in some way. 
So watch Succession. It'll make people laugh a little, cry a little, and roll their eyes at nearly every character. As for people who are already deeply invested, don't fret that the season is finished. Though nothing noteworthy has been released, season four was renewed earlier this fall, so we can all wait around the TV for that.