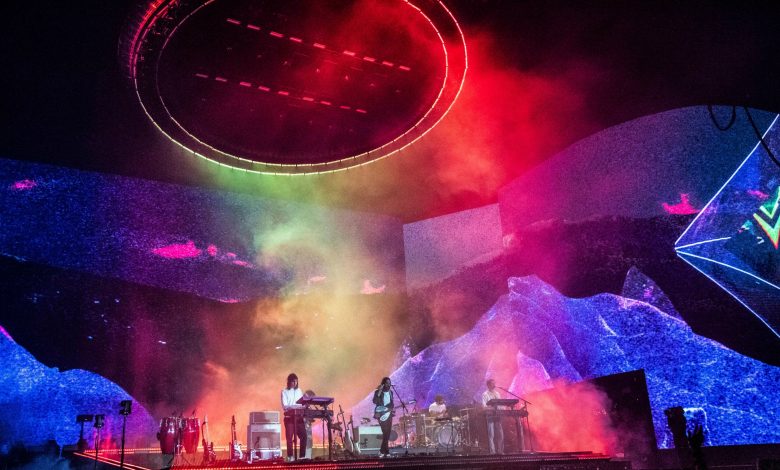 Nikki Emma '25/ Emertainment Monthly Staff Writer
On March 16th, 2022, the MBTA Green Line train to North Station was packed with college students, ready to see Tame Impala at TD Garden. Nearly everyone on the train was "in uniform;" Doc Martens or Converse, jeans, a leather jacket, and a lot of glitter.  
Tame Impala is a one-man act starring Australian multi-talented musical artist Kevin Parker. Videos of Tame Impala's famously over-the-top concerts have circulated on social media, which certainly inspired the nearly sold-out show. Tame Impala's music, a combination of psychedelic rock and psychedelic pop, has risen to extreme popularity in recent years. Their unique sound has led to the creation of hits like "The Less I Know the Better" and "Elephant." 
The concert encouraged the psychedelic nightclub environment, starting the show with an advertisement for the fictional drug "Rushium." The advertisement began by describing its time-bending effects, and the video eventually came to a distorted conclusion as Tame Impala took the stage.
The tracklist for the show contained a perfect mixture of Tame Impala's newer music, less-known songs, and extremely popular hits. The order of songs was extremely well planned, leaving some of the most engaging and danceable songs for last. 
Tame Impala concerts are known for three things: loud music, lights, and confetti. The work of the lighting technician in particular was one of the most exciting elements of the show. In particular, the light show that occurred during the opening sequence of "Elephant" brought nearly every audience member to their feet. The introduction to the song, a short sequence of guitar cords repeated for about a minute straight, had white lights flashing on the front and back of the stage. As the introduction went on, the lights switched to red, and lasers from the back of the stage pointed toward the audience. This prompted loud cheers throughout TD Garden. During a guitar solo, the lights went completely dark as blue and green lasers shot out in every direction at the crowd. Another song that made excellent use of lighting was "New Person, Same Old Mistakes" which combined colorful lights with confetti. Before the final verse, pink and blue lights lit up the entire arena as confetti shot out from the stage– covering the audience in the pit.
Aside from the theatrics of the show, Tame Impala himself was extremely impressive. His vocals in nearly every song sounded identical to the recorded tracks and the music itself was genuinely enjoyable to listen to. It is clear that despite the other impressive and entertaining elements of his concerts, the music is still at the heart of his performances. He also did an amazing job engaging with the audience, moving around the stage and encouraging people to sing along. Overall, the show was as impressive as described online and fans at this concert will be sure to look out for future shows.