Piracy Has Never Been This Appealing: An Our Flag Means Death Spoiler-Free Review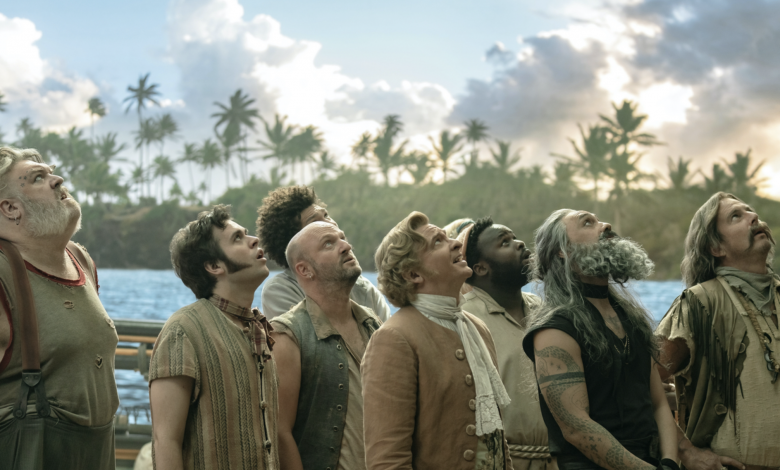 Melina List '25 / Emertainment Monthly Books Section Editor
Avast ye, for HBO has a new hit on its hands with Our Flag Means Death. Created by David Jenkins, the creator of TBS's People of Earth, this show has brought pirates to the forefront of entertainment. 
The show is loosely based on the true story of Stede Bonnet, "The Gentleman Pirate," who abandoned his life of privilege—and his family—to sail the high seas.  Our Flag Means Death follows Stede as he attempts to captain a crew of misfits, and runs into Blackbeard, the most fearsome pirate of all time, along the way. 
The show introduces itself as a workplace comedy, and while it maintains aspects of that tried and true genre throughout the series, it evolves into something much more novel as the show progresses. Our Flag Means Death transcends traditional categorization, with cutting comedy masterfully interwoven with explorations of childhood trauma, and fairly graphic violence appearing onscreen alongside a found family finding its footing. The show's stars—too many to single out just one—shine brightly. Taika Waititi excels as Blackbeard, a legendary figure who has never been better portrayed than by this creative powerhouse. Rhys Darby's charm is the foundation of protagonist Stede Bonnet, and Con O'Neill is quite the darkhorse as Izzy Hands—perhaps the closest thing the show has to a so-called "Straight Man." The cast is rounded out with a stellar ensemble playing the crew of Bonnet's ship The Revenge, and a few guest stars pop up in unexpected places.
While the show, in some ways, breaks from piratical tradition without a peg leg or a "yarr" in sight, it maintains the convention of not taking itself too seriously. How does period-accurate navigation ensure that everyone can conveniently end up in exactly the right part of the ocean for a plot point? Unclear. And how exactly do stab wounds work? Don't worry about it. Essentially, the writers ask viewers to suspend their disbelief to set up punchlines, and it works perfectly. No one cares about historical accuracy when the joke is funny enough, and these jokes are, indeed, funny enough.
The writing is delightfully profane, and the characters are devastatingly likable—having such a strong ensemble, viewers will be hard-pressed to pick a favorite. They will also not be able to hear some of the music used within the show again without the accompanying sequences replaying in their minds. Queer viewers will find Our Flag Means Death especially refreshing, with writing that could raise the standard for queer representation across the television industry. 
But perhaps the most surprising, and lovable, aspect of Our Flag Means Death is its tenderness. Tenderness is not a word typically associated with piracy, but it permeates this show's every fiber. 
Unexpectedly, Our Flag Means Death is, above all, a treatise on the power of self-love. Many of the characters are on journeys figuring out how much kindness they deserve and how to find it. It is not simply a show about the pursuit of happiness, but the pursuit of discovering what it is that the characters have to offer the world, and what they want to ask from the world in return. 
Characters are asked to face the roles expected of them and question if they deserve better. Is life about fulfilling the expectations of and thus pleasing the people you care about or alienating them by looking for more? The show asks these questions while affirming that self-hatred is destructive outside of the self, and that a person doesn't need to love themselves to be loved. Our Flag Means Death shows that self-hatred obscures the pain inflicted upon others when a person rejects gentleness. 
Our Flag Means Death leaves viewers with the lesson that sometimes love is the most important thing, even when it seems like you don't deserve it.
And viewers can't get enough. 
None will be linked here due to spoilers, but fanart and fanfiction are pouring out of the newly realized fandom at an astonishing rate that has been acknowledged as such by many of the people who worked on the show. There is no lack of show-inspired tattoos, either, one of the hallmarks of a cult classic in the making. Fans have even organized a letter-writing campaign aimed at HBO in hopes of the show getting renewed for a second season since, unfortunately, as of the writing of this article, Our Flag Means Death's future is uncertain. While there is no news of a second season, there has also been no news of cancellation, so the show's fate lies in the hands of network executives. 
But regardless of whether or not the show gets renewed for a second season or beyond, which it absolutely should, this first season alone is a work of pure genius, and will remain beloved by fans for ages to come.
If you have not yet joined the crew, grab your cutlass and hoist your colors, for it's time to set sail.
Our Flag Means Death season one is currently streaming on HBOMax.