Rihanna's Super Bowl Halftime Show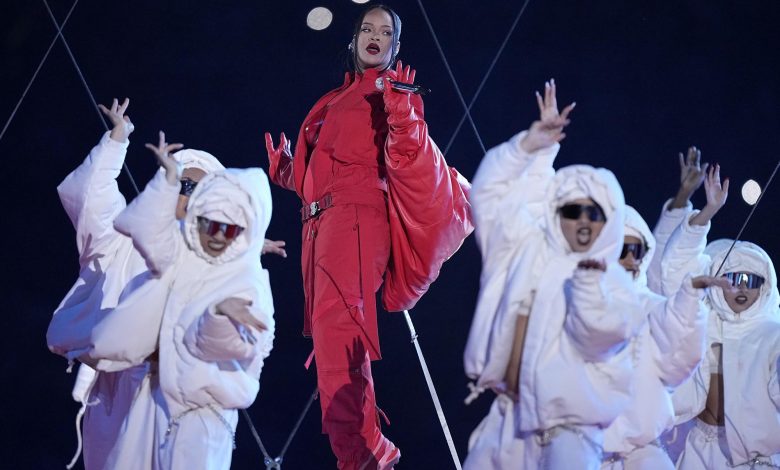 Emily Zeitz '25 / Emertainment Monthly Treasurer
Millions all over the country watched this year's Super Bowl, but viewership peaked to around 124 million for Rihanna's Apple Music Halftime Show. It was her first performance in nearly four years. 
After 2 hours of gameplay and much anticipation, Rihanna appeared in an all-red jumpsuit and the crowd went wild. She gave her fans an enticing smirk, which has already been turned into a popular meme. Then, in a blink-and-you-might-miss moment, she revealed her pregnant stomach to the camera. This was the official announcement to the public of her second pregnancy with longtime boyfriend A$AP Rocky. They only just had their first child in May of this past year. 
The performance went on for about 14 minutes, during which Rihanna sang a medley of many of her most popular songs. She was supported by a dance crew dressed in white baggy pants and puffers. She performed in between the lengthy grounded stage and a series of floating platforms that were suspended by wires. Her medley was a definite crowd pleaser. Not only did it feature lyrical segments of plenty of songs, but it also included several short instrumental segments of songs she didn't have time to perform in full.
Fans were quick to criticize lack of energy to her performance, especially those who might not have noticed her momentary pregnancy reveal. This criticism was soon forgotten, however, as the internet blew up with the news of her pregnancy confirmation immediately following the end of the show. 
Following lots of speculation around who she might surprise the audience with as a guest star, Rihanna shocked fans by not including anyone, and carrying the weight of the performance by herself. However, a momentary fear crossed through many minds midway through the performance at the thought of one potential guest. Many criticized her inclusion of the song "All of the Lights" due to its production by Kanye West, who has been the subject of a lot of recent controversy. But, he didn't end up coming out, and it seemed instead to just be a showcase of one of Rihanna's greatest features. 
In fact, her decision to perform solo proves now to be nowhere near detrimental. She is well on her way to inscribing herself as one of the greatest artists and performers of our generation, and has now proven herself as perfectly capable of holding up a performance all alone and with ease, even while pregnant. Rihanna never disappoints, and we can't wait to see what she has in store for us in the future.