Alex Sharp from 'Curious Incident' Discusses His First Drama Desk Award Win, Working with Puppies and 'Hamilton'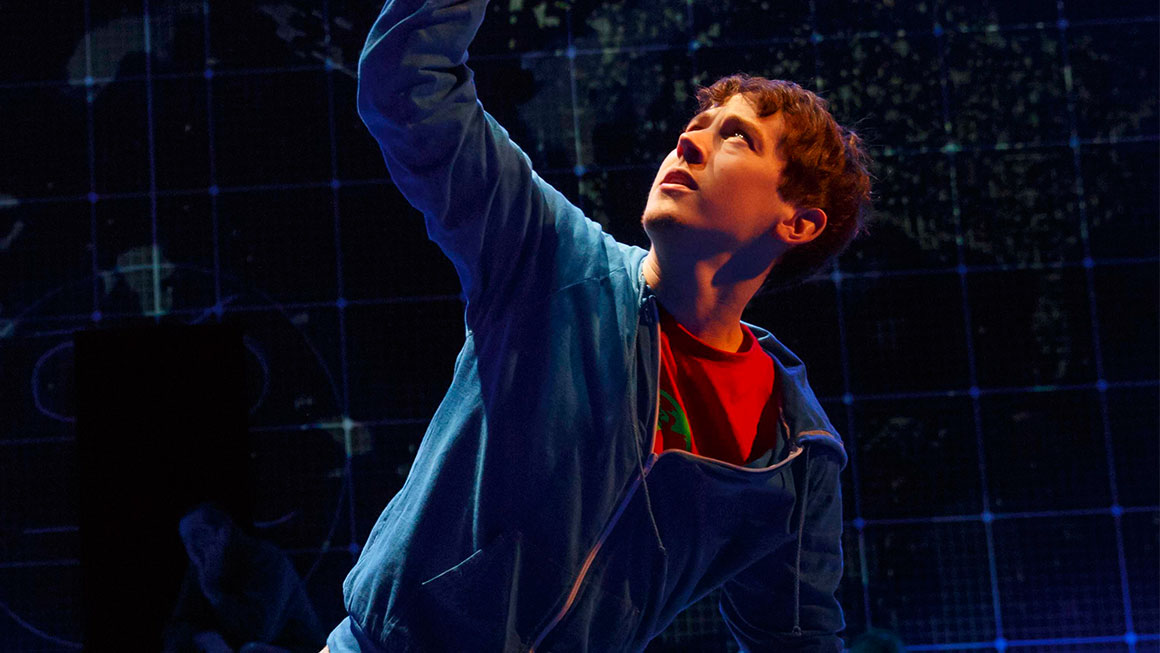 By Nora Dominick '17/Emertainment Monthly Assistant Stage Editor
On Sunday May 30, 2015, some of the hottest Broadway stars attended the 60th Annual Drama Desk Awards hosted by Laura Benanti and presented by TheaterMania. The award ceremony showcased the best and brightest performers and shows from Broadway, Off-Broadway and Off-Off Broadway.
Emertainment Monthly had the pleasure of chatting and sitting down with Alex Sharp in the Drama Desk Press Room. Sharp won his first ever Drama Desk Award for his portrayal of Christopher Boone in The Curious Incident of the Dog in the Night-Time. He has taken Broadway by storm and now with award season in full swing on Broadway, it's hard to imagine Sharp's name not being called.
Alex Sharp sat down with Emertainment Monthly to talk about his first ever Drama Desk Award win for Outstanding Actor in a Play, working with the adorable (sometimes scene stealing) puppies and wanting to swap roles with someone from Hamilton.
EM: How does it feel to win this Drama Desk Award?
AS: So crazy. So crazy. I mean I think I spent some of my 90 seconds sitting in shock in the chair, which then led to me being played off. I was that guy.
EM: Did you prepare a speech?
AS: No, no. I just went up.
AS: It's nuts. It's really nuts. When I was graduating, or like leading up to graduation, I thought I was going to be unemployed for like ten years. I mean, I'm an actor so I was like 'Oh boy, here we go.' I was going to be hustling or living in a box. I was prepared for the worst as you can see. So, I was prepared to sweep the stage if that's what it took. I was going to sweep the stage for a decade until my chance came along. I just feel like the luckiest person in the world.
EM: How has been tackling such a hard role? You leave everything on the stage every night, how is it doing that eight times a week?
AS: It's a real gift to get a part like this. You know, as an actor you want and search for the kind of part that demands every part of you. It's like a dream and playing Christopher is that dream for me. It's just so exhilarating, exhausting, fulfilling, all of these things and I'm having the most spectacular time. It's a very complex experience but 100% positive.
EM: In The Curious Incident of the Dog in the Night-Time, Christopher encounters some animals on his journey. What's it like working with the puppy and rat every night?
AS: You know, I work so hard for two and a half hours and then they come out. The puppy comes out. No one cares about what I am saying anymore. The real star has arrived. You know, they say never share the stage with an animal or a baby and that's pretty accurate. The puppy and the rat steal the show night after night. I could stand there and not be saying anything coherent and the audience would still love it because I'm holding a puppy.
We are on puppy number ten now because they get too big for our show, but they get adopted to great families afterwards which is always amazing. It's amazing working with them because in a lot of ways the animals are doing what you want to or better yet wish you could do as an actor, which is being 100% spontaneous and doing whatever the f*ck they want. It's sometimes quite challenging for me. Last night actually, the puppy, the new one is named Forest and he had been really good up until last night. Last night he was just like screw you and just went off like running around on the stage doing whatever and here I am standing on the stage. I literally had to chase him around. It's amazing.
EM: Last question, if you could switch roles with any fellow nominee, who would it be and why?
AS: That's a great question. Any fellow nominee… I would have to say Lin-Manuel Miranda from Hamilton. That guy can do it all. I mean I'm sure ratings and the sheer volume of ticket sales would go down if I did that, but I would love to be able to rap like that! I can't but I would love too. It's definitely not something I should do. Maybe in my dreams I would like to rap like Lin-Manuel Miranda. I'd like to think I'm really good at it but I couldn't even come close to what he does. Yeah, I would definitely swap with Lin.
The Curious Incident of the Dog in the Night-Time is currently running at the Barrymore Theatre in NYC. For tickets and more information visit: http://curiousonbroadway.com/
Missed any of the action last night at the 60th Annual Drama Desk Awards? Check them out here!