'Arrow' Star Emily Bett Rickards Chats About Felicity Smoak Changing Her Life, Working with Stephen Amell and 'Brooklyn'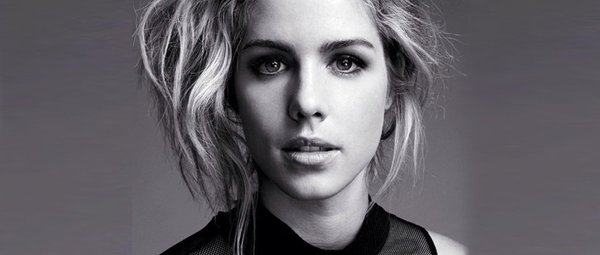 Nora Dominick '17/ Emertainment Monthly Co-Executive Stage Editor
Emily Bett Rickards has become one of the most buzzed about actors on Arrow. She has shot to critical acclaim for her portrayal of tech-nerd Felicity Smoak and continues to astound audiences. Her work has exceeded expectations as she has created a beloved character on Arrow.
An unknown actor prior to Arrow, Emily Bett Rickards began as a guest star in season one. From there, her impeccable acting and lovable charm earned her a starring role as Felicity Smoak. Although the Arrow universe knows her well, this year Rickards appeared in the Academy Award nominated film Brooklyn opposite Saoirse Ronan.
Emily Bett Rickards sat down with Emertainment Monthly to chat about Felicity Smoak's upcoming journey, "Olicity" fans, her work in Brooklyn and so much more.
Check out the full interview below.
Emertainment Monthly: You started off as a guest star and have become such a big part of Arrow, how has that journey been for you?
Emily Bett Rickards: Well it was extremely life changing. Going in for one audition and ending up four years later is crazy. It's such a big family and is such an integral part of my life. I was talking about this with one of our executive producers a couple of days ago and I was like, 'I find it strange that Felicity's life is sometimes connected to mine.' Sometimes the themes in our lives are so similar. I wonder if that is an actor trying to relate to her character or she went through huge life changes when I was also going through huge life changes. It's just something I've been thinking about lately. Wondering why saving the world and having so many people die around her, why I feel like we are still going through the same things? I was very fortunate. Preparation meets opportunity four years ago or a few Augusts ago. I couldn't have asked for a better turn out. 
EM: Currently, Felicity is going through arguable the hardest time in her life. What was your reaction to getting this storyline of Felicity being shot and ultimately being disabled?
Rickards: One thing I was really protective over was sort of her attitude and how her attitude towards being disabled was going to affect her life. There's only so much we can tell in our story about how impacting that disability would be on a life and people who have to live with that every day and not in a world of magic. It's such a life change and it's an all encumbering life change. There's no way around it, there's no way to fix it. There's only acceptance and moving forward. We tried to portray that as gratefully and as quickly as we can in a TV show. Keeping Felicity's voice and keeping her attitude towards life positive while faced with this total rearrangement of her life was something I tried hard to portray and hopefully we did an honest job of it and we saw that in the last episode.
EM: This season, you and Stephen Amell have been working together even more! How has it been playing this relationship side to Felicity?
Rickards: Stephen and I love working together. There's no other way to put it. We love the scenes that are Felicity and Oliver. They're fun, they're creative. Their dialogue is locked and loaded. They understand each other. We get to play around because we've known each other now for four years as people, let alone characters, which is really fun. I love working with Stephen. It's one of the highlights of my job. Our characters have kind of found solace in each other or fallen in love as you do, but in the very difficult life that they have. We are seeing whether or not their love can withstand these pressures of the life they've chosen or accepted or keep diving into, is something they battle with every day. 
EM: The "Olicity" fandom is in full-force on the Internet and they are some of the most dedicated fans. How has the fan response been for you?
Rickards: "Olicity" is unlike anything we could've expected to be honest and we are so grateful for it. I didn't even know what a ship was before people were yelling "Olicity" on my Twitter with a whole bunch of crying emoji's. I was like, 'What is going on? What is this 'Olicity?' Then my friend Carina [MacKenzie] was like, 'That's you and Stephen's characters!' I had no idea! It has become such a huge part of the culture that surrounds our show and we are grateful for it, obviously. We hope that we can keep going and make "Olicity" interesting, which is something Stephen and I talk about and I'm sure the writers and everyone talk about. We want to keep it real. In a world where we have magic and superhero's and super-speed and all that, our reality is based in relationships in impossible situations. How do we keep this relationship strong, interesting and hopefully healthy. 
EM: How has it been having Charlotte Ross on Arrow even more this season? What's it like playing with Felicity's past in that way?
Rickards: Donna brings out something in Felicity that no one else can. Your mother always brings out something in you that no one else can, whether it's a good attribute or not. The funny thing about being around your parents is that they always bring out the child in you and that's why they're parents because that's what you remember. That has been your relationship with them your entire life. Donna being a single woman and having sacrificed so much for Felicity and Felicity being an adult now and realizing her sacrifice is HUGE, especially in the past year, but also for the past season. Her life has been in such turmoil and I think also getting injured, there's so many more layers now. Your life flashes before your eyes, I think for Felicity. She's sacrificed so much for the Team. Like, she's given her legs now for Team Arrow. She's okay with that, she's like 'This is what I signed up for! This is my contribution. I'm a hero too! This is what I do and we are going to keep dealing with it!' Having your Mom around for that is I think really lucky. She is beyond lucky to have Donna there and I think it makes it all the easier. Working with Charlotte is always so much fun! We fall in sync and it's great!
EM: Looking to this week's episode, Colton Haynes returns as Roy! What was it like having him back on set for you?
Rickards: Well for me, it was a dream! We are best friends and if he denies that, you can send him towards me and I will beat him up. That was the best! I love having Colton back so much. I mean, having Roy back was fun too, but having Colton come back was really special for me. I hope Roy comes back every episode of every season for all seasons of Arrow. I love having him back and he is my absolutely favorite human being and I'm not afraid to admit it. His episode is SO killer! It's SO good! 
EM: In last week's episode, there were two of you! How was it playing Felicity and Goth Felicity in those scenes?
Rickards: Working with Felicity hallucinating her goth-self was the coolest and most exhausting, taxing thing that we have ever had to do or I have ever had to do. It was a lot. We had new pieces of machinery we had never worked with before. I had another actor with me, Ali Liebert, who is a phenomenal actress. She was cast on Legends of Tomorrow as Caity Lotz's potential love interest shortly after. She is one of the best actors I have worked with. She played my counter part in every scene. So, we would film one scene with myself dressed as Felicity and then we would go switch looks. Full hair, full make-up, full everything and then we would finish that scene. We did all these scenes in a day and a half. Technically we did six scenes, but you have to double it because you have to film it all twice. Hair and make-up was phenomenal! We got the change over down. My make-up artist Tammy, who does my hair on the show, got the change over down to under 40 minutes. We were flying! I've never seen women more talented and more on-point in my life. It was so much fun! Obviously we were pressed for time, we are on Arrow, we are always pressed for time. Late nights. We wrapped at like 5 a.m on Saturday morning that week. It was awesome! It was so much fun and I would do it again.
I thought of Tatiana Maslany in Orphan Black just blowing my mind. She blows my mind. That woman deserves everything. I just thought of her the whole time. This was a once in a lifetime opportunity. I might never get to play a double ever again, I was stoked. I'm a fan of Orphan Black since day one. I'm a fan of Tatiana and her acting abilities, so I was just hoping I could do this justice. In general, it was such a treat and I hope I get to do it in the future with another character. It was quite an experience.
EM: You're in Brooklyn, which was just nominated for an Academy Award for Best Picture! How was it working on that movie? Did you guys think you had something this special?
Rickards: When you are filming something like that, at least from my point of view as an actress, you don't really think that far ahead. You are thinking about the project at hand. They filmed in three different locations in the movie. I filmed in one part of it. We were in Montreal for the part I was involved in. Everyone was so artistic and so meticulous about being respectful of the era and the story, that I'm not surprised with the turnout of how beautiful and well crafted the film is. Let alone the style of shooting, let alone the lighting, let alone the colors of the wardrobe. Everything was down. We were using old fashioned, 1950s curling irons for our hair. We were in Montreal in old style buildings. Old Montreal is historic for that and we turned it into Brooklyn. It was stunning. When you're filming you are thinking about the amazing script that we are all invested in and how it's such an awesome story and we want to do it justice. You aren't thinking that this is going to be an Oscar nominee. You just really hope someone watches it. I really hoped someone connected with this. That's all you're thinking. I think that even though it was a period piece the themes are so relatable and so dedicated to modern day. Falling in love, identity, searching for identity, finding yourself. 
EM: How did you get involved with Brooklyn? Is it something you heard about or were you approached about it?
Rickards: I was cast up in Vancouver with my agent. It was a casting call out of Vancouver, but John [Crowley] and I did a Skype audition. My Internet was down, so I was in my agency's audition room on my computer doing the Skype audition. It was very quick, very easy. My friend Fanta Sesay was my reader. Then two weeks later I found out I got the part. We wrapped Arrow season 2 in April and then five days later I was on a plane to Montreal. It was full-force. 
Quick Questions!
EM: Current TV Obsession?
Rickards: The Affair season two. It is my current TV obsession and also that show is SO stressful. And Colin Donnell is in it so I get to stare at my friend. It's so great. I applaud every time he's on screen and then I get back into the story. 
EM: If you could guest star on any other TV show, what would it be?
Rickards: I guess I can't go play with Chloe [Bennet] on Agents of S.H.I.E.L.D. Who would I want to go play with? In another time I would want to go to Garfunkel and Oats  or Another Period because Natasha [Leggero] and Riki [Lindhome] are hilarious and awesome. I think we would have a lot of fun. Big dreams. We'll get there. Those are my big dreams, I want to be on a sketch comedy show where all you do is have fun all the time. 
EM: Current music obsession?
Rickards: Hamilton on repeat for all eternity. I know every song by heart and it's just so great. I'm also listening to Big Sean right now. 
EM: Your go to Lip Sync Battle song?
Rickards: To be honest, "Paradise" by Big Sean. I love that song SO much right now. I was jamming to it with my trainer at the gym the other day.
EM: Last question, first superhero movie you ever remember seeing?
Rickards: I think Batman with Adam West, I guess. That would have to be the first superhero movie I remember seeing. Although, does Spy Kids count? 
EM: Of course that counts!
Rickards: When I was a kid, Spy Kids was the bomb!! Also I was technically too old for Totally Spies, but that was the greatest. And Sailor Moon obviously was my favorite. 
You can catch Emily Bett Rickards on Arrow every Wednesday at 8/7c on The CW